With its 670bhp twin-motor, Leon helping to set the standards for other manufacturers. Standards that include a 0–62mph time of 3.2 seconds and a top speed of 168mph.
Hyundai is joining the ranks of automakers with electric race cars. The company has started production of Veloster N ETCR, a race-tuned EV edition of the Veloster N built for its namesake ETCR championship, starting in 2020. There aren't many performance claims at this stage, but it'll have a mid-mounted motor and rear-wheel drive to meet race regulations. The gigantic spoiler and race-ready wheels make clear that this isn't just a simple conversion.
The Korean car brand saw this as just the start of a larger strategy. It wants EV racing to be one of the pillars of the company. This won't be just a technology showcase like other auto companies. That will help burnish Hyundai's public image, of course, but it could also lead to motorsport becoming a breeding ground for EV tech that translates to the company's production cars. We expect more sporty EVs from Hyundai in the future.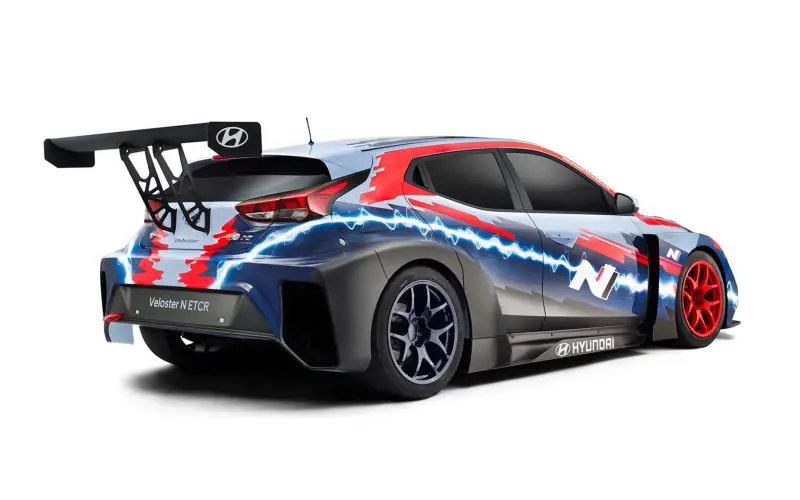 Recharging takes 40 minutes. While the ETCR races may be short, Hyundai believes its electric entry will help promote its electrified range. Its all-electric line-up currently consists of the Kona Electric and Ioniq Electric, with hybrid and plug-in hybrid models also on sale. The Veloster N ETCR will be built at Hyundai Motorsport's Alzenau headquarters in Germany.
Join the newsletter to receive the latest updates in your inbox.