Range anxiety affects potential buyers, but what if a manufacturer could offer you a car with over 600 miles of range? Well, that's exactly the milestone three Hyundai Kona EV crossovers managed to give. Three regular production models took to the Lausitzring track to test their range and all three comfortably achieved over 1,000 kilometers on a single charge. That's more than 620 miles.
When all car accessories were turned off and the EV was driven at low speed  of 20 mph it managed to scoop more than 600 miles.The range is double the range of Kona which claims a total of 258 miles EPA rated range. therefore, this is a clear indication that an electric car can go for more miles when driver takes careful measures.
The three test cars achieved 1,018.7, 1,024.1, and 1,026 miles respectively on their drive challenge. That's 632, 636, and 637 miles, respectively. Hyundai goes on to say that, "in relation to the 64 kWh battery capacity, each individual value represents another record, as the cars' power consumption of 6.28, 6.25 and 6.24 kWh/100 km was well below the standard value of 14.7 kWh/100 km determined by the WLTP." Not bad considering that 484 kilometers (300.7 miles) were all that was expected according to the WLTP standard.
This isn't just some unofficial record either,testing was conducted at the Lausitzring, a racetrack in northeast Germany, under the supervision of vehicle-inspection company Dekra, as Dekra's responsibility was  to monitor the cars, to oversee driver changes, and of course, to ensure that there was nothing unusual or unethical about the test. Three teams,one from German magazine Auto Bild and two from Hyundai's German division,drove cars around the track for nearly 35 hours.
Over that period, one of the test cars covered 1,026 kilometers (637 miles). Average speeds were between 29 kph and 31 kph (18 mph to 19 mph). Hyundai noted that this approximates what drivers typically experience in European city traffic, but that limits the tests real-world applicability.
All vehicles used were riding on the stock low-rolling-resistance tires, according to Hyundai. But air-conditioning and infotainment systems were turned off. The only electric power not used for propulsion went to the daytime running lights, which are legally required in Germany.
If you go slow enough and turn off accessories you can get astonishingly high range and efficiency numbers. The real test comes at higher speeds, with accessory use, and at extreme temperatures.The European WLTP testing cycle does not include hot and cold temperatures, and is run at a slower average speed than the EPA cycle, hence why the Kona Electric is rated at 300 miles of range on the WLTP cycle, and 258 miles on the EPA cycle.
Kona review
Exterior- The EV model does away with the grille and opts  for a solid plate of sheet metal sporting a grille-like pattern. It gets the same thin-slit LED daytime running lights, with standard blocker headlights below. The SEL gets standard automatic projector headlights, while the upper trims get LED clusters. The taillights are LED clusters as standard, and 17-inch alloy wheels are equipped at every trim level. The Limited and Ultimate models get a power tilt-and-slide sunroof. The size is as follows:- Length 164.6 in, Wheelbase 102.4 in, Height 61.2 in, Max Width 70.9 in, Front Width 61.6 in, Rear Width 62.0 in.
Interior- It can accommodates up to 5 passengers, although the rear seats are not well-suited to larger adults thanks to the reduction in legroom to make space for the battery. The front seats are far more generous, with plenty of head- and legroom to spare. The driver's seat comes standard with six-way manual adjustment, while the upper trim levels get eight-way power adjustment, making it even easier to find a comfortable driving position. Visibility is good all-round, with the standard blind-spot monitoring and rear cross-traffic alert covering any gaps. The entry-level SEL comes with the more basic cloth upholstery, while the Limited and Ultimate both get the plusher leather interior. The upper trims also come with a power sunroof, which steals an inch or two of headroom to lighten up the cabin and give it a more airy feel.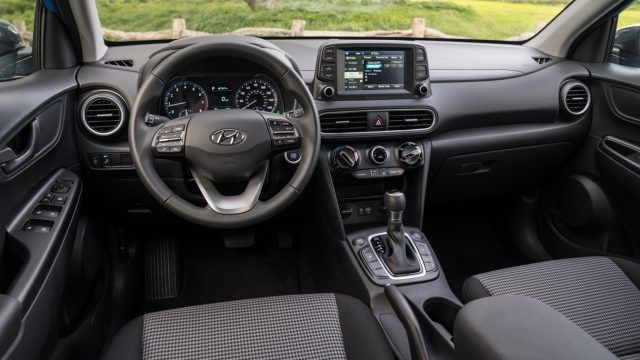 Driving:- The electric SUV is as high-tech on the road as it is under the hood, with driving dynamics that rival those of the most modern hot hatches out there. The steering is super electric, it is light and precise. This makes the Hyundai extremely maneuverable around town, where it excels at weaving through traffic or finding that elusive parking spot in a packed lot. However, the steering never really gains any heft, even at higher speeds, which can make less experienced drivers feel uneasy. But, once you get the hang of it, the Kona offers a fun driving experience, with an impressive level of grip that allows drivers to push the EV to its limits. The steering combines with the well-tuned suspension to take corners with ease, even when you throw the hefty SUV into them. Mid-corner bumps are felt, but they aren't disconcerting.
Similarly, ride comfort is just as composed. In this regard, the Kona's extra junk in the trunk may be a boon, as it has a strong center of gravity that keeps the body settled even over harsh road imperfections. One aspect of EVs that usually negatively impacts comfort is the shift from regenerative brakes to standard, but the Kona Electric has refined this process well. The brakes come with three levels of power, with even the strongest setting not upsetting the vehicle much during the shift.
Mileage- Kona EV  can cover up to 258 miles, falling just one short of the 259-mile Chevy Bolt. Charging the 64 kWh battery with a standard Level II charging system takes nine and a half hours, although this can be accelerated to 54 minutes if you're using a Level III fast-charging and are happy with just 80% battery.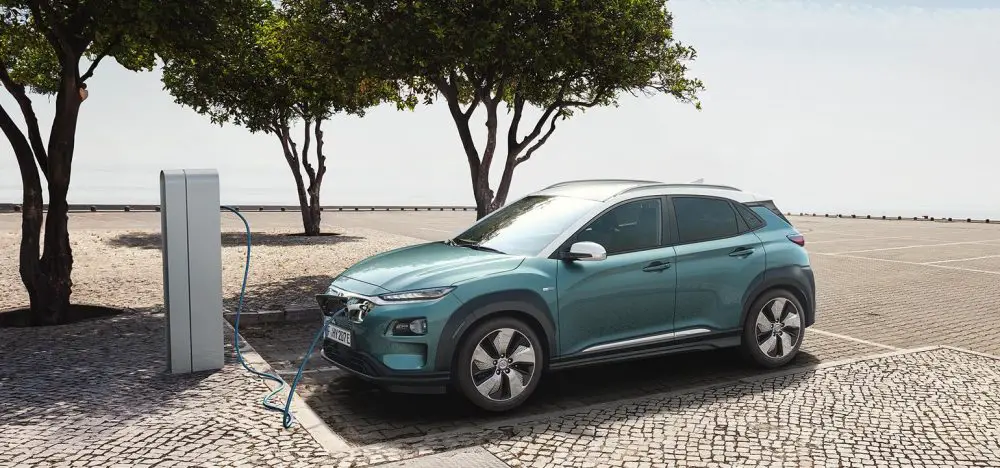 Infotainment and features- The Kona EV may not be a luxury SUV, but it comes with more than enough features to keep even discerning buyers happy. The seats are heated , has  automatic climate control, cruise control, keyless entry and ignition and a seven-inch LCD gauge cluster. Standard safety features include a rearview camera, blind-spot monitoring, rear cross-traffic alert, lane keeping assist and forward collision avoidance. The upper trims come upholstered in leather and provide an eight-way power driver's seat with lumbar, along with a power tilt-and-slide sunroof, an auto-dimming rearview mirror and a battery warming system. The top-tier Ultimate gets exclusive access to the head-up display, adaptive cruise control and ventilated front seats. It also gets the last of the safety features, including rear sonar and pedestrian detection for the forward collision avoidance system.

The infotainment is controlled via a seven-inch touchscreen interface, which grants access to the AM/FM Radio, MP3 playback, Bluetooth, Apple CarPlay, Android Auto, HD Radio and SiriusXM. Audio is pumped through the standard six-speaker sound system. Dual USB ports are available up front to charge smart devices, while a wireless charging pad is added to the upper trims. Reserved for the top-most Ultimate trim is the 10.25-inch touchscreen interface, which comes with built-in navigation, paired with an eight-speaker Infinity premium sound system. Blue Link connected car service is available to every trim, allowing users to keep track of battery charging via their mobile phones.
Join the newsletter to receive the latest updates in your inbox.