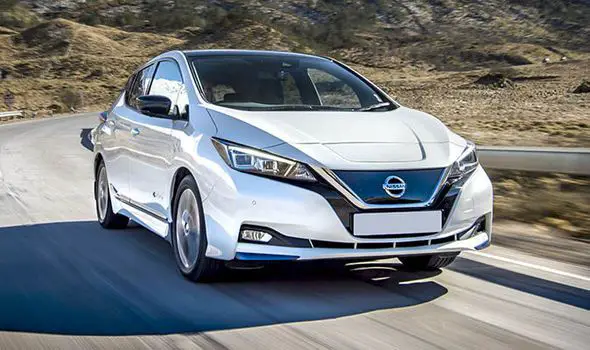 First in the market was the Nissan leaf which came in the market in 2010, you can not mention an EV without including it because it was in the market first before any current electric cars that are on the road. However, there was a need to have an advanced version of the Leaf therefore the Japanese company came up with the Leaf e+ which has more captivating specs compared to that of the Nissan Leaf.
There are several features that make this EV outstanding, some of them are:
1) Improved electric range :- The current Leaf plus has a range of 239 miles per charge. It comes with a battery capacity of 62 kWh which can boost 55% of the battery. The Nissan leaf has 151 miles therefore e+ is an advanced version.
2) Can connect smart phone to your car:- The car is able to since your apps on the phone to the car and  the apps on your car to your smartphone, it also has door to door navigation. You can be able to heat your car before you start a ride and also cool it after recharging it, this will help you regulate the temperature you want for your journey without loosing any range.
3) Safety features:- Advanced Nissan ProPilot  help with braking, steering and accelerating to help keep you safe, on-track and in control when it really counts. Equally, Intelligent Around View Monitor and automated ProPilot Park take the stress out of parking.
4)More power :- The Nissan LEAF e+ has 217PS with 340 Nm of instantly available electric torque for confident acceleration. With a 0-62 mph time 13% quicker than previous LEAF models, it's now even simpler and safer to pass slow vehicles and offers a more enjoyable ride.
5) Fast recharge time:- The Nissan LEAF e+ recharges from 20% to 80% in around 90 minutes with a rapid 50 kW CHAdeMO public charger. At home, it takes 11 hours 30 minutes to recharge from 0% to 100% on a 7 kW wallbox this is ideal for low cost overnight charge.
6) Acceleration:- The e+ has e-Pedal which makes tackling traffic easier by letting you start, accelerate, decelerate and stop using only the accelerator pedal. e-Pedal also regenerates energy back into the Nissan LEAF's battery.
7)Price:-The Nissan LEAF range starts at £26,345 (MRRP), including the special-edition N-TEC range, available from £32,795 (MRRP). Low-cost overnight charging keeps day-to-day running costs low, while new 0% BIK tax rules introduced in April 2020 make the LEAF great for company car drivers
Join the newsletter to receive the latest updates in your inbox.