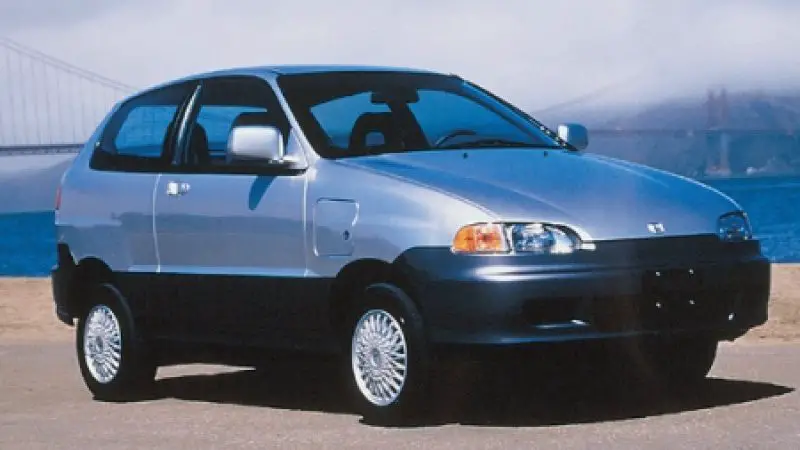 The Honda EV Plus is an all-electric car produced by Honda in the 1990's during the TBD .It had a distinction of being the first electric car from a major automaker to not use lead acid batteries. Specifically they used a Nickel-Metal-Hybrid battery pack, an act which later led to some controversy over the ownership of that battery chemistry.
The Honda EV Plus was noteworthy because it was the first battery electric vehicle (BEV) from one of the major car companies to feature NiMH battery packs prior to that EVs were powered by standard lead acid batteries. Production of the Honda EV Plus was halted in 1999 after approximately 340 EV Plus models were produced and Honda started producing its first hybrid electric vehicle, the Honda Insight.
Besides the new NiMH batteries the Honda EV+ featured: on-board charging, passive battery balancing, electrically heated windshield and regenerative braking.
Honda EV Plus Specs
Range: 81 miles (130 km) according to EPA, however 100 miles (160 km) was not uncommon
Wheelbase: 99.6 in (2.53 m)
Length: 159.3 in (4.05 m)
Width: 68.9 in (1.75 m)
Height: 64.2 in (1.63 m)
Curb weight: 1630 kg (3590 lb)
Drive Train: Front Wheel Drive
Occupants: Four
Voltage: 288 V
Motor: DC Brushless 49 kW (66 hp)
Transmission: Single Speed with Reverse
Battery (12 V X 24 = 288 V) NiMH
Charger: On-board Conductive
Recharge: 8 hours with 220 V charger, 35 hours with 110 V emergency charger.
Acceleration: 4.9 s (0–30 mph)
Maximum Speed: 80+ mph (130 km/h)
Honda allowed some customers to extend their EV Plus lease for a few years. At the end of the leases, all Honda EV Plus cars were taken back by Honda as decommissioned and eventually destroyed.
Join the newsletter to receive the latest updates in your inbox.