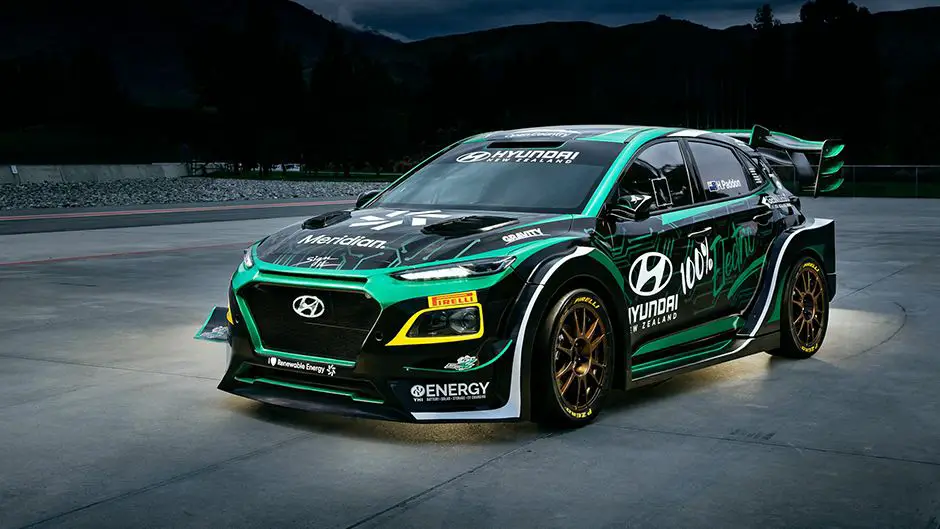 Hayden Paddon is a New Zealand rally driver. He has PWRC world champion in 2011 and won the new Zealand championship in 2008, 2009, 2013 and 2018. Paddon has spent 18 months developing the Hyundai Kona EV at his base in Cromwell, one of the first electric rally cars in the world.
Capable of delivering more than 800kW, the car will now enter an eight-month test period before starting its first full-length rally in the second half of 2021. It's that capacity to contest a full-length event that sets Paddon's project apart from short-format projects like Extreme E.80 percent of the car was designed in-house in terms of chassis design, engineering, aerodynamics, suspension, steering, cooling and electrics, while Austrian company Stohl Advanced Research and Development contributed to the project including the batteries.
According to Paddon this  car is faster on paper than an ICE (internal combustion engine) car, has better weight distribution and is more reliable as there are fewer moving parts and the potential with the technology, electronics and design of the car is endless. He adds that it is a new era of rallying that has new limits.
"The EV package is capable of over 800 kW, but we have focused on building this car to have comparable power to a current ICE rally car and aim for it to be winning rallies against normal ICE competition from 2022. A lot of work needs to happen between now and then, and we are confident that EV technology is going to work in a normal rally environment."
The Paddon Rallysport EV rally car features a modernized aero package reminiscent of current World Rally Championship (WRC) cars. When in rally spec, it weighs in at around 1,400kg and has the same suspension travel as a WRC car.
Having designed and built a new concept of rally car from scratch, the team is ready for an extensive eight month development programme to learn and extract the most from the car.
"The next phase of the project is focused on performance and reliability, before we build up to a full length rally in the second half of 2021," Paddon says. "Long term, we see this as a platform from which we will further develop the cars and our team to take on the world."
Source: RNZ
Join the newsletter to receive the latest updates in your inbox.