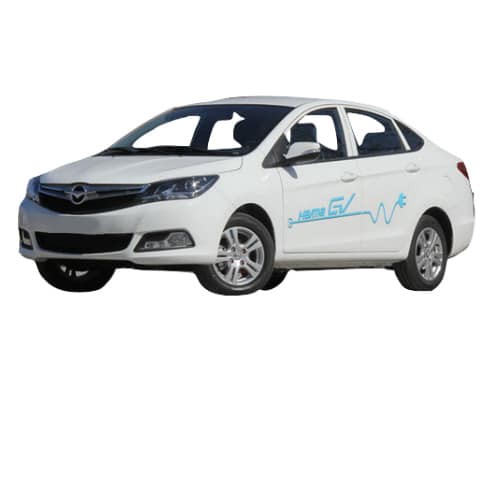 Electric cars do not really need a big grille. Some automakers fit a fake grille because they feel a car needs a grille, no matter what. Other automakers fit an enormous grille because they think that looks techy in Toyota style. One of those automakers in China's Haima. The new @3, a small electric sedan has a big grille and is painted blue.
The Haima @3 EV is an electric sedan based on the Haima M3 sedan. The @3 was launched in 2016 with a price of 119,800 yuan including subsidies. The Haima @3 EV has an electric motor that produces 95 hp, and a top speed of 120 km/h. Batteries are capable of a 200 kilometer range and charging on 220 V power source takes 7 hours. A facelift version was later introduced with restyled bumpers.
The @3 is based on the Haima M3, a rather boring compact sedan. It was launched in 2013 and it received a small face lift. Heavy bumper will cost range. Blue paint will add weight, which will cost more range again.
It will get a 95 horsepower electric motor and a range of 220 kilometer.

Monochrome LCD display and a CD player, and check that decal on the right side of the tray, the CD player can also play MP3 files.
The rest of the interior isn't much better. Gray and dark and miserable. Pretty horrible.The @3 has all the smells and looks of a "fake EV", added to the lineup to bring Haima's overall fuel consumption down, as demanded by the government(Chinese).
The specs, for what they are worth: 95 horses, a 120 km/h top speed, and a 200 kilometer range. Charging on 220V takes 7 hours. There's also a nice sticker on the door.
Join the newsletter to receive the latest updates in your inbox.