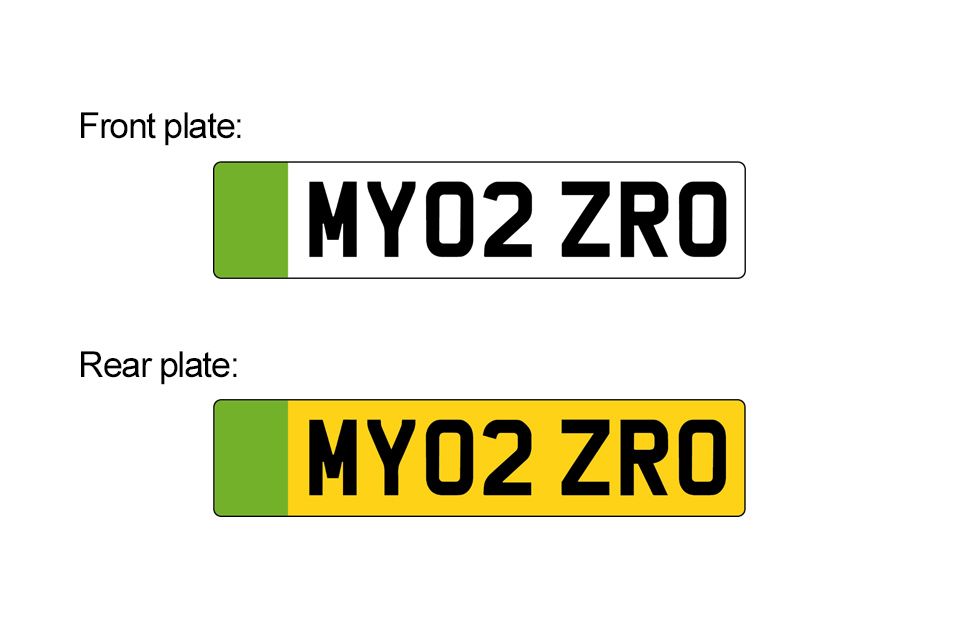 The UK Government will continue with plans to fit electric vehicles (EVs) with special green number plates this autumn, following successful trials. The consultations began last year (2019) October with the Department for Transport (DfT) saying the different plates will make EVs easily recognizable to the local authorities  and will give incentives to low carbon transport, discount of parking schemes and low emission zones.
The DfT also believes that, by businesses and members of the public being able to easily tell how many EVs are on the streets, they will recognize that a "greener transport future is within our grasp". The plates will be rolled out starting in autumn and will be recognizable by a green flash on the left-hand side. Only vehicles classed as "zero-emission" will be covered, and new cars will receive the plates before a retrofit scheme is developed.
It has not yet been confirmed whether the Government or motorists will pay for the plates, nor how much Government funding is being allocated to the scheme. However, the move will fall under the Government's broader Covid-19 recovery plan, Transport Secretary Grant Shapps confirmed on Tuesday (16 June).
Andy Eastlake managing director of the Low Carbon Vehicle Partnership (LowCVP), welcomed the move to bring all vehicles — cars, vans and trucks — within the scope of the green number plates initiative. He added that "The initiative provides a visual 'identifier' which will enable easier application of regulations and incentive schemes applied at local level — though enforcement will rely on number plate recognition," he explained. "While the identification of zero tailpipe emissions is important — particularly in terms of dealing with local air pollution and its consequent health effects — going forward we'll need to give greater consideration to the greenhouse gas emissions associated with the production and disposal of vehicles in order to deliver on net-zero road transport."
The government also announced a new £12 million zero emission vehicle research funding programme from the Office for Low Emission Vehicles (OLEV). The bulk of the funding will be delivered through Innovate UK and will see £10 million  made available through a new Zero-Emission Vehicle Innovation Competition (ZEVIC), which will invite applicants to bid for project funding to support advancements in both battery electric and hydrogen vehicles, as well as charging infrastructure.
Meanwhile, OLEV is to provide £2 million to UK small and medium businesses to support their research into zero-emission vehicles in areas such as battery technology, which could be used by major vehicle manufacturers in future electric vehicle production.
Shapps said that they are supporting small businesses to develop the transport tech of the future through a multi-million pound investment, that will ensure the business in the country remain at the front line of the low carbon innovation and research.  Shapps had previously announced a multi-billion pound programme to promote active travel and pushed through a relaxation of rules designed to make it easier for local authorities. He also announced the launch of a 'Jet Zero Council' late last week, which aims to bring together businesses, researchers, and policymakers to accelerate the development of low carbon aviation technologies.
There are questions on how the government stimulus package will support the EV mobility. However, reports have suggested the government is considering increasing funding for EV charging infrastructure, doubling grants for electric cars and vans, and stepping up support for the industry's supply chain.
However, environmental campaigners remain concerned the stimulus package could also provide significant new funding for road building programmes, while businesses have warned any attempt to accelerate the shift to EVs need to focus on urgently boosting manufacturing capacity given lengthy waiting lists for zero emission models.
Join the newsletter to receive the latest updates in your inbox.