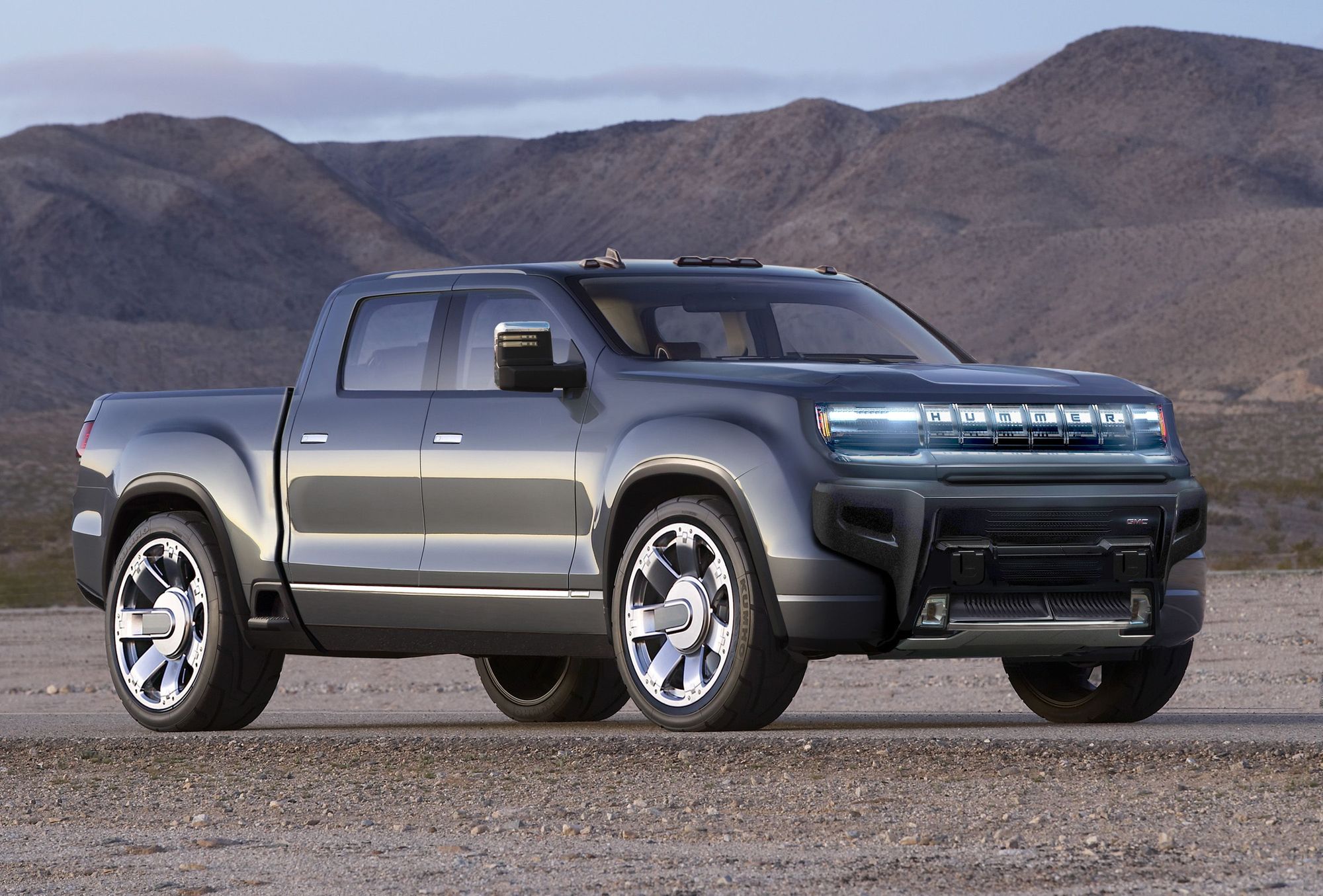 General Motors promised to deliver 20 electric vehicles by 2023, this was from their sustainability report that was released recently.  That includes models for nearly all of its brands, including Cadillac,  GMC, Chevrolet and Buick.
Most of these vehicles utilize GM's new modular EV architecture, called Ultium. With this platform, GM says some vehicles will have a range of 400 miles, acceleration of 0-60 in three seconds and come in front-wheel drive, rear-wheel drive and all-wheel-drive configurations.
Here is a list and details of the upcoming models from the GM
Cadillac
i) Cadillac Lyriq- It will be the first GM vehicle built on the automaker's new EV platform using the Ultium battery system. The Lyriq will make its debut during a virtual event on August 6. It goes into production in 2022. Price is expected to be around $75,000.
General Motors is launching a line of new EV battery technology with the Lyriq called Ultium. The technology allows the automaker to produce batteries that range in size from 50.0 kWh to 200 kWh
The Lyriq concept vehicle shows a spacious interior with just four seats with a center console that divides the two front and two rear seats, with a touchscreen for the rear seat passengers
ii)Three-row SUV- GM says this SUV will put emphases on interior space and cargo capability. It comes with standard equipment such as  two USB ports for each row of seating, power releases for folding the second- and third-row seat backs (with controls in the trunk and in the passenger-side rear door area), and a hands-free power-opening lift gate. Fold the second- and third-row seats flat, and they create a consistent load floor from the rear bumper to the front seats and a useful 79 cubic feet of cargo space. Fold only the third row, and cargo space shrinks to 43 cubic feet; leave all the rear seat backs up, and there is a mere 13 cubic feet of storage space left over. That volume sounds small,but it's the same as the Acadia and just 2 cubes shy of the vastly larger Cadillac Escalade.
iii)A small crossover like Cadillac's current XT5-The electric Cadillac crossover, which will look like the XT5 is expected to debut on GM next-generation called BEV3. Like other modern electric vehicle platforms, BEV3 will be highly scalable and will support either FWD, RWD or AWD. It will be used in a wide variety of electric GM vehicles going forward, including another small electric Cadillac crossover slated to arrive after the mid-size vehicle.
iv) A full-size, three-row SUV- This SUV has specs like that of XT6. It can accommodate front-, rear-, or all-wheel drive configurations, and the battery system output can be varied depending on the specific vehicle and the needs of its buyers.
The six or seven passenger XT6 offers more third-row space. There's room back there for small and average-size adults, although the third-row cushions sit on the floor like beach chairs in the sand. And you'll be hard-pressed to fit much more than three carry-on bags in the cargo space behind the XT6's back row.
v)Cadillac Celestiq Statement Vehicle- Cadillac Celestiq will have a design that closely resembles that of the Cadillac Escala concept.
Celestiq will most likely adopt GM's next-gen BEV3 electric platform for underpinnings, and could offer both RWD and AWD drivetrain configurations. The sedan will  also  likely take styling cues from the gorgeous Cadillac Escala concept that debuted in 2016 at the Pebble Beach Concurs d'Elegance. The four door sedan is expected to debut between 2023 and 2024 following the launch of the Cadillac Lyriq crossover slated for 2022.
The ultra-luxury vehicle has a  price tag of around $200,000.
GMC
vi) GMC Hummer Truck-The Hummer EV  will ride on GM's third-generation EV platform. The company also said that its truck-based models will have an 800-volt architecture with 350-kWh fast-charging capability. That indicates the Hummer could have a driving range of up to 400 miles.
The truck is expected to come with high-tech touchscreen interface to go along with the tech-forward EV powertrain. A host of connectivity features will likely be standard, including Apple CarPlay/Android Auto capability, a Wi-Fi hotspot, and GM's OnStar telematics system.
GMC Hummer EV will have more than 1,000 horsepower (745 kilowatts) and a reported 11,500 pound-feet (15,590 Newton-meters) of axle torque. That means the truck should be able to hit 60 miles per hour in about 3.0 seconds.
vii)GMC Hummer SUV-The electric SUV is to match the performance of the pickup, which  will make 1000 horsepower and go from zero to 60 mph in 3.0 seconds.
It is important to note that the pickup rides on a longer  wheelbase than the SUV to accommodate its five-foot bed. Inside, the Hummers will be offered with a 15-inch infotainment screen and a 12-inch digital instrument cluster.
Chevrolet
viii)An electric Chevy pickup truck - GM planning to release a full size electric Chevrolet pickup that has  a range of more than 400 miles on charge. The electric Chevy pickup will be one of 20 electric vehicles GM plans to release by 2023.
The Chevy electric pickup should be different than the electric Hummer pickup. The Hummer is being billed as a lifestyle vehicle. It will only be available in a single body configuration with a four-door crew cab and a five-foot bed and will feature removable roof panels. While Chevy is expected to be closer to the traditional truck formula with a greater emphasis on utility.
In order to maximize big and heavy workhorse,GM's new electric-vehicle platform allows the company to stack battery modules two high. Fitting 24 modules between the frame and under the body results in a battery pack that can store as much as 200 kWh of electricity on board. The is more compared to Tesla that has only 100 kWh. Therefore Chevy should be able to have a range of 300 miles.
ix)Mid-size SUV-This vehicle should have plenty of interior space thanks to the efficient packaging of its electric powertrain. A pair of 18-inch multimedia displays will provide lots of screen real estate for drivers and passengers.
x) Chevy Bolt electric crossover -The crossover has GM's Super Cruise self-driving.The EV has not been given official name yet but has a size similar to that of Chevrolet Equinox, and features a highly styled design like that of Chevy Blazer
The Bolt crossover will launch in Summer 2021 as a 2022 model year vehicle.The next new Chevrolet EV will be a new version of the Bolt EV, launching in late 2020, followed by the 2022 Bolt EUV  launching Summer 2021
Based on the Bolt's BEV2 architecture, the Bolt EUV is stretched 3 inches between the wheels for more interior space and 5 to 6 inches overall. The Bolt is already tall, but more upright styling will make it look more like an SUV with low ground clearance .The longer wheelbase will make space for a larger battery than the standard Bolt's 66-kW-hr pack. It will still, however, be front-wheel drive only, as there are no plans to add a motor to the rear axle.
The units will support capacities from 50 kilowatt-hours to 200 kWh, and they will be capable of Level 2 and DC fast charging. This will allow for an estimated range up to 400 miles (644 kilometres). The standard version will have a 400-volt battery pack and up to 200 kW fast-charging capability, but the version for the truck platform will be 800 volts and support 350 kW charging.
Buick
xi)Buick SUV also called conventional crossover-This crossover maximizes on space and cargo area.The car is  similar to the Bolt EUV prototype
xii) Buick CUV -This is another crossover that features more expressive proportion with a greater emphasis on form and athletic fashion.  It's unclear whether either vehicle will make it to the Chinese market, where Buick has proved unexpectedly successful in recent years.
Join the newsletter to receive the latest updates in your inbox.