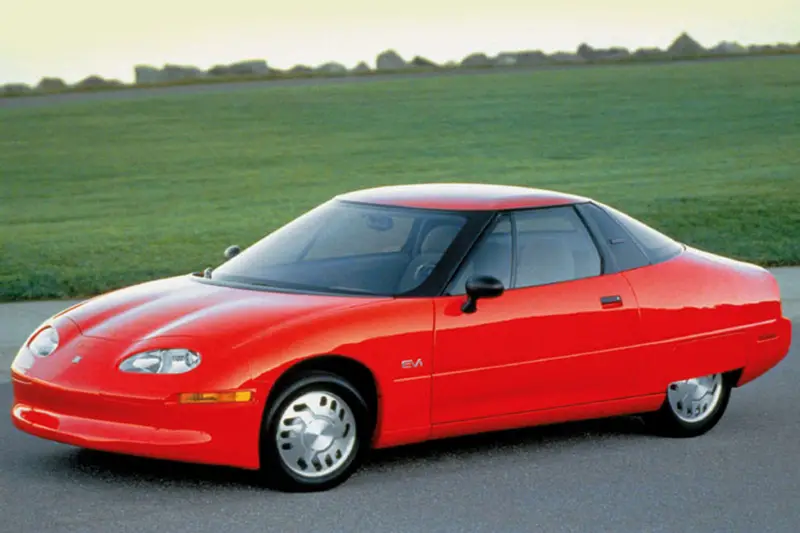 The EV1 began life in 1990 as the Impact two-seat coupé concept car.The EV1 is based on a stiff and light aluminium structure. It is powered by one electric motor with a three that is a 137 bhp (102 kW) AC induction motor that spins to 13,000 rpm. It is integrated into a drive unit that contains a two-stage gear reduction and differential. The powertrain weights 68 kg (150 lb) , one-third the weight of a comparable four-cylinder engine and trans-axle. Naturally, there are no exhaust emissions and the motor requires no oil changes.
This 137-horsepower, two-seat electric toothbrush has a bonded and welded 295-pound aluminum space frame with plastic body panels, stop by wire brakes, and electric steering. Its mostly aluminum and composite plastic suspension weighs 25% - 40 % less than a conventional steel counterpart.
The EV1 is approximately the size of a hypothetical two-person Saturn SC2 coupe.However, the EV1 has similar wheelbase, height, and track dimensions, but with a five inch-shorter overall length and two inch narrower width than the production SC2. GM engineers designed an all new chassis to integrate the large 1175 pound lead acid battery as a large T-shaped structural component. The battery's presence is indicated only by a large center-console hump that separates driver from passenger.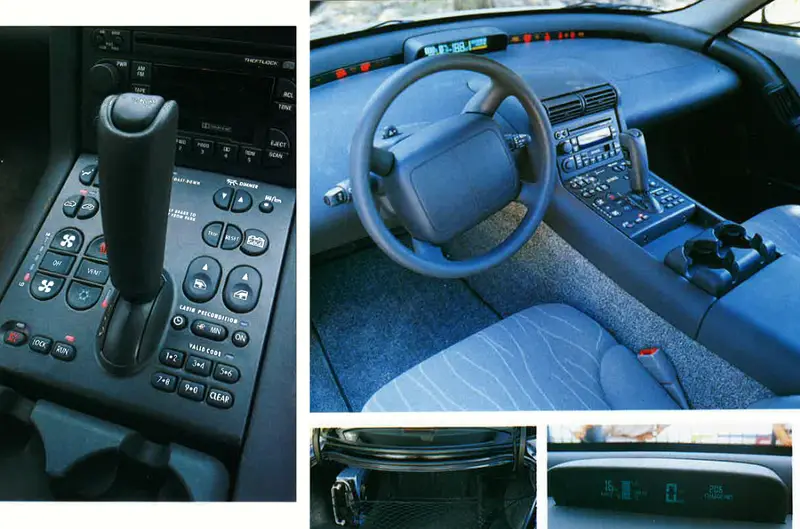 A key EV1 design feature is its swoopy, teardrop-shaped body, which allows the car to displace minimal air mass and thus contributes to its energy efficiency. To achieve this sleek, tapered shape, the rear wheels are 8.9 inches closer together than the fronts. Surprisingly, trunk space isn't drastically compromised by the exterior styling nor by the battery's size. Designers compensated by making the trunk narrow but deep, with enough cargo space for a set of golf clubs and some groceries. One EV1 aerodynamic element not readily apparent is its smooth underside, much like that of a race car. Without the need for an exhaust pipe, muffler, or catalytic converter, the EV1 is sealed up like a Matchbox car.
A key pad on the B-pillar unlocks the EV1, though a traditional lock can be used should the battery be completely drained. From the low-slung seats, the car offers a panoramic view of the road through its dramatically curved windshield. For a two-seater, there's an unusual amount of seat travel, providing comfort for people of all sizes.
Starting GM's prototype EV1 involved typing a simple code into the center-console key pad, reminiscent of Magnum P.I. 's Ferrari 308 security system. A correctly entered number sequence illuminates the Valid Code indicator, signaling the driver to press the Run button.
With a slight hum the EV1 comes to life. A wrap around strip located just beneath the windshield illuminates a plethora of indicator lights as the computer runs a check of seemingly everything from the battery life to the current size of the hole in the ozone layer. The centrally positioned digital instrument cluster is likewise illuminated. Mounted to the back of the deep dash, the cluster displays the vehicle's range, remaining energy, speed, gear-selector lever position, and tripometer in concise digital fashion. Despite its unconventional midships position, the cluster is extremely easy to read.
On the interior it is a bit stuffy , straight ahead of the driver is a steering wheel with direction indicator and windshield wiper stalks. Typical instruments such as oil and water temperature, tachometer, oil pressure, and fuel-level gauges simply don't apply. All other controls, such as power window switches and climate controls, are located on the center console, beneath the AM/FM/CD/cassette player.
Safety features in EV include dual airbags, interval wipers, power mirrors, cruise control, air conditioning, and rear defrost, but not GM's now-typical fitment of daytime running lights.
The negative side of this car is it has energy-sapping penalties of both hills and cold temperatures, which achieving less than the 70/90 mile city/highway range . Nonetheless, power remained strong until battery-charging time. When the EV1 is low on energy, owners can replenish it with a trunk mounted "opportunity charger," which works from standard 110-volt outlets and necessitates an approximate 15-hour recharge time. Larger 220-volt Delco Magne-Charge units can be located at home, work, or potentially at the local shopping mall to provide a rapid three-hour recharge. The projected cost of charging is similar to that of fueling a gas-powered vehicle.
EV1 price is $30,000 .
Join the newsletter to receive the latest updates in your inbox.