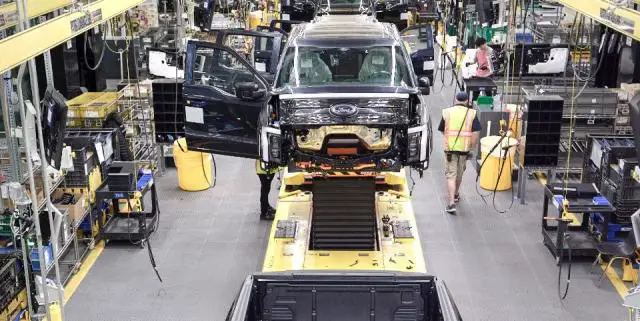 Ford plans to offer a second type of battery chemistry known as lithium-iron-phosphate or LFP, in two electric vehicles now on sale. The LFP battery packs will become standard on the Select base trim of the Mustang Mach-E electric crossover this year, and the base XLT version of the F-150 Lightning full-size pickup truck next year.
The company has now announced it will build a dedicated battery plant in Marshall, Michigan, to produce LFP cells starting in 2026, at a cost of $3.5 billion. That plant will use technology licensed from the world's highest-volume cell maker, Contemporary Amperex Technology Limited (CATL) in China. Until that plant comes online, Ford will buy cells directly from CATL to use in the base models of those two EVs and others.
New Battery, Same Range
Lisa Drake, vice president of EV industrialization for Ford Model E said using a second battery type lets the company boost production of EVs more quickly, and it will also lower the cost of batteries to make EVs more affordable to more buyers and its EV unit. The company expects to be building EVs at a rate of 600,000 a year by the end of this year, and two million a year by the end of 2026.
Consumers won't immediately see much difference in the base Mach-E and F-150 Lightning models with the new battery. Both models will retain the same EPA-rated range, according to Marin Gjaja, chief customer officer for Ford Model E. For the Mach-E Select, that's 224 miles combined; for the F-150 Lightning XLT with rear-wheel drive, it's 230 miles. Other versions of both models will stick with their current nickel-cobalt-manganese cells, provided by Korean firm SK Innovation.
LFP cells have at least one advantage: they take readily to full recharging from 0 to 100 percent, letting drivers use the entire range of those batteries and then fast-charge them fully with confidence. Ford's anonymized user data suggests the average Mach-E covers 32 miles a day, with an average trip length of 5 miles—although U.S. buyers frequently ignore average use and buy for their most extreme use case.
Source
i) John Voelcker (2023) Ford Opening Michigan Plant to Make Batteries That Could Bring EV Costs Down
Join the newsletter to receive the latest updates in your inbox.