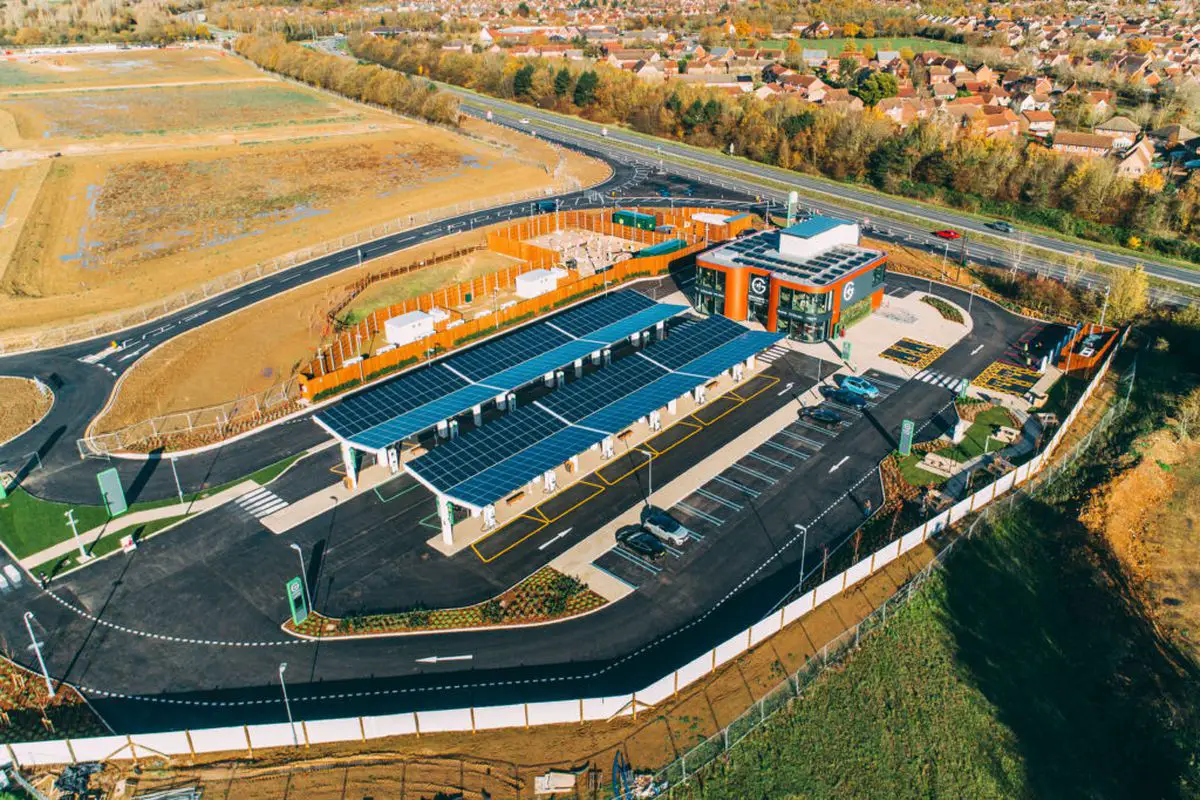 The United Kingdom has unveiled its first electric car charging station near Braintree in Essex; this is an advancement in electric vehicles' efforts. The Charge Station is operated by Gridserve, the location out of 100 available, and plans to build more charge stations in the next five years.
Speaking at the Braintree site's grand opening, Toddington Harper, founder, and chief executive of Gridserve, said that the announcement highlights the significant milestone in achieving the station's purpose to deliver sustainable energy and tackle the climate change issue. He added, 'It's our collective responsibility to prevent greenhouse gas emissions from escalating whereby EVs play a significant role in ensuring there is clean energy.
According to Gridserve, the location has 36 electric car chargers delivering up to 350kW of power. This power is enough to provide 200 miles in 20 minutes. With an initial cost of £0.24 per kWh of energy, the company estimates an average-size electric vehicle can charge from 20 to 80 percent for under £10 (less than $13.25). Gridserve claims these are the lowest ultra-high power charging rates on the market currently available.
The station's charger gets its power from renewable sources such as solar panels installed in the station canopies and the company's network of hybrid solar farms. There's also a 6MWh battery onsite to help balance the supply of power during peak times. According to Gridserve, on windy winter nights, the battery can store enough energy to drive 24,000 miles in electric vehicles the following day.
When you charge your car, there are a waiting lounge, free superfast Wi-Fi, high-end washrooms, a  kid's area, a gym zone with exercise bikes that generate electricity, and business meeting room pods. It will also be an educational center for electric vehicles, with several EV models for visitors to see. Drivers can pay for electricity using their debit or credit cards. The cost is at   24p per kWh of charging, currently the lowest ultra-high power charging rate on the market. It means a typical charge from 20 percent battery capacity to 80 percent costs under £10 for the average electric vehicle.
The station operators say they plan to introduce membership in the future. The benefits include an annual fee and reduced rates. As highlighted, the has 100 sites already and is preparing for two more
other forecourts in Uckfield and Norwich East have also been in the process.
All the new destinations will be located on busy routes and near powerful grid connections close to towns, cities, and major transport hubs.
Mr. Harper adds that charging has to be stress-free; that is why they have designed their charge stations to have in mind the drivers' needs. If we want to eliminate the traditional petrol station for a net-zero carbon world, we need to win people's confidence for an easy switch to electric transport as we aim to attain the 2030 goal.
This station has been opened less than one month after UK Prime Minister Boris Johnson announced moving to fully electric by 2030. According to The Guardian reports, some hybrid cars and vans are still on sale until 2035. One forecast cited in a recent government report estimated that there could be over 10 million electric cars on British roads by 2030, rising to 36 million a decade later.
Join the newsletter to receive the latest updates in your inbox.