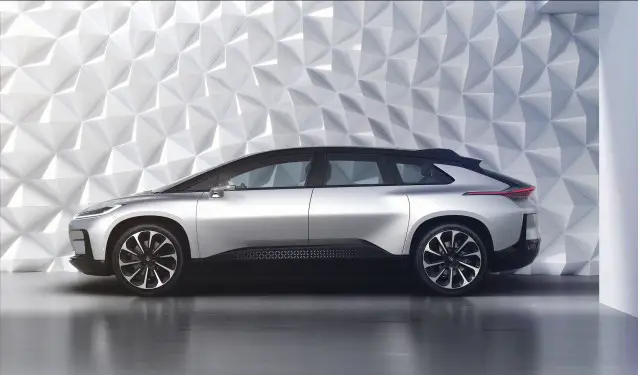 The FF 91 sports a massive 130-kilowatt-hour battery pack, and at the car's CES 2017 unveiling, Faraday said the pack would provide 378 miles of range on a charge. The powertrain consists of three electric motors producing a combined 1,050 horsepower. Faraday previous said the FF 91 would do 0 to 60 mph in 2.39 seconds — making it quicker than most supercars beating the rival Tesla Model X P100D in Ludicrous mode
The FF91 also claims more than 378 miles of range while it can be topped up on any charging standard with wireless charging promised in the future.While performance figures match that of a supercar, the wheelbase is in line with a luxury saloon. With a wheelbase of 3,200 mm, it's longer than a Mercedes S-Class and Bentley Flying Spur meaning rear passengers can recline seats to 60 degrees.
It also takes styling cues from SUVs with a sleek, rounded front featuring a distinctive latticework pattern and an angular rear. The FF91 sits on 22-inch wheels and also features thin LED light bars at the front and rear similar to the company's FFZERO1 concept from 2016. Despite its size, design and instant acceleration, on the road it promises driving dynamics of a midsize car with four wheel steering and a ride height that actively adjusts depending on speed.
The FF91 has a glass roof to give a light and airy interior but both that and the rear and side windows all feature PDLC (Polymer Dispersed Liquid Crystal) glass. This means by tapping the glass, users can be provided with instant privacy and shade.
That's just one of the clever pieces of kit loaded onto the groundbreaking FF91. On the bonnet is one of the model's key features, a retractable 3D LIDAR detector disc that operates many of the autonomous functions alongside 10 HD cameras, 13 long and short range radars and 12 ultrasonic sensors.
The standard rear view mirror has been replaced by a HD display, too, that merges live feeds from the side mirrors into a single image in a bid to eliminate blind spots. Facial recognition is also included to unlock the car meaning there's no key for the FF91 and touch buttons replace door handles.
As part of the new model, Faraday Future has also unveiled its global FFID which will form the basis of its connected "eco system". Each driver will have a unique ID that stores data about their driving preferences like seating position.
All this connectivity will be aided by high-speed wireless internet on board and the seamless integration will allow you to plan a route on your laptop, transfer this straight to the vehicle while making alterations on your smartphone.
Join the newsletter to receive the latest updates in your inbox.