Formula E, the first global all-electric racing series, has unveiled the racecar that will run in its new upcoming off-road sister sport, "Extreme E" dubbed Odyssey 21, the all-electric SUV.
Extreme E is the next chapter in zero-emissions racing, following Formula E. The racing series will feature hulking machines with battery-electric powertrains and teams will tackle areas that have experienced climate change has impacted the most. Named Odyssey 21, the all-terrain racer features SUV styling and a 536-hp electric powertrain with a battery from Williams Advanced Engineering. It's built by Spark Racing Technology, the same company that manufactures cars for the Formula E series. And, as in Formula E, teams will be able to develop their own powertrains. Unlike the electric open-wheel series, Extreme E cars will also allow for custom body panels inspired by production vehicles.
Compared to Formula E, Extreme E teams can create their own body panels to somewhat resemble production SUVs. Teams will also be able to create their own powertrains. The SUV features an electric powertrain and battery from Williams Advanced Engineering, built by Spark Racing Technology. Spark also builds the Formula E race cars, Williams squeezed 536 horsepower from the powertrain.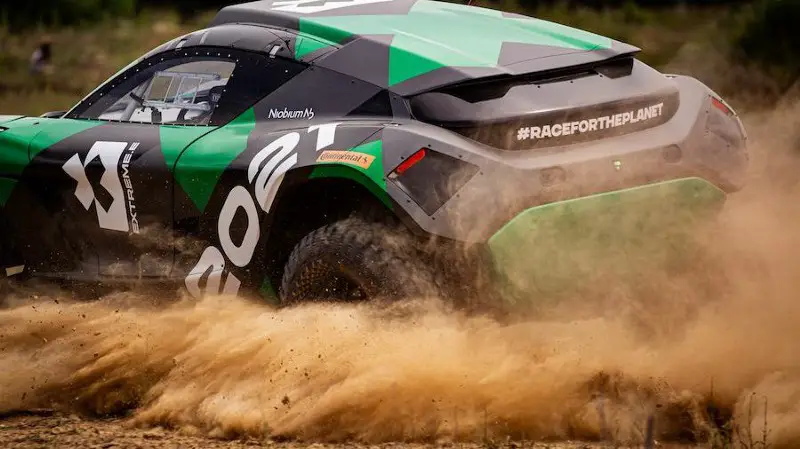 This SUV can go from 0 to 100 kilometers per hour (0 to 62 miles per hour) in 4.5 seconds, even on steep grades. That's thanks to a total 400kW (550hp) power output, driven by motors on each wheel. The Extreme E series will start putting the Odyssey 21 prototype through its paces this September, and French manufacturer Spark Racing Technology is set to deliver 12 final versions of the racecar in March 2020. Extreme E is slated to kick off in early 2021
Each electric SUV will also run on specifically developed Continental tires that can handle harsh temperatures and environments for the series. The first team to sign onto Extreme E is Venturi, which also races in Formula E. Additional teams will receive their prototype cars next March for testing before the inaugural season starts in 2021.
The electric SUV racer boasts 550 horsepower, allowing it do zero to 62 mph in 4.5 seconds, according to Formula E. That's about the same as a Jaguar I-Pace and certain versions of the Tesla Model X are quicker. But those road-legal models can't match the Odyssey 21's off-road performance. Formula E claims it can tackle gradients of up to 130%. The racer also boasts special Continental tires designed to handle extreme terrain.
Join the newsletter to receive the latest updates in your inbox.