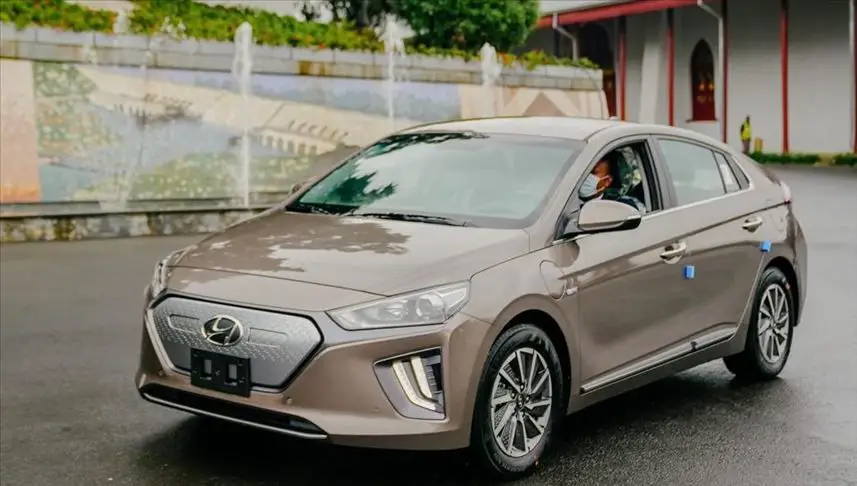 Ethiopia has unveiled a locally-assembled electric car from Marathon Motor, a joint venture between Korean auto giant Hyundai and Olympic champion Haile Gebrselassie. Electric cars are increasing in popularity thanks to companies like Tesla and legacy car manufacturers are starting to take them seriously. This has led them to come up with new electric cars, and most importantly ramp up production across the world.
The prime minister Abiv Ahmed said on twitter , the plan is to transform Ethiopia green and climate resilient aspiration into concrete action through the Green Legacy initiative and  Sheger and Entoto Parks, the PM received the car on Monday which is the first fully electric car to be assembled in Ethiopia. He also added that no emission can help reduce pollution.  The car was delivered by Mr Haile.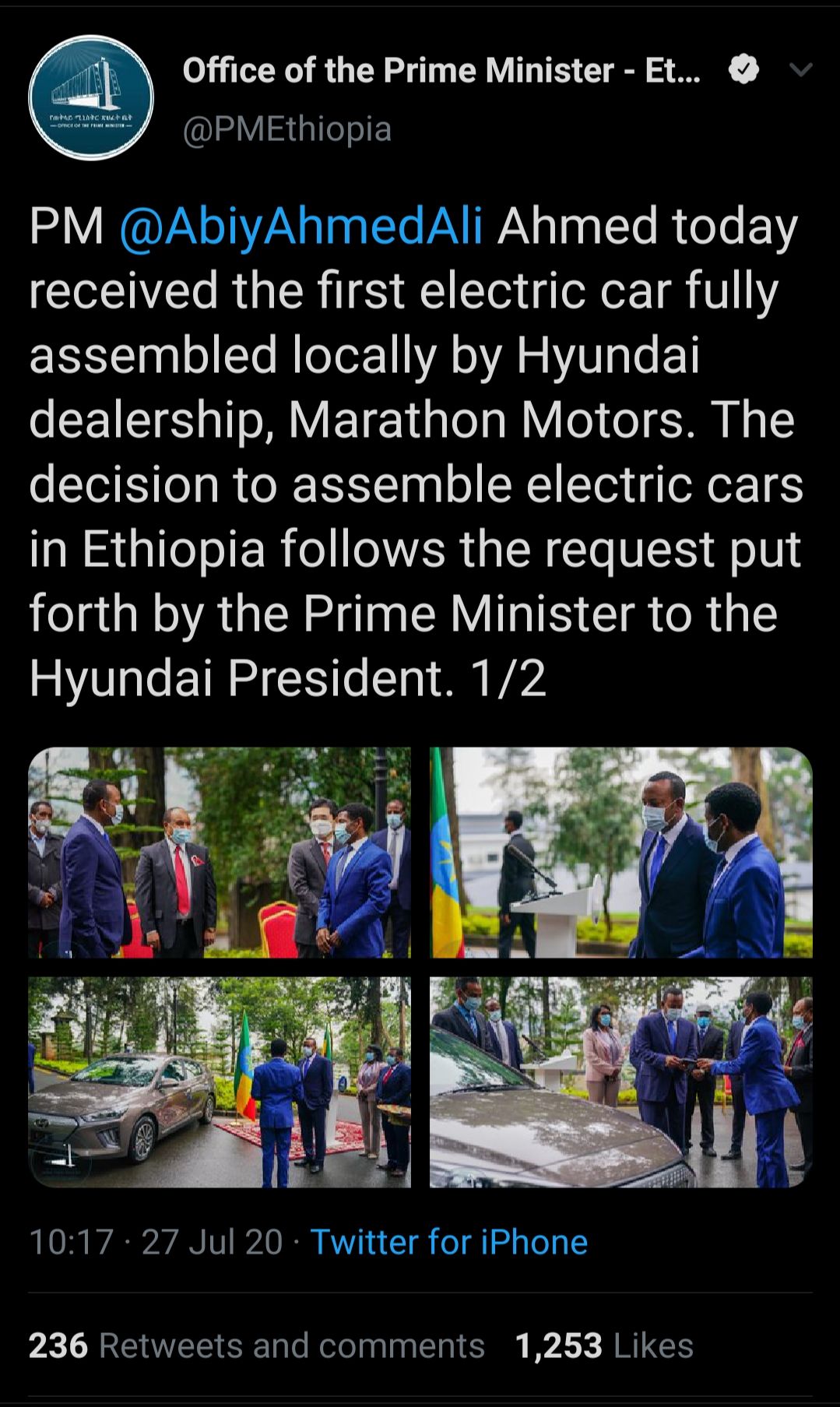 The production plant was opened in march 2020 and has ability to produce 10,000 cars in a year. Once fully charged, the electric car can go for 300 kilometres.It costs just $0.92 to drive the Hyundai Ioniq over a 100 km trip in Ethiopia, where as the same trip in a Toyota Corolla would cost you $5.37. Hyundai IONIQ which is originality is South Korea  debuted  in 2016. The 2016-2018 versions had a 28 Kwh battery pack while the 2020 version has a bigger 38.3 kWh battery pack which can juice up to 200 km and 274 km respectively.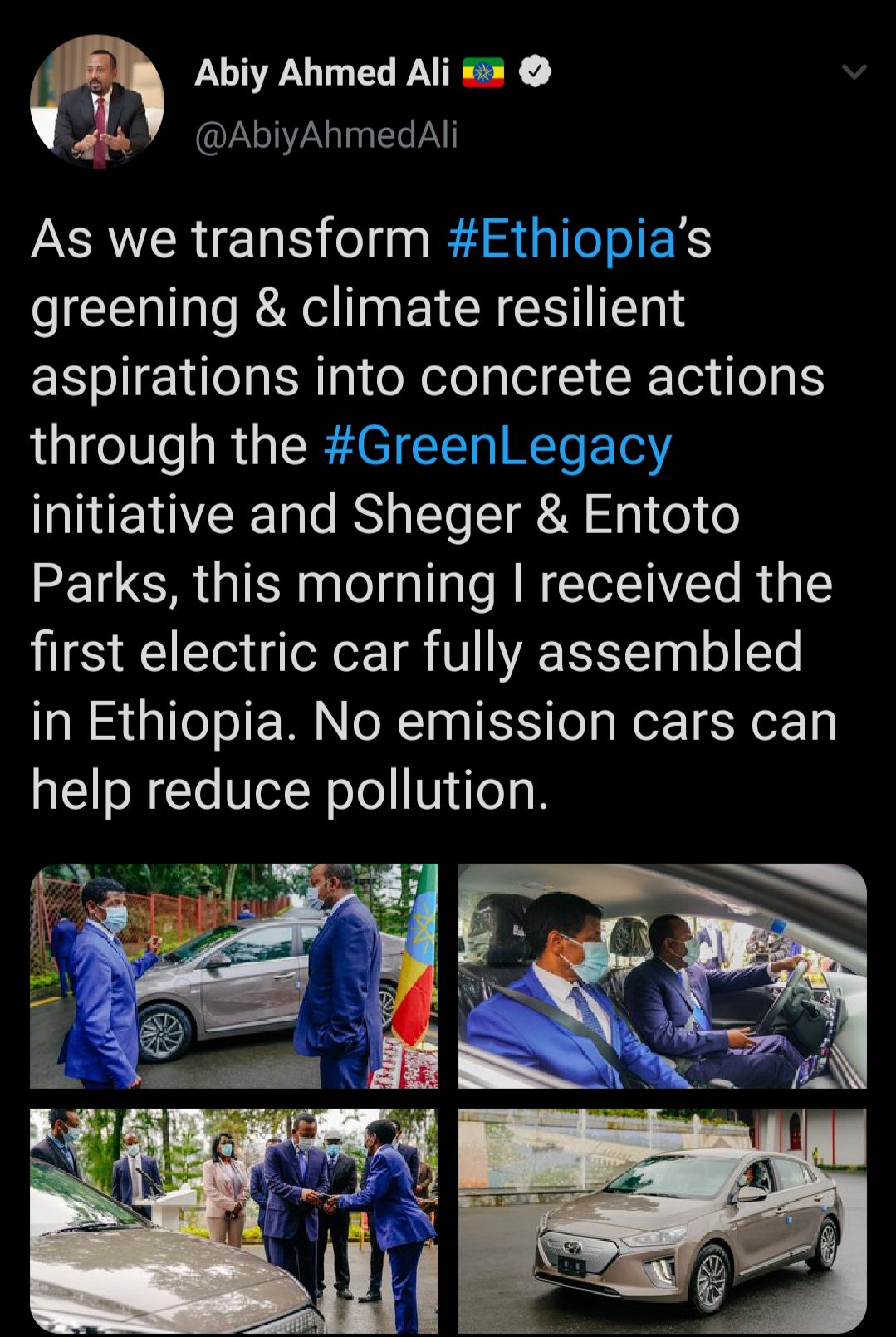 The batteries can be apparently charged up to 80% in 33 minutes on a 50 kW station or in 24 minutes at a 100 kW fast charging station. However if you charge it at home in the 220-240 volt means like in your house, 100% of range can be added with an overnight charge.It has a single electric motor that generates 120 horsepower with 295 Nm of torque for the 2016-2019 versions or 134 hp and the same amount of torque with the 2020 version, which is a similar power figure you get from 1.5 to 2.0 liter gasoline cars.
It is  exciting times for Ethiopia. Clean and renewable hydro-power dominates Ethiopia's energy generation mix, contributing around 90% of the installed generation capacity. The electricity tariffs are also very favorable, with residential tariffs at around $0.06/kWh. Driving EVs in Africa is a whole lot cheaper than driving ICE. A study by AfricanEV reveals just how good driving the Hyundai Ioniq EV and several others can be in Ethiopia.
Last year, Ethiopians planted three billion trees as part of the greening and climate resilience initiative championed by the Prime Minister, with an additional four billion trees planted this year.
Ghana has not been left behind in the EV move, The Automotive Development Policy,The Ghana Automotive Development Policy provides the necessary framework to establish assembly and manufacturing capacity in Ghana,  has encouraged VW, Toyota and Nissan to  open assembling plant in the country.  The initial focus will be on new passenger cars, SUVs, and light commercial vehicles which would include pickups, minibuses, and cargo vans. VW Ghana's new vehicle assembly plant has already started production in Accra's North Industrial Area.
The plant will assemble ICE versions of the Tiguan and Tremont SUVs ,the Passat, Polo, and the Amarok pickup. They are targeting to produce around 5 000 vehicles in the first year, ramping up production based on demand.
The majority of vehicles sold in Ghana are used vehicles. Salvaged vehicles were also a popular segment. Importers brought in accident-damaged vehicles, fixed them up, and sold them in Ghana at prices that would be more affordable for consumers. As part of the measures to  encourage the local assembly industry, Ghana has now banned the import of salvaged vehicles. This ban kicks in this October. Ghana has also now capped the age of used vehicles that can be imported into Ghana at 10 years.
VW also has plants in Kenya, Rwanda, and South Africa. Toyota and Nissan, two of the most popular brands in Africa, are also set to enter the Ghanaian vehicle assembly sector. Like in most markets in Africa, Toyota is the most popular brand and it is important for it to expand its manufacturing and assembly plant footprint on the continent.
Join the newsletter to receive the latest updates in your inbox.