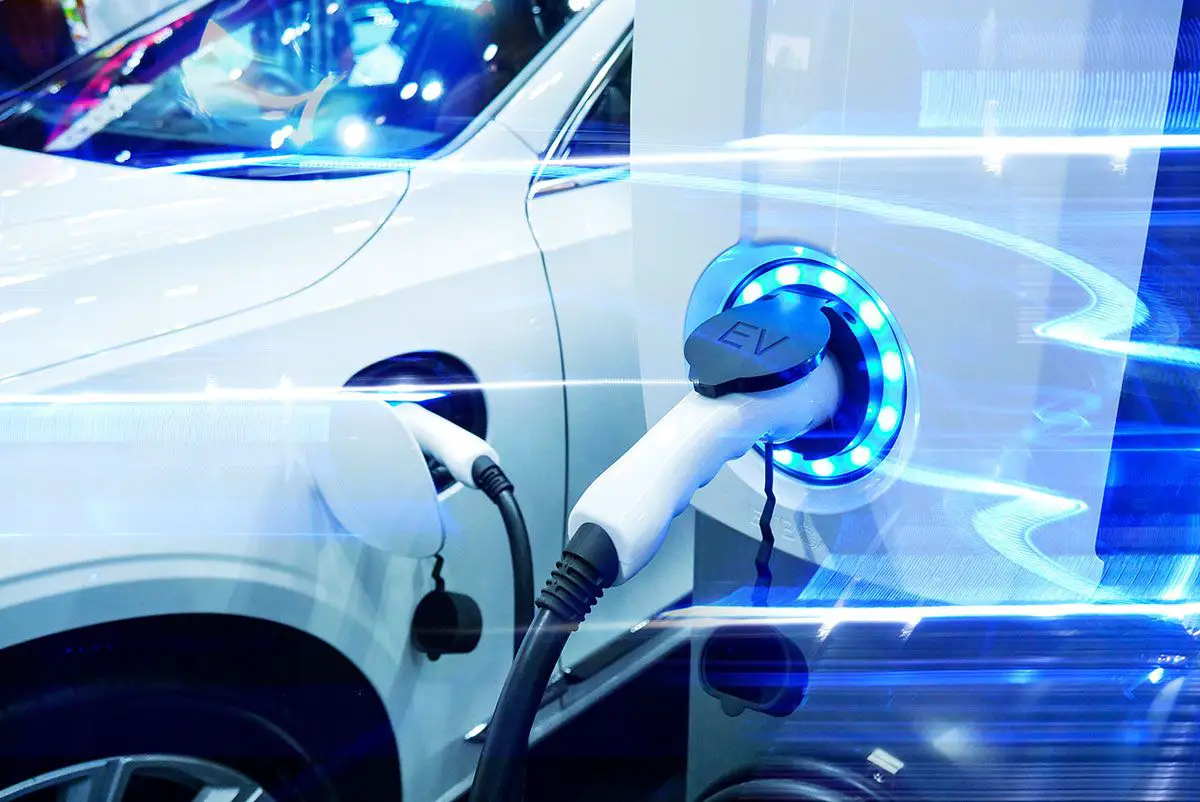 New electric vehicles are more powerful, affordable, safer, and reliable. Nearly every automobile manufacturer in the world is pursuing EV technology, and many other industries are looking for ways to adapt the science for their own products. The age of the modern electric vehicle has only just begun.
With advanced technologies in transportation such as Vehicle to vehicle(V2V), vehicle to pedestrian(V2P), Vehicle to grid(V2G) vehicle to infrastructure (V2I) enhanced traffic safety and efficiency can be realized. Communication between and smart devices at the roadside is known as vehicle to everything(V2X). As a part of V2X, V2I communication can improve driving performance by making velocity decisions based on knowledge of traffic light distance and time gap and reducing the starting and stopping frequency of vehicles to make driving smoother and steadier. The batteries of EVs can be considered either as loads or as a distributed energy and power resource in V2G. A V2G-capable vehicle offers various features, such as regulated active power, provision for reactive power, load smoothing, and elimination of current harmonics. The cost of V2G includes battery degradation, a communication fee between the EV and the grid, impacts on grid distribution equipment, and infrastructure changes.
The economic benefits of a vehicle to grid technologies have received attention from grid operators and EV owners, and are heavily related to the strategies of charging and vehicle aggregation.V2P communication systems for safety or convenience have also attracted increasing attention. Recent research shows that different V2P systems have employed different communication technologies and mechanisms to face different users. The main motivations of V2X are road safety, traffic efficiency, and energy savings. However, this technology is still in an exploratory stage and faces several challenges, such as cybersecurity and traffic safety brought about by V2X applications.

Although EVs have attracted significant interest recently, numerous technical difficulties remain which are crucial for the promotion of EV development.  One of the key barriers is the research and mass production of batteries, which have a high energy density, high power density, and safety.
Research on technologies in EVs, currently the widely used batteries in EVs are lithium-ion batteries. The existing cathode material of a lithium-ion battery contains cobalt or nickel, both of which are expensive and highly toxic. The mass production of lithium-ion batteries for EVs will lead to the appearance of large volumes of contaminated waste and places. Future battery research should keep in mind the technical and economic feasibility of large-scale production. The safety concern is another challenge for EV batteries. Recent news about fires of lithium-ion batteries of EVs highlights the importance of battery safety. Battery management could enhance the safety of huge battery packs in EVs and should be researched widely.
To eliminate range anxiety must provide the prospect of new opportunities for EVs to enhance sustainable mobility. At present, the system efficiency of dynamic range is not high enough, and the batteries cannot get enough energy due to the limited track length and high speed of the vehicle. Large-scale charging infrastructure deployment is one of the requirements of the range application. A careful evaluation of the environmental and economic impacts of large-scale charging infrastructure can help future development. The other technical challenges for EVs involve the coordination of the growth and development of EV technology in conjunction with other emerging technologies, such as AI and V2X.
Here are some of the likely future developments of EVs
Vehicle to Grid (V2G)- The V2G is an important area of EV charging energy management, this will help to charge between vehicle and grid. With the vehicle to grid (V2G) energy stored in an EV can be fed back to the grid at times of peak demand to minimize the strain. The average percentage of the car is parked is 95% during the day whereby the V2G offers the potential to optimize grids by leveraging millions of EVs as decentralized energy storage resources, with no capital or operating costs. This approach turns EV drivers into a consumer of the grid and a provider of energy thus enabling them to reduce their costs of EV charging and receive other discounts on their electricity usage.
Wireless EV Charging- This will help speed up the mass adoption of electric vehicles.  With a high-powered wireless EV charging system, vehicles can automatically charge while parked in selected pick-up/drop-off locations, an ideal solution to keep taxis or autonomous vehicles perpetually charged. The system requires no physical charger-vehicle connection; it consists of multiple charging plates installed underground that engage automatically. No charging station is required, delivering more convenience and less clutter in the public space.
Mobile charging- Mobile charging includes charging vans, portable chargers, and temporary chargers, where the chargers themselves are "on the go" and do not require infrastructure investments. With mobile charging, there's no need for structural changes, no huge financial outlays, and no more problems for fleet EVs who need fast roadside charges, which is one of the first applications of mobile charging vans. VW has deployed electric charging stations with giant integrated batteries to manage station demand and keep them online if the grid goes down. The stations can be deployed anywhere, either temporarily or permanently, serving concert goers at festivals or other events, or providing charging points in areas where building large EV charging stations isn't possible.
Ultra-fast charging- Ultra-fast charging is the logical next step in satisfying EV drivers' demand for charging on the go. A fill-up at the pump with a traditional gas-powered vehicle takes only a few minutes, and EV drivers are demanding the same time savings. Ultrafast chargers are delivering 32 km (20 miles) of range in one minute, removing driver range anxiety, one of the major barriers that limit the adoption of EVs. For example, Australia is working to create a countrywide national ultrafast EV charging network. The charging stations will be spaced to enable EV drivers to confidently drive between Australia's major cities, with convenient, ultra-fast charging sites enabling them to charge in minutes. With this future-proof development, battery makers are now following suit and working to ramp up charging speeds on their side.
New battery technology- Range anxiety and battery cost are two issues preventing even wider adoption of electric vehicles. However, new battery technologies are poised to solve both issues at once. Lithium-ion batteries have become the industry standard over the two decades of EV development. New technologies are being tested, such as graphene-based technologies, which charge in 15 seconds. These are expected to supplement, not replace, traditional EV batteries. Toyota is working on sulfide-based, solid-state batteries that are projected to last almost 30 years. Other companies are trying to eliminate cobalt, one of the most expensive components in existing batteries, which will significantly reduce the price.
These innovations will shape the future of EV charging, accelerating EV adoption. The new technologies will be game-changers from an EV charging experience perspective, will support new business models for EV charging, and generate new business opportunities for e-Mobility industry players.
Source: i) Xiaoli sun et all (2019) Technology Development of Electric Vehicles
ii) Driivz team(2020) Five Innovations Herald Easier and Faster EV             Charging Future
Join the newsletter to receive the latest updates in your inbox.