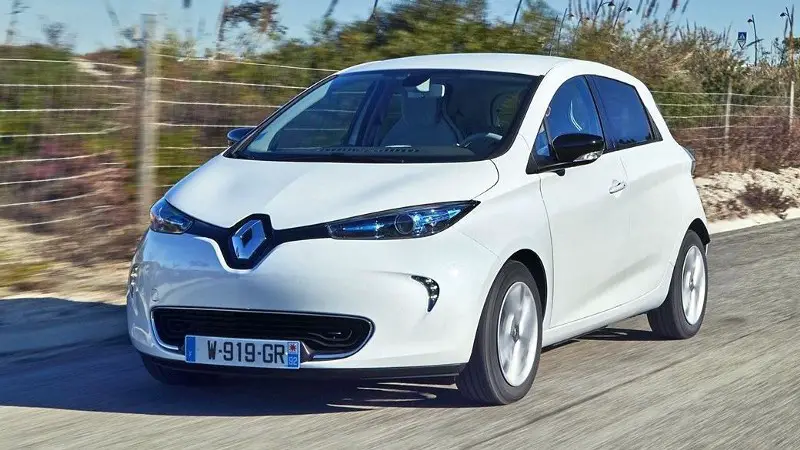 The Zoe e-Sport comes in and comfort with the prospect that EVs can be fast and fun. Zoe e-Sport takes it to another level by bundling supercar-slaying performance in an ordinary hatchback.
The e-Sport produces a combined 456 bhp and 640 Nm of torque from its twin electric motors. That means it's rapid, despite its relatively chunky 1,400 kg kerb weight. Renault claims it can sprint from 0–62 mph in a 3.2 seconds, before reaching its top speed of 130 mph in just 10 seconds.
The e-Sport packs two Formula E motors, each to power the front and rear axle. Collectively, they produce 460 hp of pure electric power distributed through all four wheels. The e-Sport has a tangible link to a road-going Zoe, but like a typical silhouette race car, there is not a part in common between the race and road versions.
The e-Sport has a tubular chassis built by racing specialist Tork engineering and the body is made of carbon fibre. Hunkered down on massive 20-inch alloys that sit under outrageously flared-out wheel arches, the Zoe e-Sport — with its massive front air dam, carbon-fibre spoiler, and rear diffuser — certainly looks the part.
The underpinnings, too, are pure race car, with a double wishbone suspension front and rear, pro Öhlins dampers that are four-way adjustable, AP racing brakes and mechanical differentials on both axles with a 45/55 front/rear split.
Inside, it's all racing car too, with a roll cage and a pair of Recaros with 6-point harnesses. There's a single screen in front of you, which looks very high-tech and gives you all sorts of information on the power flow, and a trio of chunky rotary switches which select drive and vary the power output. It's a stripped-out cabin with not much by way of creature comforts. Forget air-conditioning, there isn't even a proper blower, and the windows are fixed and don't roll down, whilst the door handles are flimsy levers. All this has been done in the name of saving weight. But tipping the scales at 1400 kg, the e-Sport isn't exactly light; and that's because of the two 20 kWh lithium-ion battery packs placed low down in the floor, that alone weigh a very hefty 450 kg.
It may not have a favorable power-to-weight ratio, but with max torque available from a standstill, the Zoe e-Sport, according to Renault, will rocket to 100 kph in 3.2 seconds and into 210 kph in just 10 seconds. This makes the electrified Renault quicker than a Porsche Turbo.
When you turn on the e-Sport you will hear various whooshes and whirrs as it comes alive. Select Drive, engage the highest voltage setting via the rotary controls on the dashboard and the e-Sport is primed for take-off.
You know the car is alive when a gentle prod of the right pedal is all it takes for the e-Sport to lunge forward like a frightened cat. The smallest flex of your foot is met with an instant response and there is absolutely no delay in power delivery.
Exiting the pit lane, I press down on the accelerator and that hum turns into a high-pitched whine as the e-Sport bolts forward. The acceleration is incredible and pushes me into the deeply contoured Recaro bucket; but what I can't get my head around is how the rapid build-up of speed is accompanied by a complete lack of drama. There's no loud, manic scream to the redline, no interruption of power with gearshifts, but just a strong, seamless and linear shove forward which actually serves to mask the feeling of speed.
But there's no denying the e-Sport is very quick, this electric racer hits its 210 kph top speed well before the braking zone. But, like in most EVs, hitting Vmax in the e-Sport is like hitting a wall.
The e-Sport's centre of gravity is a few inches off the floor, thanks to the low-slung battery back. The 20-inch super-soft Michelins have loads of grip and, as a result, the e-Sport feels absolutely glued to the tarmac. But it's quite easy to unstick the e-Sport. The instant shot of maximum torque when you floor it, can break traction; and it's the front that gives way first. Though it's a four-wheel drive with a 50:50 split front and rear, the e-Sport behaves more like a front-wheel-drive car and under steers when pushed hard. The steering is very quick with no slack and it's a bit edgy on the limit. The ride quality is again race car-like with little compliance and even less suspension travel.
Join the newsletter to receive the latest updates in your inbox.