Looking for a luxury electric car, with utter disregard for the price? Rolls-Royce has got something for you: the Phantom 102EX, an electric version of the company's top-of-the-line model. Rolls-Royce Motor Cars proudly present 102EX, a car that represents one of the most significant initiatives taken by the company in recent years. It is the world's first battery-electric vehicle for the ultra-luxury segment and continues a tradition of experimental cars running through the model generations.
The car is powered by the world's largest electric car battery, weighing 640 kg (1,400 lbs) and has a range of 125 miles, which is not bad for a large limousine such as the Phantom. The batteries can be charged quickly — in about eight hours — but if you want to conserve battery life, you'll need to take the slower route and leave the car charging for more than 20 hours.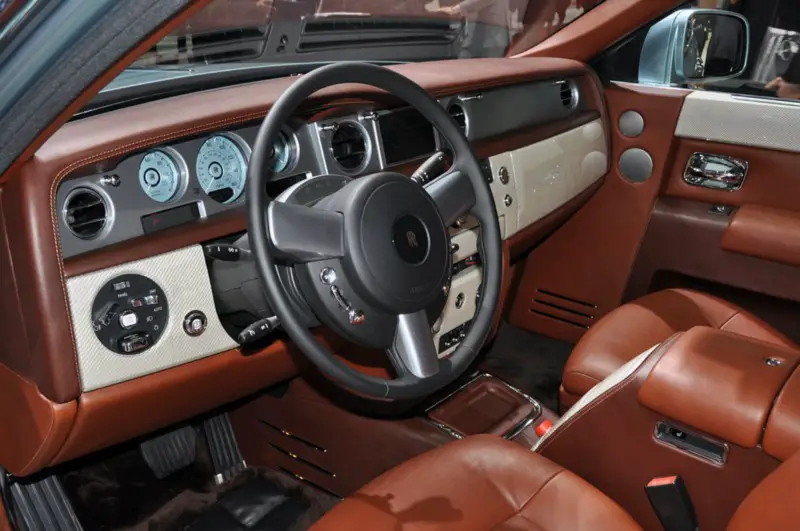 That shouldn't be too much trouble with the Phantom 102EX's unique charging system: The car's battery is charged simply by parking the car over special pads buried in the ground. The technology, called induction charging, uses magnetic coupling instead of a regular cable and has 90% efficiency.
As far as performance goes, the Phantom 102EX will reach 60 mph in less than eight seconds with a maximum speed of 100 mph — not bad, but slower than the regular Phantom, whose V12 engine brings the car to 60 mph in 5.7 seconds.
The phantom Rolls-Royce equipped with the largest battery pack ever installed in a passenger .The battery pack uses 96 lithium ion battery to drive the two electric motors at the rear wheels. The total power is 290 kilowatts.
Decked out in wood, leather, and metal the cabin of the 102EX is as opulent as any phantom model. The electric drive system provided smoother acceleration than the gasoline engine contributing to the comfort of the passengers.
The phantom left gauge monitors the cars available power but in the 102EX there is also a notable battery symbol. the former fuel gauge shows the level of battery charge.
Unfortunately, the Phantom 102EX is only an experimental model. but if there is more interest the production of this comfortable EV will begin. Price is estimated to be around $1.6 million.
Join the newsletter to receive the latest updates in your inbox.