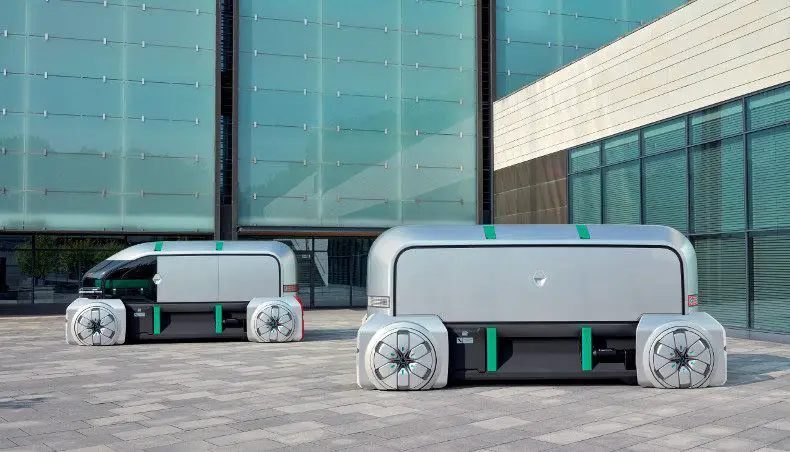 Deliveries of the future could land on your doorstep in robot-pods if a concept design unveiled by French automaker Renault comes to fruition.
EZ-PRO electric vehicle is a fully customizable, automated lightweight van designed to overcome the last mile delivery problem faced by online retailers and others. The all-electric carriage could also serve as a versatile vehicle for customers as well.
Fleets of the driver less pods can serve as everything from a coffee truck, to a delivery van and can either follow each other by 'platooning' in a chain or can move independently of one another. The leader pod will house a human concierge in-charge of supervising the delivery of goods and the fleet following behind the pod.
Inside this self-driving pod is an office-like cab where the concierge can catch up on your day to day work . Renault unveiled its concept for the future of light commercial vehicles (LCVs) at the Hannover Motor Show. The lead pods are separated into two areas, one half designed for the comfort of the concierge travelling in the vehicle, while the other is optimized for storing goods and packages.
Additional pods chained into the convoy are purely designed for carrying cargo. When the pods are set to an autonomous mode, the concierge is able to focus on other tasks, such as supervising itinerary planning, filling out paperwork for the successful deliveries inside the moving office.
According to Renault, the concierge is also able to ensure efficient and premium customer service, such as in-person delivery of groceries or fragile objects. Renault EZ-PRO shows our vision of last-mile delivery integrated with the ecosystem of smart cities of tomorrow.
This includes the vehicle's easy front access, as well as a comfortable joystick controller and easy to manoeuvre four wheel drive steering if they need to take over driving.
Other high tech features include a control screen that monitors traffic, an inbuilt iPad and USB sockets. Lighting of the office space adjusts dependent on whether the concierge is driving or working, and a glass partition lets the human operator keep an eye on their cargo.
Renault has tried to make the EZ-PRO look more appealing than simply being a box on wheels. The pods feature a smooth look that's designed to reduce the visual impact of the pods on their environment, while vertical opening doors boost access. The faired-in wheels feature four-wheel steering for extra maneuverability and the rear-drive electric motor makes zero emissions.
Renault EZ-Pro Quick Specs
4CONTROL four-wheel steering technology
limited speed (50 km/h — 30 mph)
Renault Mobility :self-service passenger cars and vans rental application
Join the newsletter to receive the latest updates in your inbox.