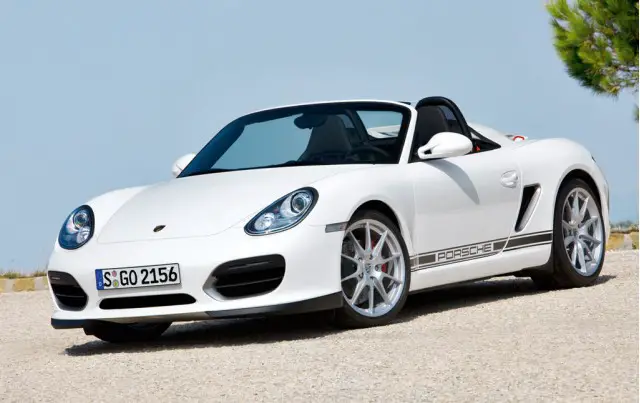 Boxster E has two electric motors totaling 180 kW paired to a battery with a capacity of 29 kilowatt-hours. Rear and four-wheel-drive variants of the development car, which features a lithium ion battery pack in place of the sports car's usual petrol-powered straight six.Weighing in at around 1600kg, but with electric motors capable of delivering the equivalent of 241 bhp and 398 lb ft of torque.
Porsche believes that the packaging of the mid-engined Boxster make it ideal for the application of an all-electric drive train. A 341 kg battery pack replaces the regular petrol engine in the middle and is connected to the engine's existing anchor points, while the electric motors are positioned where the manual transmission and exhaust system of the regular car reside. The space previously occupied by the petrol tanks now houses the electric motors that power the front wheels.
Porsche claims that the four-wheel-drive version of the Boxster E is capable of reaching 62 mph in just 5.5 seconds. The rear-wheel-drive car does without the front-mounted electric motor and delivers just 121 bhp and 199 lb ft of torque as a result. Despite a minimal weight saving, it accelerates to 62 mph in a less Porsche-like 9.9 seconds, before running out of steam at 93 mph.
The Boxster E comes fitted with Porsche's Carbon Ceramic Composite Brakes that ensure the electric powered sports car should stop effectively in conjunction with its energy recuperating regenerative braking system. Despite the car's performance credentials, 107 miles can be covered between charges, with a full charge taking nine hours to complete via a regular socket.
Price $58,450
Join the newsletter to receive the latest updates in your inbox.