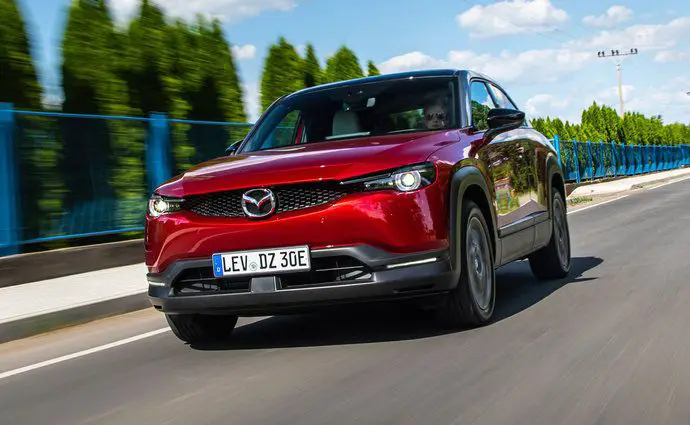 If you love small cars that you can use to run your errands, a Japanese automaker that produces gas cars introduced its first electric car the Mazda MX-30 electric crossover. This project comes with the rise of electric vehicles across the automotive industry.
The car gets an equivalent of 144 horsepower using a front-wheel-drive electric motor that powers a 35.5 Kilowatt Lithium-ion battery that can be charged up to 80% capacity within 36 minutes on a direct-current fast charger.
The interior of the MX-30 has door grips that are made of cork, which is considered a highly renewable resource. Also, the interior has a center console with an electronic shifter, a 7-inch touch screen displaying the climate control panel, and the ability to lock or unlock the doors using an app.
For long-distance lovers, there is an extended-range version where the range extender will be a small rotary engine. The rotary is used to charge the battery. The rotary-equipped version is expected to be available in 2022, and its arrival will mark the return of a rotary engine in a production car for the first time since the demise of the Mazda RX-8 sports car early last decade.
The MX-30 throttle performance has been turned to be more like an internal combustion car. The car comes with mild regenerative braking that means no one-pedal driving, and piped-in sounds get louder as the vehicle accelerates to mimic the building of engine revs. It has a single door handle on each side but there are four doors in total. To access the handle of the rear doors which open rearward you need to open up the front door to access them.
You will find a digital instrument cluster and infotainment screen inside a cabin. A third screen is found in the center that controls the functions of the vehicle. There are no leather seats which is per the theme of the vehicle, no accents like door grips, and center console storage area are made from cork leftover from the wine industry.
Join the newsletter to receive the latest updates in your inbox.