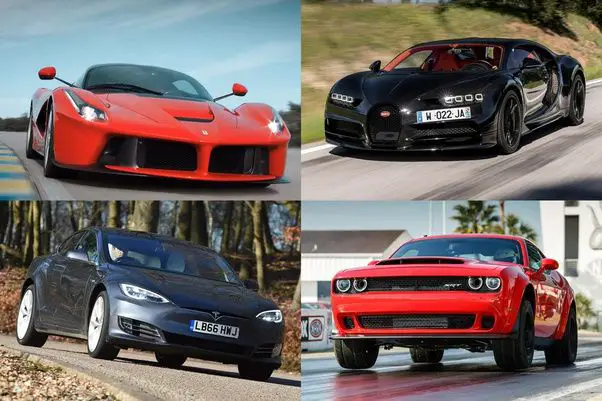 Most electric cars on the market do 0–60 mph in less than 8 seconds, some in under 3 seconds. Immediate, quick, smooth and silent acceleration is the electric car's trademark. Most of the models available can do 0–60 mph (96.5 km/h) in less than eight seconds.
 Tesla Models have gone though upgrades, Model S and X  offer 0-60 mph times as low as 2.4 seconds. Currently you can order Model 3 and get 3.2 second time for half the price of top model S. The two top non-Tesla models are the Jaguar I-PACE (4.5 seconds) and Audi e-Tron (5.5 seconds).
Here are the top 10 electric vehicles that accelerate fast according to motor trend
1) Mercedes-Benz B-Class Electric - The Mercedes B-Class hatchback was relatively quick, smooth, and luxurious. It was able to reach 60 mph in 6.5 seconds.
2) Nissan Leaf Plus - The Nissan Leaf plus 6.5 seconds. With 214 hp and 250 lb-ft of torque, it's substantially more potent than the standard version. If you can get past the dull steering, you'll also enjoy its quiet, stable ride in the city and on the highway. Range in this quick electric car tops out at 226 miles.
3) BMW I3-It has an eco-friendly interior with natural materials such as Eucalyptus wood. The car offers an acceleration of 6.4 seconds.
4) Chevrolet Bolt- This car can accelerate for 6.3 seconds. The 2020 model offers 259 miles. The Bolt makes a healthy 200 hp and 266 lb-ft of torque.
5)Audi E-Tron- The E-Tron is built on a new EV-specific platform that incorporates components from the group's existing SUV architectures. In many ways, the E-Tron is a stopgap until VW Group's dedicated modular MEB platform arrives, but that doesn't mean Audi just phoned this one in. With its two electric motors making a combined 355 hp and 413 lb-ft of torque, the Audi E-Tron is one of the fastest accelerating electric cars tested by Motor Trend.  The E-Tron sprints  0-60 mph in 5.1 seconds. The range is estimated at just 204 miles .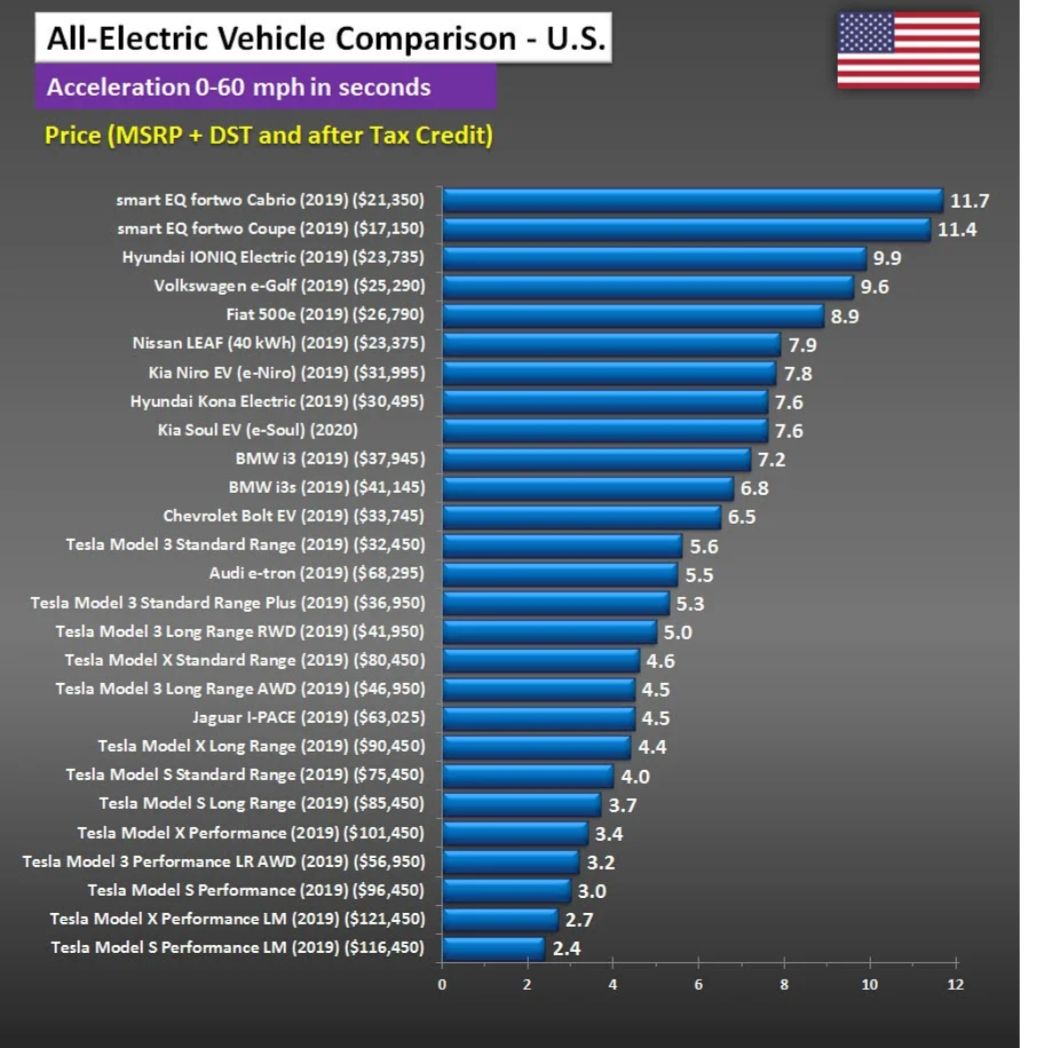 6) Jaguar I-Pace-I-Pace is an electric crossover that is fun to drive. This stylish electric crossover makes 394 hp and 512 lb-ft of torque. With precise steering, instant acceleration of 4.0 seconds. The range is a healthy 234 miles.
7) Tesla Model X P90D-One of the fastest electric cars is an SUV. The Tesla Model X has many gimmicks, from its falcon-wing doors to oversized front windshields and monopoly second-row seats. But it's also functional, with sufficient room in the optional third row and an aerodynamic design that loses little range to the Model S. It's also surprisingly quick for its size. The car can run from 0-60 mph in 3.2 seconds.
8) Tesla Model 3 Dual Motor Performance-It is Tesla's entry car, the dual-motor Model 3 Performance zipped from 0-60 mph in 3.1 seconds. This quick electric car packs 450 hp and 471 lb-ft of torque. The dual-motor Long Range model was slower, reaching 60 mph in 4.0 seconds. Both versions can travel 310 miles on a charge.
9) Porsche Taycan Turbo S-The Porsche Taycan Turbo S set a new quarter-mile record for electric car tested. The car sprints 0-60 in 2.4 seconds.
10)Tesla Model S P100D-Model S P100D hits 60 mph in 2.8 seconds. The P90D sprints in 2.6 seconds, to the P85D, can run in 3.2 seconds, and the previous budget 60 version sprints in 5.0 seconds.
Summary: Fastest Electric Cars From 0-60 MPH
Mercedes-Benz B-Class Electric: 6.5 Seconds
Nissan Leaf Plus: 6.5 Seconds
BMW i3: 6.4 Seconds
Chevrolet Bolt: 6.3 Seconds
Audi E-Tron: 5.1 Seconds
Jaguar I-Pace: 4.0 Seconds
Tesla Model X: 3.2 Seconds
Tesla Model 3: 3.1 Seconds
Porsche Taycan: 2.4 Seconds
Tesla Model S: 2.3 Seconds
Join the newsletter to receive the latest updates in your inbox.