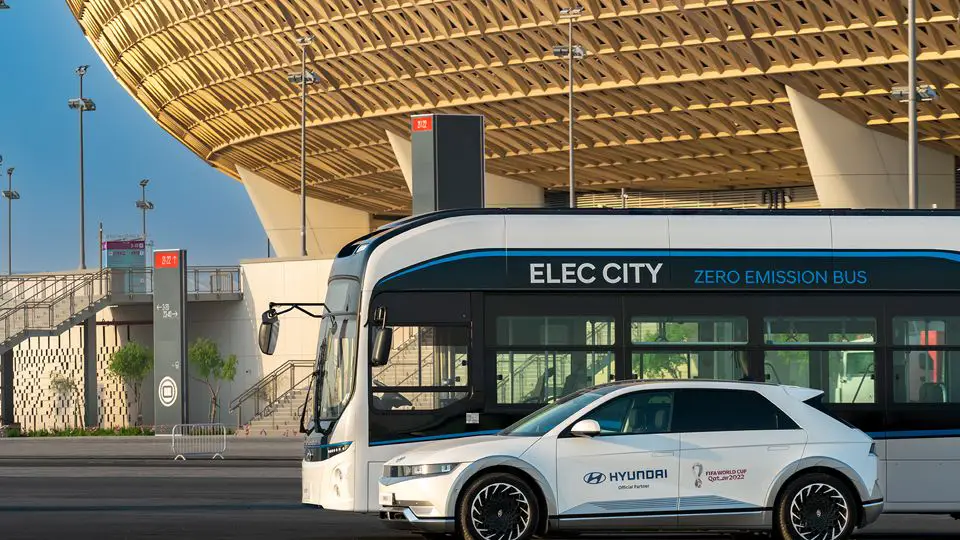 Qatar is the host of the first carbon-neutral FIFA World Cup this year. Hyundai Motor Company is the official sponsor of FIFA World Cup 2022 and announced providing 616 fleet vehicles for FIFA World Cup 2022. Of that fleet, there will be 446 passenger vehicles, with just over half (226 units) being hybrid electric (HEV) and battery electric (BEV) models. Hyundai will also provide 10 Electric buses for the competition period.
Some of the cars that the company will provide include Hyundai IONIQ 5, Sonata HEV, Tucson HEV, KONA HEV, Genesis G80 EV, and GV70 EV to transport FIFA VIPs and staff, and Elec City buses to transport members of the media. In addition, "the company will operate road-side charging services to discharged BEVs using the innovative Vehicle-to-Load (V2L) function on two IONIQ 5 BEVs. FIFA will provide 100 kW-150 kW EV chargers at the event's parking facilities located in Doha, Qatar, to ensure the BEVs' continuous operation. Hyundai Motor will conduct real-time monitoring of the fleet vehicles for any breakage or accidents, and provide prompt service response, such as emergency dispatch, troubleshooting, and vehicle inspection as needed".
The company is also utilizing a real-time vehicle control service to improve fleet service quality management. By detecting any accident or vehicle breakage in real time, the system unifies all processes from vehicle warehousing and emergency dispatch to vehicle repair and accident response.
A team from HMC Headquarters Service, Sub-Middle East Regional Service, and Sub-Middle East Regional Quality Center has been set aside to oversee the operation during the competition. Their responsibilities mainly are standing by at a Quality Situation Room in the FIFA parking facilities to assist with the local operation.  The team will use the Qatar dealership service infrastructure for vehicle repair as needed.
Jaehoon Chang, President and CEO of Hyundai Motor Company said that Hyundai Motor and FIFA share a strong commitment to make this year's event a sustainable success through the use of clean mobility. By providing their eco-friendly hybrid and battery electric vehicles as ground transportation, they expect to achieve their shared goal of making the World Cup in Qatar a win-win for planet Earth and humanity.
Join the newsletter to receive the latest updates in your inbox.