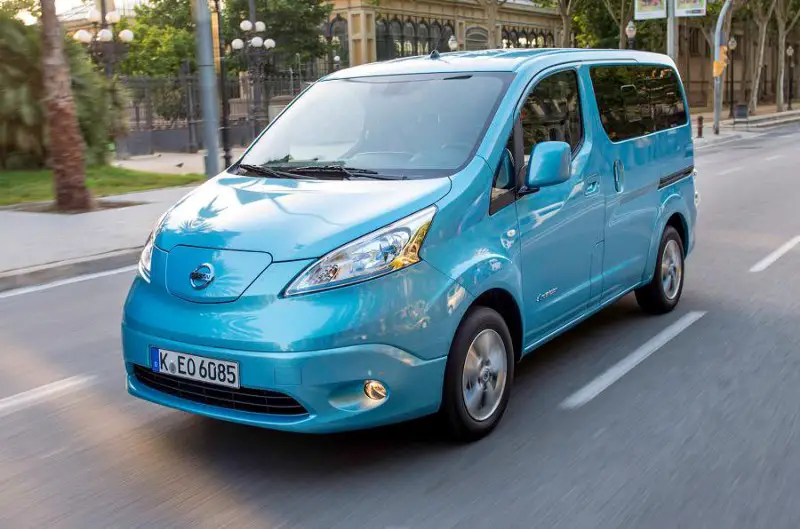 With its new 40kWh battery capacity, the 100% electric 5 or 7 seater e-NV200 Combi is perfect for any growing family and a great choice for a more sustainable way of life. Take the whole crew with you whilst enjoying the best of connectivity, comfort and Nissan Intelligent Mobility ,all this with zero emissions whilst driving.
With a range of 124 to 187 miles the electric e-NV200 Combi passenger vehicle takes you farther than ever on a single charge. Live a smarter sustainable life with e-NV200 Combi, the electric passenger van that loves the city. Discover all the savings and benefits of going 100% electric and explore the range and charging options available with the improved e-NV200 Combi battery capacity. Add to that its spacious, versatile design and special features and you'll soon see why the e-NV200 Combi is the ideal 7-seat electric vehicle for you and your ever-growing family.
Its 40 kWh battery can cover between 124 and 187 miles on a single charge that's 60% further than the previous generation battery. Combine B-Mode and ECO-Mode driving modes together to maximize the range of your Nissan e-NV200. The electric passenger vehicle that really can go the distance.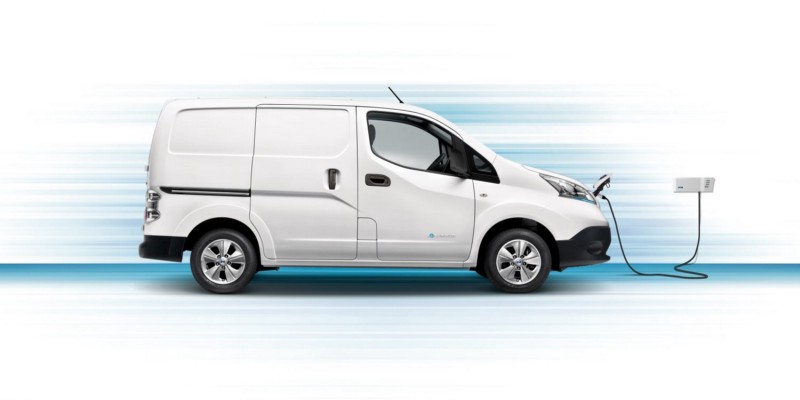 There are 3 different charging modes, the Nissan e-NV200 Combi is the electric passenger van for a no-stress trip from start to finish. CHAdeMO rapid chargers recharges your electric vehicle fast and easy. Reach from 20% — 80% charge in just 40 to 60 minutes. Rapid charging is the fastest and easiest way to recharge and stay on the road for longer.
There are 2 additional ways to charge your Nissan e-NV200 Combi: use your wall box to fast charge and reach full charge in 7 hours 30 minutes thanks to the 6.6 kW on-board charger or charge using a domestic plug and reach full charge in about 21 hours 30 minutes .
With all the driving tools you may need at the touch of a button, traveling in the e-NV200 could not be easier. Map your journey, locate charging stations en route and access all your news, entertainment and driver info with our apps. With its advanced on-board system and intuitive interface, the Nissan e-NV200 elevates your daily drive. Connect your smartphone by Bluetooth to sync your contacts, make calls and access music. You can even track your driving efficiency and monitor range all using the cleverly designed on-board system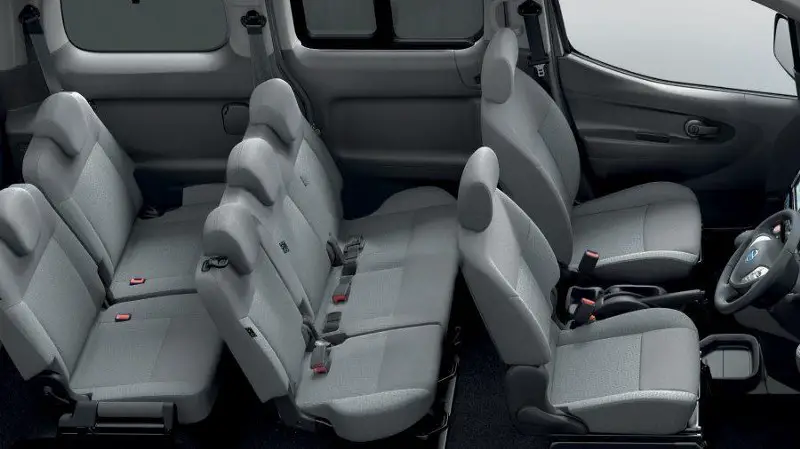 Nissan Connect EV is an advanced app that connects your car's system to your smartphone via Bluetooth. That means you can remotely activate charging, preset the air conditioning, or plan your journey ,this includes checking charging points along the route. You can also access these services via your desktop by connecting to YOU+Nissan. With 3D maps, points of interest and real time traffic information the Nissan e-NV200 Combi helps you get the job done with minimal delay and stress. Make or take calls hands-free with the e-NV200's Bluetooth system. The USB port means you can connect your MP3 player or other compatible devices, keeping you entertained as you drive.
With the Nissan Intelligent Key, you can lock and unlock your Nissan e-NV200 Combi without ever having to get the key out of your bag. You can even configure it to activate the climate control remotely too. A car full of passengers plus all their luggage can be a problem, unless you go for a Nissan e-NV200 Combi. When all 7 seats are taken, there's still room for two large suitcases behind the rear seats.
With the Nissan e-NV200's colour reversing camera, squeezing into tight spaces and reversing into parking bays is a breeze. It gives you a clear view of the area behind and adds guiding lines to help park perfectly. Thanks to the Anti-lock Braking System (ABS) you can count on confident, secure braking when you need it most. Electronic Brakeforce Distribution (EBD) adjusts the braking effort from the front to the rear of your e-NV200 Combi to give maximum control when stopping. To help you stop safely whenever necessary, the 100% electric e-NV200 Combi has ventilated disc brakes on each wheel. Combined with ABS, the standard brake assist system will sense emergency braking and more braking pressure.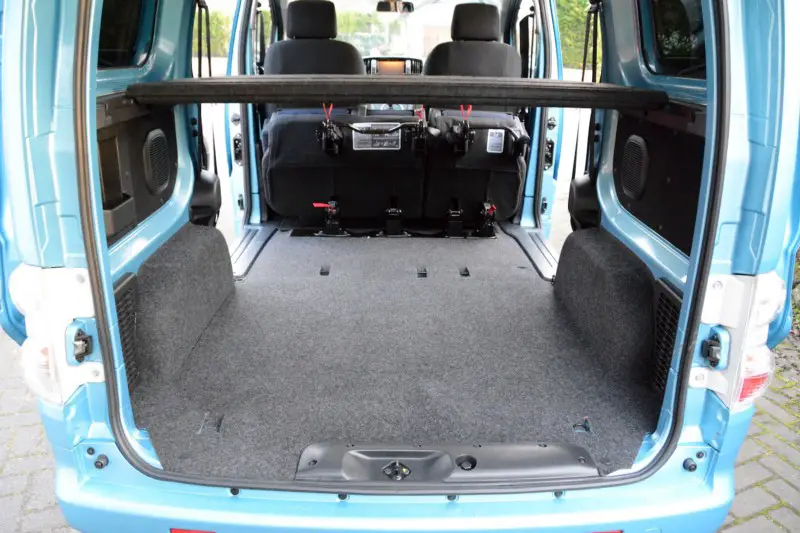 Price £27,999
Join the newsletter to receive the latest updates in your inbox.