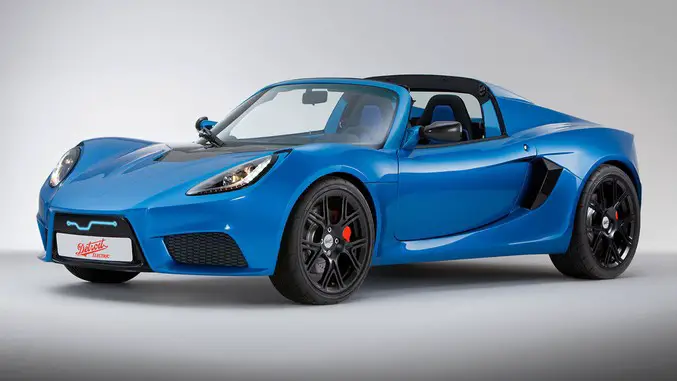 Have you ever heard of Detroit Electric? If you answered in the affirmative, you get a cookie, but we'll probably have to mash it up and feed it to you with a spoon because the automaker kicked the bucket way back in 1939. Now, however, Detroit Electric is back, and it's bringing with it a new all-electric sports car. It's called the SP:01, and it's based on a Lotus, bears loads of the latest EV technology, runs a 0-to-60 time under four seconds, and a boasts a very feathery curb weight.
Drive train
Top speed is rated at 106 mph in the Pure and 155 mph in the Performance, while both have a NEDC-rated range of 179 miles.
Both models lay down 207 pound-feet of torque, while the Pure model has 204 horsepower. Meanwhile, the Performance model sees output jump to 286 horsepower.
That might seem like a pittance next to the nearly 700 horsepower laid out by the top-spec 2015 Tesla Model S P85D, but here's the thing — each Tesla weighs almost as much as a small moon, while the SP:01 is based on a Lotus. That means all that carbon fiber and aluminum in the SP:01 goes a long way towards shedding mass, with the final curb weight looking like 2,546 pounds for the Pure model and a slightly beefier 2,590 pounds for the Performance model. For an electric car, complete with battery packs and a sense of eco-friendly smugness, that's quite impressive indeed.
That low weight translates into respectable performance figures despite the relatively low output, with a 0-to-60 run taking 5.3 seconds in the Pure model and 3.7 seconds in the Performance model. Top speed is rated at 106 mph in the Pure and 155 mph in the Performance, with a range of 179 miles.
Detroit Electric says it wants the SP:01 to be a stellar handler as well. To that end, the wheels are staggered front to back, with 16-inchers up front and 17-inchers in the rear. Rubber is sized at 195/50 fore and 225/45 aft. And considering the thing only weighs about 2,500 pounds and comes with the bones of a Lotus, it shouldn't be a total pig in the corners.
Drivetrain Specifications
Top Speed106 MPH155 MPHMax , Torque206 LB-FT206 LB-FT ,Powe r204 HP286 HP0 to 60 mph 5.3 seconds 3.7 seconds Mode selector single speed manual
Exterior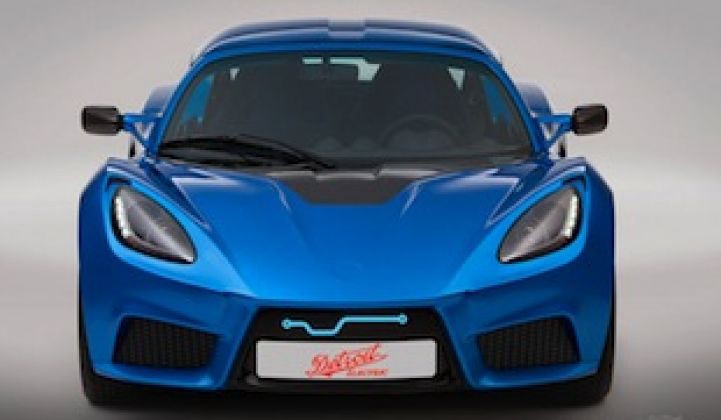 On top of these world-class sports-car bones is custom carbon-fiber body panels, as penned by Detroit Electric's Head of Design, Jerry Chung. Detroit Electric claims the shape saw some tweaking for aerodynamic stability at speed.
All told, it's hard to not see a lot of Lotus in this thing, with its short, pointed nose, curvaceous fenders, long sweeping roofline, and tasteful rear spoiler. And that's not a bad thing by any means — Lotus makes some very pretty cars.
Dimensionally, the SP:01 is almost identical to the Exige and Elise, with a 3,880-mm (152.76-inch) length, 1,751-mm (68.94-inch) width and 1,117-mm (43.98-inch) height.
There are seven paint options to choose from, including blue, white, silver, black, red, orange and green. There are also five lightweight wheel designs available, all of which are interesting. These include the 10-spoke Graphite Pro in gloss palladium grey, 12-spoke Silver Pro in sparkle silver, the funky looking Anderson Diamond in two-tone black-and-aluminum look, 12-spoke Anderson Satin in satin black, and a wavy-looking 8-spoke Anderson Gloss finished in gloss gold.
Options include a graphite textile carbon-fiber finish for the rear spoiler, battery cover, and rear diffuser element. Both hard top and soft top iterations will be available.
Exterior Dimensions
Length 3,880 MM (152.75 Inches)Width 1,751 MM (68.93 Inches)Height 1,117 MM (43.97 Inches)Wheelbase 90.6 inches Curb Weight 2,354 pounds
Interior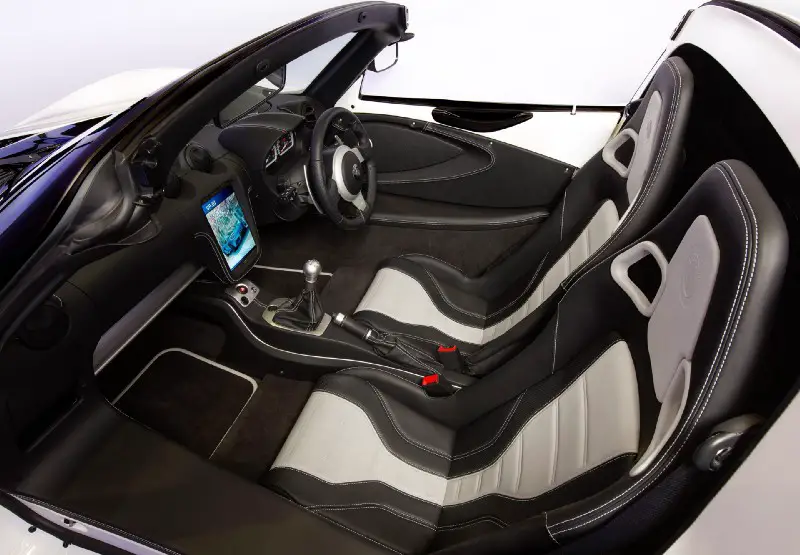 The SP:01 comes with bolstered sports seats that are finished in either leather or Alcantara upholstery. The color scheme includes both one- and two-tone designs, while the door trim, dashboard trim and doorsills are all customized. Aluminum is also used for the trim. However, this is still a sports car we're talking about, so don't expect exorbitant levels of luxury.
Next, the tech. Detroit Electric is particularly vocal about its new Smartphone Application Managed Infotainment system, or SAMI for short. This setup allows drivers and passengers access to features like music players and satellite navigation while also providing data on vehicle systems like battery level, range and recharge time. You can tweak the interior lighting and view key status points for the vehicle's operation, all via swipes and taps on the centrally mounted touchscreen. SAMI will also allow owners to locate the vehicle in a crowded parking lot and remotely operate the climate control.
To top off the battery pack, the SP:01 comes with a smart charging system that draws power at a rate of 8-kW (32-amps at 240-VAC). What's more, it's equipped with something called "bi-directional charge and discharge capability" via a 360-Power back unit, which basically means that if you have enough juice on board, the car can be used as a mobile battery, charging anything you want. That includes providing electricity to individual devices, a home, and even other EVs. The system is quite clever too — if, for example, the car detects a power failure in the local grid while plugged in at your house, SAMI will provide the user with the option to restore power using the onboard stored energy.
A vehicle tracking system is an available option. Both right- and left-hand-drive configurations will be produced.
Price will start at $135,000
Join the newsletter to receive the latest updates in your inbox.