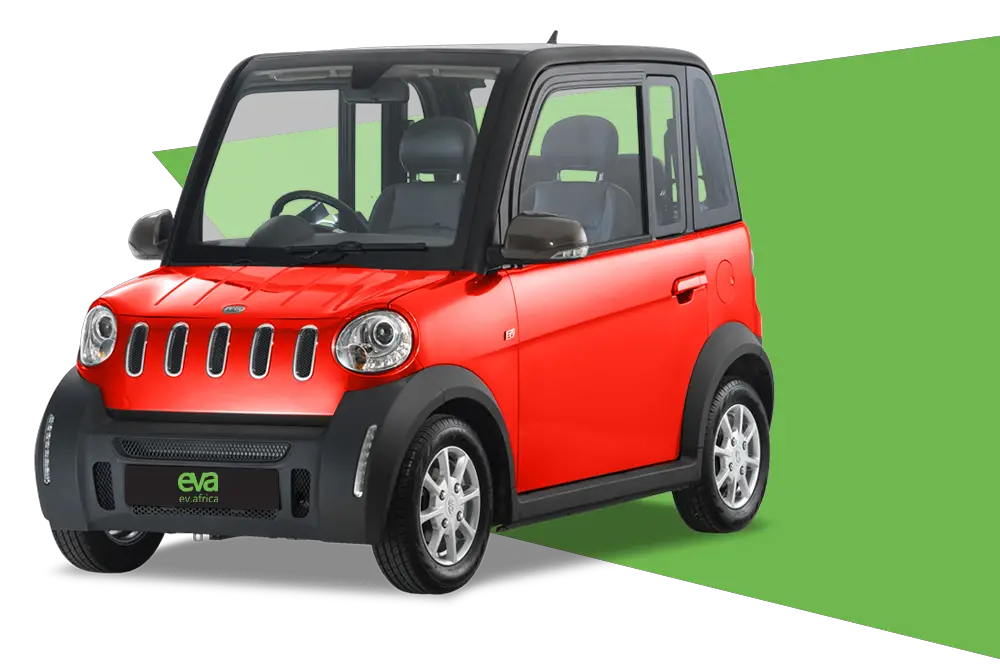 The City Blitz 4-seater electric passenger vehicle is powered by a maintenance-free 7.5kW AC motor and 10kWh Lithium battery, providing approximately 150km of range, and is charged in just 4 to 6 hours. The front McPherson independent suspension ensures maximum comfort and excellent road manners. An impressive standard spec sheet features everything you need such as electric windows, air-conditioning, a large LED infotainment screen, front and rear window defrost, daytime running lights, and more!
Economical
EV Africa offers affordable environmentally friendly cars and an economical range of electric vehicles. Considered a superior alternative to vehicles powered by fossil fuels, their electric vehicles are smaller and more economical, with zero emissions, offering 13 cents per kilometer running cost and featuring maintenance-free Lithium batteries, chargeable from a standard home cable.
Durable and Reliable
EV Africa cars are durable and reliable, and all-electric vehicles. With an impact-absorbing structure and monocoque rollover safety cell, all their electric vehicles have undergone rigorous testing and inspection procedures to ensure compliance with local regulations and meet all road-worthy standards.
Applications
EV Africa fleet services is an end-to-end fleet management solution suitable for courier companies, the security industry, mines, factories, and more. EV Africa electrifies the transportation industry by providing a greener, more cost-effective, and efficiently managed solution to 'last mile' deliveries, reducing customer wait time and fleet vehicle wear and tear.
Performance
EV Africa zero-emission electric vehicles boast a top speed of 80 km/h and a 150km range, perfect for inner-city and suburban applications, as well as a 20° climbing gradient ability. Their vehicles feature state-of-the-art drivetrains and the latest Lithium-Ion battery technology – fully charged in less than six hours from a standard 220v wall plug.
Exterior & Interior Design
At just over 2.2m in length and 1.2m wide the City Blitz is perfect for congested city and suburban driving, and parking. Excellent visibility combined with a panoramic sunroof allows for a roomy, airy cabin for all occupants. Featuring a reverse camera and parking assistant, power steering, air-conditioning, rear parking sensors, Bluetooth connectivity, and more.
Battery Safety
All EV Africa vehicles are designed for durability, safety, and reliability. They have undergone rigorous testing and inspection procedures to ensure they comply with local regulations and meet all road-worthy standards. Lithium battery packs are IP67 certified – passing soaked in seawater at one meter for 60 minutes, subjected to 800℃ temperatures for 10 minutes, and surviving a 5-meter drop test.
Source:
i)Eva EV.Africa (2023) City blitz 4-seater
Join the newsletter to receive the latest updates in your inbox.