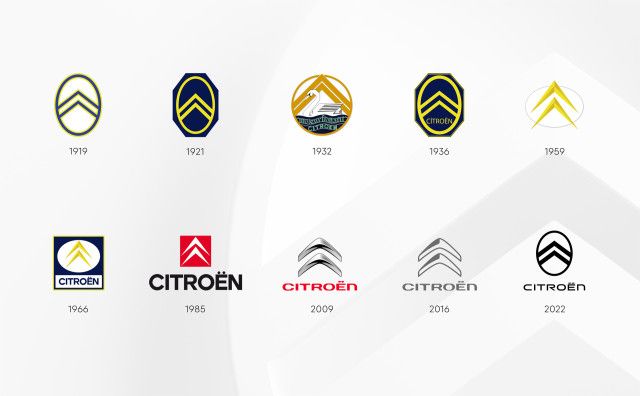 Citroen has revealed the design of its new logo, set to take pride of place on the French car-maker's new models from the middle of 2023. The 10th logo design in the 103-year history of the French company, Citroen's new emblem draws inspiration from the brand's first 'double chevron' badge from 1919.
It's said to be inspired by the chevron-shaped 'herringbone' gear systems made by Citroen founder Andre Citroen's first company, a metalworking firm in the early 20th century.
The chevrons are now enclosed in a vertical oval, just like the original logo. This is the 10th iteration of the logo since the company's formation and the logo is colored in Monte Carlo blue and this color will be used for the brand's retail and communication. The Infra Red-colored logo will be seen on all the new cars and in print and digital communication. There is also a 'dark' version of the logo. The new logo will make its debut on a concept vehicle which is set to be revealed soon.
Citroën CEO Vincent Cobée says: "As we embark on probably the most exciting chapter in our illustrious 103-year history, the time is right for Citroën to adopt a modern and contemporary new look. Our new identity is an elegant symbol of progress as we move our customers physically in daring, forward-looking vehicles that challenge traditional industry rules, and emotionally by ensuring their entire experience – particularly going electric – is more affordable, comfortable and enjoyable whatever their wants and needs.  Our legacy of inspiring consumers with daring and revolutionary vehicles is energizing us to adopt a different, more inclusive approach to future family mobility, and we firmly believe that customers past, present and future will agree that nothing moves us like Citroën."
Join the newsletter to receive the latest updates in your inbox.