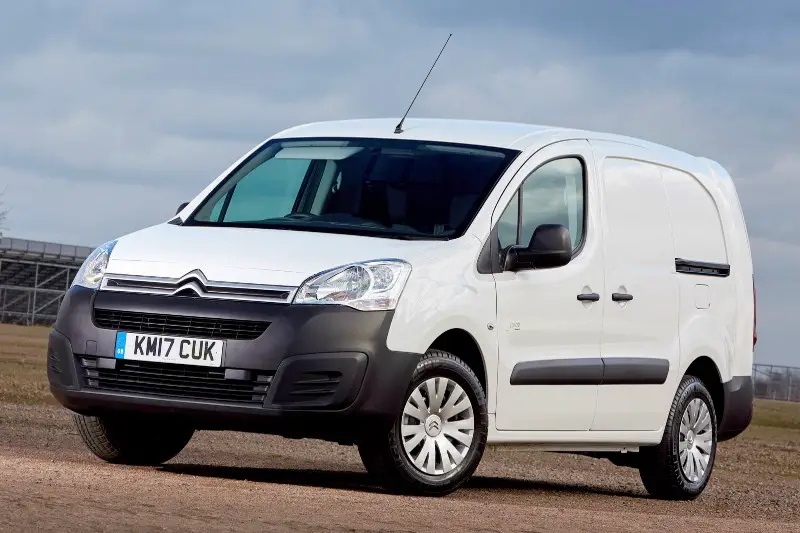 The Citroen Berlingo Electric is a battery-powered version of the Berlingo range of vans.It was released in the UK in April 2013. It has a permanent magnet synchronous 49 kW (67 hp) electric motor with a maximum torque of 200 Nm. It uses exactly the same running gear as the Peugeot Partner Electric.
However, it's not the first electric van built by Citroen. It was preceded by the Berlingo Electrique, which was originally made for use by the French postal service. Customer versions were also offered, and in turn that model came after an electric version of the Visa-based C15 van was built.
But while Citroen has dabbled in electric vans over the years, it hasn't really embraced the technology as wholeheartedly as rival Renault. The current Berlingo Electric is far better than its predecessors, but with a 49 kW electric motor producing 66 bhp and twin battery packs making a combined output of 22.5 kWh, the Citroen only has an estimated driving range of 106 miles — some 70 miles short of the claimed range for the Renault Kangoo ZE.
Citroen offers two charging options. The fastest is a 'CHAdeMO' high-voltage socket on the nearside rear of the van, which can charge the batteries to 80% from flat in 30 minutes from a high-voltage source. Charging from a mains socket takes a more leisurely 12 hours from a socket on the offside front wing, but that means a flat battery can be recharged overnight. If you fit a dedicated charging point, then this charge time can be reduced to eight hours.
There's a single version of the Citroen Berlingo Electric on sale, which is based on the LX trim of the diesel model and comes in L1 or L2 body lengths. The difference between the two is increased load volume for the L2 (3.7 cubic metres, compared to 3.3 cubic metres for the L1) and different payload weights (636kg for the L1 and 552kg for the L2, including driver), while the L2 comes with twin sliding side doors, compared to just a nearside door for the L1. There's no option to add a second side door to the L1 model, while both vans have offset double rear doors a standard and no option to add a top-hinged tailgate.
There's a charge monitor in the instrument pod where the rev counter of the diesel version normally sits, while air-conditioning is fitted as standard, but there's no pre-heating function available. The hard plastics, upright dashboard, orange dot-matrix displays and painted metal surfaces leave you in no doubt about this van's functional nature, though. One positive the Berlingo does offer over a Kangoo Z.E. is the availability of an optional steel bulkhead with glazed window, which helps reduce interior noise but still lets you keep an eye on your payload. A three-abreast seat layout adds a touch of versatility, too, even if the seats themselves are a bit narrow.
On the road, the Berlingo Electric sprints away from the line briskly enough, although the relative lack of power means it soon runs out of steam. The Berlingo is based on running gear that can trace its roots back to 2001, so it's not very nimble, especially due to the weight of the batteries, which adds around 300 kg to the weight of the standard Berlingo.
Range, battery and charging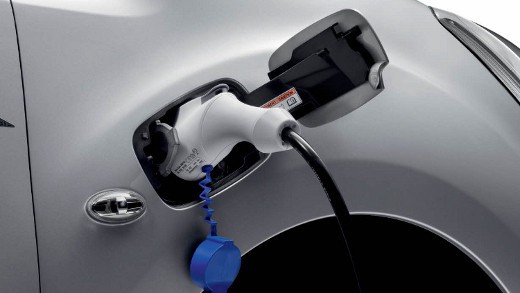 The Citroen Berlingo Electric's running gear is rather outdated. It features a pair of battery packs mounted in a sub-frame either side of the rear axle, with a combined battery capacity of 22.5 kWh. This battery drives a 49 kW electric motor originally developed by French firm Venturi (which competes in the Formula E electric racing series) and gives the Berlingo Electric a claimed range of 106 miles. Unfortunately, that's behind its main rival, the Renault Kangoo ZE, which can travel up to 70 miles further before needing to be recharged.
There are two charging options available for the Berlingo Electric. First is a standard mains charger, taking power from a 240v source. Using this method delivers a home-charging time from flat of 12 hours from a three-pin plug, or eight hours from a standalone charging point. That means plugging in overnight should see you with a full charge in the morning.
The second option is a CHAdeMO socket, as also seen on the Nissan e-NV200 van and Nissan Leaf hatchback. This is located on the nearside rear bodywork and allows high-voltage charging from a 400v source. It can recharge the flat battery to 80% capacity in around 35 minutes, conditions permitting.
As well as the standard three-year Citroen van warranty, the Berlingo Electric's battery is covered for eight years/60,000 miles. That's in line with rivals that also offer eight years of cover for their batteries.
Motor and acceleration
The Berlingo Electric van has a conventional electric drivetrain, with the motor mounted in the nose driving the front wheels and the battery pack located at the rear axle where the diesel model's fuel tank would be. The set-up isn't the most powerful on sale, but you still get sprightly acceleration. However, the Berlingo is an ageing design, and the extra weight of the batteries means it doesn't deliver sharp handling, even by electric-van standards. The optional steel bulkhead with glass window improves cruising comfort by isolating the driver's compartment from road noise coming from the load area.
The Berlingo's 49 kW electric motor produces a modest 66 bhp, which is around 10 bhp down on the least powerful diesel Berlingo. However, what it lacks in outright horsepower it makes up for slightly in torque, so it still feels faster off the line than any of the diesel Berlingos. Citroen doesn't quote a 0–62 mph time for the Berlingo, mainly because it runs out of puff at 68 mph, so it'll take its time reaching the acceleration benchmark. Still, there's enough performance on tap for urban use, and other drivers may be surprised by the van's acceleration away from traffic lights.
The extra weight of the Berlingo Electric's batteries mean it rides reasonably well at low speed, but that's about the only highlight of the driving experience. Vague steering and plenty of body lean stop you from pushing it harder than necessary.
Interior and comfort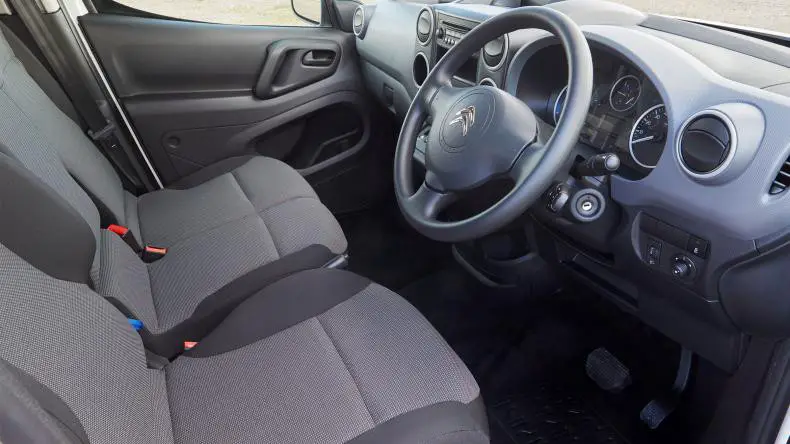 As the Berlingo Electric is based on a design that's been around since 2013, it's not at the cutting edge for style or quality. There are plenty of hard plastics on show, while the upright dashboard is designed for functionality rather than aesthetics.
The three-abreast seating layout is a unique feature compared to the similarly sized Renault Kangoo ZE and Nissan e-NV200, but you'll find things pretty cramped if you do decide to travel three-up. There's not much elbow room and the two passengers share a seat cushion, so there'll be arguments about who has the most space.
The Berlingo's dashboard is simple in layout, with an instrument binnacle featuring a power meter and speedometer, plus an auxiliary dial showing remaining battery capacity and how much power the electric motor is putting out when accelerating. Below that is a digital odometer in orange, while a second display on the centre console shows radio, charging and trip-computer information.
The Berlingo Electric is based on LX trim, but it gets some extra kit to boost its appeal. Air-conditioning is standard, while Citroen also includes the Super Plus Pack, which adds remote central locking, electric windows and mirrors; the the load area floor is trimmed in plastic as standard, too.
Where the Berlingo Electric misses out is with some of the options available. You can't add sat nav, while front parking sensors and active city braking are off the table, too. However, you can add rear parking sensors and a reversing camera, as well as load-area extras, such as a solid bulkhead, twin sliding doors, a roof flap for carrying longer items and glazed rear doors. You can also add the Look Pack (which adds body-coloured bumpers and trim for a smarter look) and the Visibility Pack (which gives you automatic lights and wipers).
Infotainment, apps & sat nav
The Berlingo Electric has a bog-standard stereo, with an orange dot-matrix display and only FM/AM radio and a CD player. You can upgrade the system to the Touch Screen Audio Pack, which adds a DAB radio, Bluetooth phone connection, a USB socket and auxiliary connection, but there's no sat-nav upgrade. There's also the cheaper Connecting Box option, which just adds Bluetooth and a USB socket. Due to the Berlingo's age, there are no smartphone apps or connectivity options available to allow you to 'precondition' the interior before you set off.
Safety
The Berlingo Electric is a niche model, but uses plenty of existing technology to go with its electric drive system. The Berlingo van has been around since 2013, while the van shares a platform with older Citroen models such as the previous-generation C4 Picasso and C4 hatchback. It should be reliable, but question marks over the car's electrical systems (as opposed to the electric drivetrain) mean reliability might not be up to scratch.he electric drive system has an eight-year warranty to cover any issues with it.
The Electric gets the standard selection of safety kit, with stability control, hill-start assistance and a driver's airbag. But a passenger airbag is optional, as are side airbags, while automatic lights and wipers are part of the optional Visibility Pack. Parking sensors are also optional, while the Serenity Pack ,which adds automatic emergency braking to diesel Berlingos ,isn't offered as an option.
Join the newsletter to receive the latest updates in your inbox.