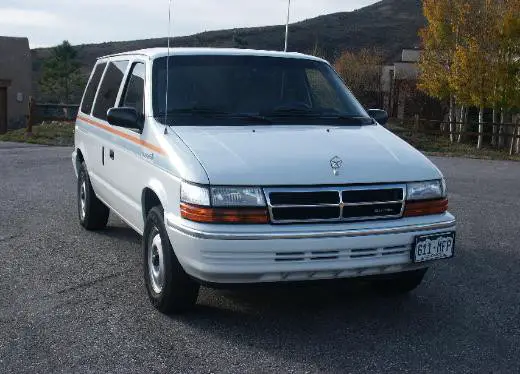 The Chrysler TEVan was a BEV produced from 1993 to 1995 by Chrysler and was sold primarily to electric utilities. It was the first generation and used either Nickel-iron batteries or nickel-cadmium batteries. The second generation, named the EPIC (Electric Powered Interurban Commuter Vehicle), was launched in 1997 with advanced Lead-acid batteries and later in 1998 with nickel metal-hydride batteries. It was built on the same production line as the gasoline minivans at Daimler Chrysler's Windsor Assembly Plant in Ontario Canada. It was offered for lease in New York and California in 1999. It had a top speed of 70mph, seating for 5 adults, and curb weight of 5060 lbs.
The 180 v nickel-cadmium pack consisted of 30 SAFT STM5 –180 6V 180 Ah batteries in 6 removable pods under the floor of the car, delivering over 50 miles of range, and used an automatic watering system for easy battery maintenance. The nickel-iron pack consisted of 30 Eagle-Picher 6V 200 Ah batteries in 6 pods under the floor and delivered over 60 miles of range. The TEVan owners manual states 80 miles of range. The EPIC initially used advanced lead-acid batteries and later in 1998 used nickel metal-hydride batteries.
The TEVans' on-board charger was a PFC (Power Factor Corrected) Martin-Marietta and accepted 120 VAC each with 20A, 240VAC each has 20A, 240VAC each with 40A, or as high as 220VAC each at 40A-3 phase as inputs. The TEVan used a 27 hp, 64 hp max (48 kW) Sep-Ex GE DC traction motor, a 2 speed transmission, a clutch, and park, the controller was also made by GE. The EPIC used an AC traction motor and single speed transmissions.
The TEVan had an 8.8 Kw ceramic electric heater, the 120A DC/DC converter provided all 12V power, there was no auxiliary (12V) battery. Gauges included motor temp and SOC (state of charge) using the stock fuel and temperature gauges. It was also equipped with electric air conditioning (R-134a), regenerative braking, power brakes, power steering, AM/FM Stereo, airbags. The stock tires were Goodyear P205/75R15 Momentum's at 50PSI.
Join the newsletter to receive the latest updates in your inbox.