Prices for the all-electric SUV and pickup truck from Bollinger have been announced. Choosing between them won't be a decision based on cost, as both lists for $125,000. For that, you get a Class C truck with a 125 kWh battery and around 200 miles /321 km of range.
Both feature dual motors, 614 horsepower, and 669 pound-feet of torque. They also have ten 110 volt AC outlets scattered about. 240-volt outlets are available as an optional upgrade. The vehicles can be recharged to 100% capacity in 10 hours using a Level 2 charger or 75 minutes if a DC fast charger is available. 15 inches of ground clearance and a self-leveling, hydro-pneumatic suspension that allows the driver to adjust the ride height. The front and rear differentials can be locked electronically, while a two-speed gearbox offers off-road grunt or highway cruising.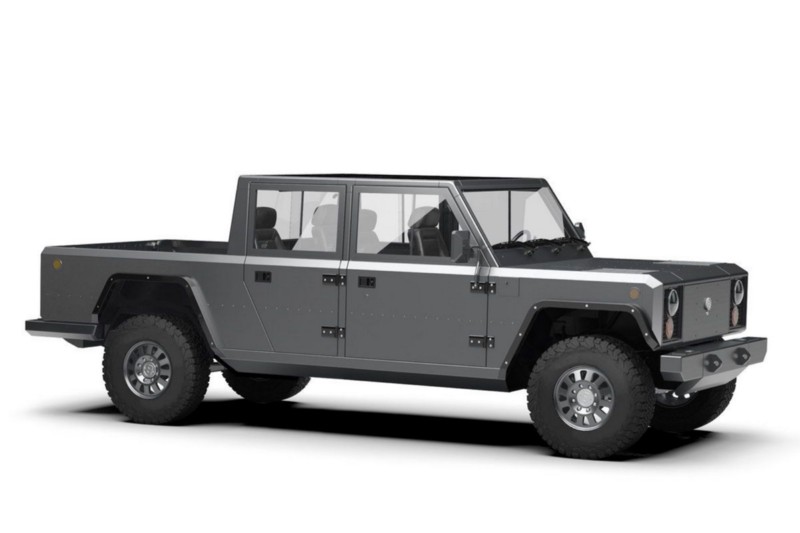 Inside the vehicles, there are only four seats. A rear bench has been skipped in favor of a storage area that enables extra-long items to be carried. Buyers will be able to add wood panels for the floors, and the doors, roof panels and windows, including the windshield, are all removable.
The B2 Pickup Truck has a 72-inch bed that can expand up to 96 inches.
Join the newsletter to receive the latest updates in your inbox.