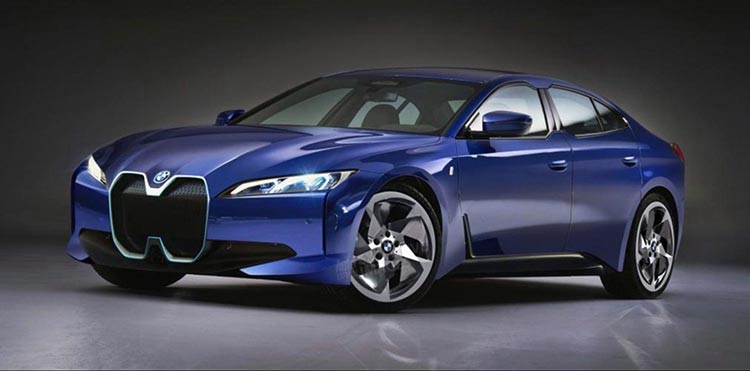 The i4 is part of BMW's upcoming slate of EVs.The German brand intends to expand its electric vehicle range in the coming years, and this coupe-inspired sedan begins production in 2021. The spy shots show that the i4 has an exterior look that's akin to a 4 Series Gran Coupe, but the pair aren't identical.
It might come fitted with two electric motors, standard all-wheel drive, and a battery large enough to provide a range of up to 350 miles. It will likely be speedy and sporty, especially if it will have a chance against rival EVs such as the Tesla Model 3 or the Audi e-Tron GT.
The interior has BMW's current layout that combines a digital instrument cluster and infotainment display directly next to it. These screens aren't functioning in this car, though, and an auxiliary monitor appears to be doing most of the work currently. The i4's roofline is more dramatic than the 3-series, though, offering a four-door-coupe body style and what appears to be a large rear liftgate that opens to reveal a large cargo area like that of the BMW 4-Series Gran Coupe. The technology is expected to be the latest including; a large touchscreen infotainment system with gesture-operated controls, a digital gauge display, and maybe even semi-autonomous driving modes. More updates when the car official release date nears.
The i4 will ride on BMW's highly adaptable CLAR platform. It'll reportedly be available with 60- or 80- kilowatt-hour battery packs and buyers will allegedly be able to choose from a single electric motor driving the rear wheels or a dual-motor, all-wheel-drive setup. Some variants will be able to hit 62 miles per hour (100 kilometers per hour) in four seconds and a range of offering up to 600km.
In addition to the i4, BMW also has the two other EVs on the immediate horizon. The iX3 will arrive in 2020 as an electric version of the brand's existing crossover, although with slight design tweaks. Meanwhile, the iNext SUV in 2021 will introduce the automaker's new modular platform and will allegedly be capable of Level 3 autonomous driving.
Join the newsletter to receive the latest updates in your inbox.