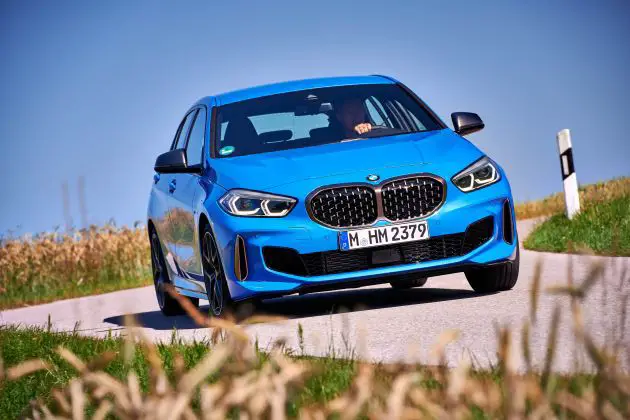 BMW is working hard to develop more than 12 electric cars in the coming years. The first battery-electric cars to arrive will be the iX3 SUV, followed by the i4 sedan, and the iNext SUV, which will act as a technological flagship of the brand. BMW will also launch an entry-level electric car based on the current 1 Series.
The i1 could come in two variants: a standard front-wheel-drive layout with a single electric unit or a virtual all-wheel-drive configuration, with electric power plants mounted on both the rear and front axle. It is obvious the FWD will be marketed as an accessible, convenient choice, whereas the electric AWD i1 will cater to a more sophisticated audience.
The all-electric hatchback is in the production plans for a launch sometime in 2021. It is expected to be almost identical to the conventional ICE-powered 1 Series models in terms of design with the only difference being the obvious lack of a radiator grille and the brighter colors.
This new model is possible thanks to the Bavarian company's flexible architecture, which allows it to electrify anything from the 1 Series to the X7. Both single- and dual-motor versions of the electric should be in the cards, with the latter offering all-wheel drive.
The new 1 Series EV could receive the i1 moniker when it is launched on the market, following BMW's convention of giving its electric cars the i suffix. A new i3, however, won't necessarily take the same shape as today's model.
The electric premium compact model will boast a distinctive BMW "i" to set it apart from its internal combustion sibling. That means an all-new front fascia, characterized by the signature conjoined, fully covered kidneys of the grille and an efficiency improved front bumper.
Moreso, new wheels in pure BMW i design are also set to be part of the BMW i1 visual package. You can also expect some blue accents and exterior details on the body to further distinguish the i1 from the standard F40 1 Series.
Join the newsletter to receive the latest updates in your inbox.