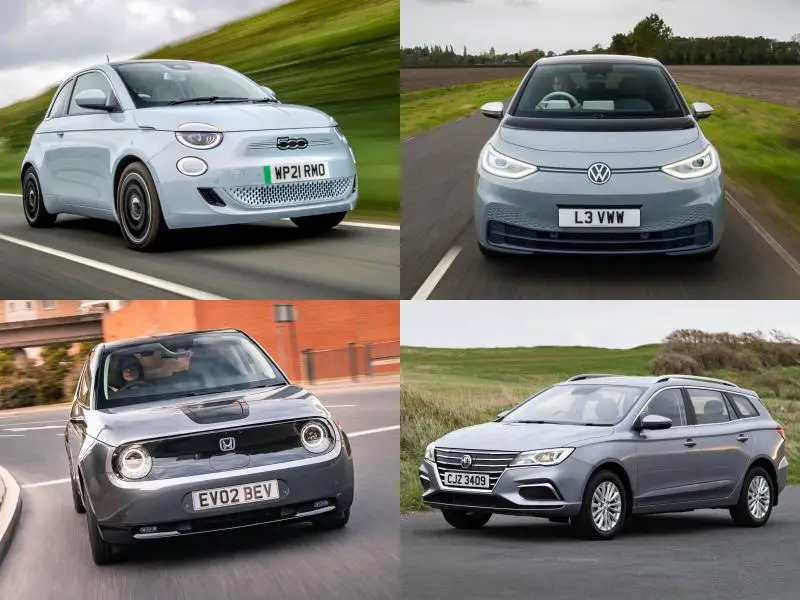 In most cases when you go to the market you decide what you want depending on the budget that you have. The same applies to shopping for an electric car.
The cheapest one on the market at the moment is the Smart EQ Fortwo. The vehicle you can buy is £20,725 including the government's £1,500 plug-in car grant.
For that £21k, you get the familiar city-friendly Smart package but kitted out with an 80bhp e-motor, 17kWh battery, and a 22kW onboard charger. That battery is especially on the small side, teenier than you'll find in a lot of PHEVs on sale, with an official WLTP range of around 80 miles. Which in practice will mean a range of significantly less than 80 miles.
The entry model is the Premium spec car, which bags you a panoramic sunroof, heated seats, smartphone connectivity, and even a rearview camera for the tricky task of parking the Smart. There's even a bit of extra insulation in the doors to stop the heat escaping because warming up the cabin has a dreadful effect on range.
The other interesting EV is the Citroen  Ami is limited to a snail-like 28mph and has a 5.5kWh battery and a 46-mile range.
Here are some of the affordable EVs in the market:
i) Nissan Leaf S Plus-The S and SV trims have a 40-kilowatt-hour battery pack that powers a 110-kilowatt (147 horsepower) electric motor and drives the front wheels; the maximum range is 149 miles. The starting MSRP is $28,375, including the $975 destination fee but not any tax credits, making the Leaf the least expensive EV currently available.

The Plus models that follow the same naming convention (S, SV, and SL) feature a larger 62-kWh unit and a 160 kW electric motor. Counter-intuitively, the most affordable Plus model—the S Plus—has the longest range and can achieve 226 miles when fully charged. The SV Plus and SL Plus trims can only travel 215 miles on a full charge. Given its maximum range and $33,375 base price, it's the clear choice for value in the Leaf lineup.

ii) Chevrolet Bolt EV- The biggest styling change for the 2022 Bolt EV is a more upright front end that has "high-eye" daytime running lights and turns signals with headlights lower down. Inside, it has new seats and a new instrument panel with a standard 10.2-inch touchscreen and an available 8-inch gauge display. A new shifter design uses toggles and buttons. Most safety tech is standard, with a rear cross-traffic alert, a 360-degree camera system, and adaptive cruise control optional. DC fast-charging capability is now standard, and the 2022 Bolt EV also comes with a new dual-level charge cord that can be used with a 120-volt household outlet or a more powerful 240-volt home outlet, such as what you might find for a clothes dryer. The Bolt powertrain carries over with a 65-kWh battery and 200-hp electric motor.
iii) Mazda MX-30- The electric motor makes 144 hp and 200 pounds-feet of torque, and draws power from a 35.5-kWh battery driving the front wheels; AWD isn't offered. The overall range of just 100 miles is underwhelming even among affordable EVs like the Leaf and Bolts, but Mazda throws in a few other perks, such as a preset number of complimentary loaner vehicles for road trips and $500 in ChargePoint credits for public charging or toward the installation of a Level 2 home charger.
iv) Hyundai Kona EV-It's comfortable in front, but tight in the backseat and cargo area. The Kona Electric has a 201-hp electric motor driving the front wheels, a 64-kWh battery, and DC fast-charging capability that can go from 10% to 80% charge in as little as 47 minutes. The Kona line has been freshened for 2022, and the Kona Electric got its own styling updates and wheels, plus interior changes that include a 10.25-inch touchscreen, a 10.25-inch instrument display, and a redesigned center console with wireless charging capability. The Kona Electric is offered at dealers in a limited number of states, primarily those with required targets for zero-emission vehicle sales.
Starting price: $35,245
EPA-estimated range: 258 miles
v) Kia Niro EV- Kia's Niro EV is part of a line of electrified-only hatchbacks that also includes hybrid and PHEV versions. The EV model shares a 64-kWh battery and 201-hp electric motor with the Hyundai Kona Electric (Hyundai and Kia are affiliated automakers), but the more family-friendly Niro has a larger backseat. The Niro was last refreshed for 2020 and has gone mostly unchanged since then. A full bundle of driver assistance tech is standard, and DC fast-charging capability is up to 100 kW.
Starting price: $41,205
EPA-estimated range: 239 miles
vi) Nissan Leaf-the Nissan Leaf became the first fully electric vehicle mass-produced by a major manufacturer. More than a decade later, the Leaf stands out as the most affordable EV on the market — sub-$20,000 with federal tax credits on a qualified Leaf S. Two trims start under $30,000 even without the federal credit.
It's got a carefree range of 226 miles — but only with the larger 62 kWh battery, which delivers 214 horsepower. The smaller 40 kWh battery has a range of 149 miles and comes with 147 horses.
The Leaf opens up nicely with 23.6 cubic feet of cargo space and a 60/40 rear split. It's not a perfect EV, but the Leaf has been almost universally heralded for its impressive suite of standard driver-assist and tech features.
vii)Mini Cooper Electric Hardtop 2-Door- The other EV with a sub-$30,000 price tag is the Mini Electric, which has been updated for 2022 with fresh tech and new stylings. It has a limiting range of 114 miles, but it can charge to 80% in 36 minutes. Its 181 horses can do 0-60 mph in less than seven seconds.
Inside, it now has ambient lighting, a big 8.8-inch touchscreen, a brand new digital cluster, and a redesigned steering wheel and air vents. In terms of looks, it's unmistakably Mini, and despite the lack of an engine, it's as fun to drive as its nameplate would have you believe.
Join the newsletter to receive the latest updates in your inbox.