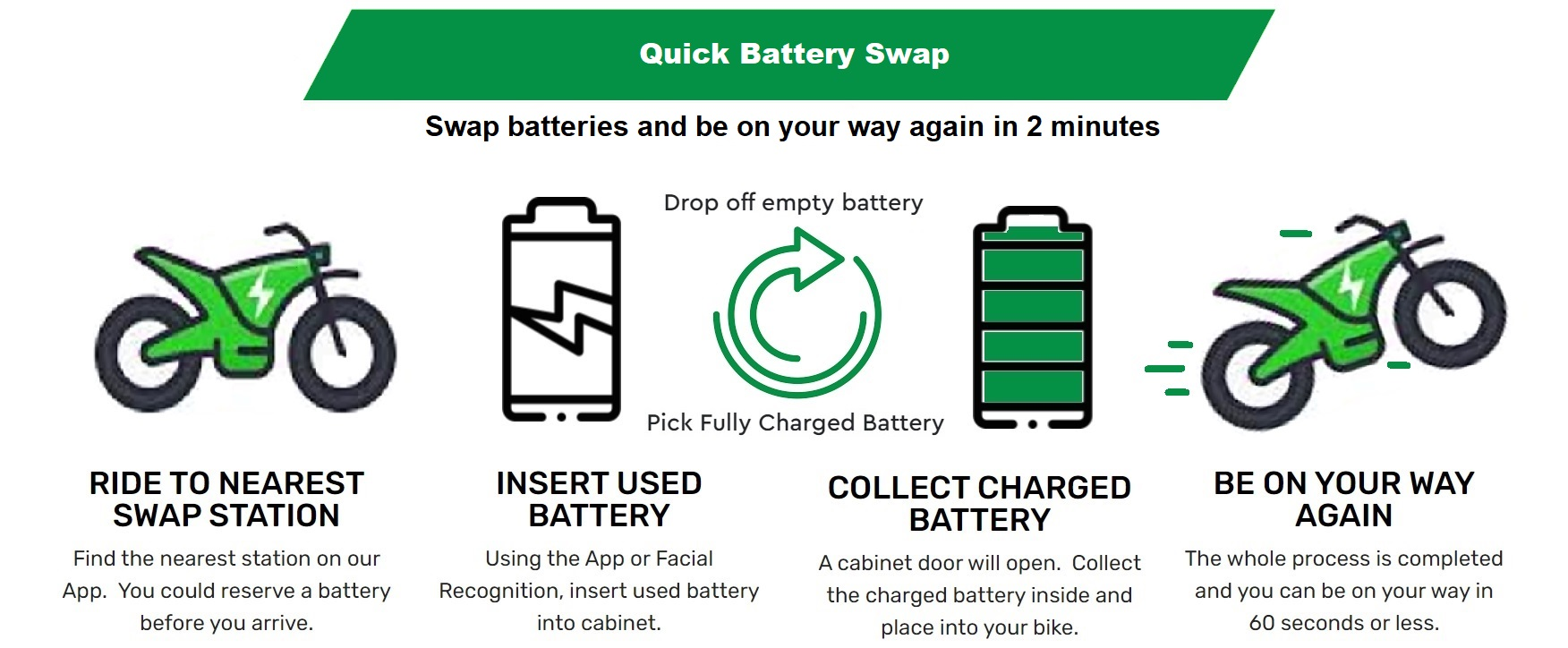 Battery swapping is a new technology that allows maximum asset utilization and offers significant cost savings for commercial-scale utilization such as fleet operators and shared-mobility providers.  The battery swap technology promises future reductions in battery price which in turn would further accelerate the adoption of light-duty electric vehicles and serves to ease concerns related to range anxiety.
Battery swapping locker offers a plug-and-play solution for charging the battery of electric two-wheelers (E2W) and electric three-wheelers (E3W). It involves switching out a depleted battery for a fully charged one at a swapping station within the battery swapping operator's network. This recharge process can be carried out manually in mere minutes for light-duty vehicles and motorcycles. This is comparable to gasoline refueling time and significantly shorter than conventional point charging.
In countries like Kenya, swappable batteries have paved the way for the next generation of mobility on two wheels.  Battery-swapping stations are now scattered across Kenya's capital of Nairobi. Out of all the benefits brought about by electric motorcycles to the African economy, it stands to reason that the biggest benefit comes in the form of cost savings at the granular level. You see, unlike the premium electric motorbikes we have in Europe and the U.S., electric motorbikes in Kenya are built precisely to satisfy the needs of the highly price-sensitive market. According to Steve Juma, the co-founder of Ecobodaa, one of the fast-growing electric two-wheeler companies in the region, battery swapping tech saves a lot of money for commuters, as acquiring a second battery to extend range could effectively double the cost of the bike.
Ecobodaa has 50 test electric motorcycles on the road now and plans to have 1,000 by the end of 2023 which it sells for about $1,500 each—roughly the same price as a barebones gas-powered motorbike. The company is able to sell them for so cheap because the batteries are not included in the sale price, and can therefore be easily acquired by visiting a nearby battery swapping station. Other companies, such as the Kenyan-Swedish startup Roam, are pushing the envelope of design and technology, which, when looked at from the other end of the spectrum, could pave the way for expansion in the premium segment.
Kenya's consistent power supply, which is about 95 percent renewable, led by hydroelectricity, and has a widespread network, provides major support for the growth of the sector, said Jo Hurst-Croft, founder of ARC Ride, another Nairobi-based electric motorcycle start-up.
The country's power utility estimates it generates enough to charge two million electric motorcycles a day. Access to electricity in the country is over 75 percent, according to the World Bank, and even higher in Nairobi. Uganda and Tanzania also have robust and renewables-heavy grids that could support electric mobility, Mr. Hurst-Croft said. He adds that they are planning to put over 200 swapping stations in Nairobi and expand to Dar es Salaam and Kampala.
Ampersand - Ampersand, an African-based electric mobility company, began its Kenyan operations in May 2022. The business currently operates seven battery-swapping stations spread across the country's capital and has so far attracted 60 customers. It offers electric motorcycles and a battery swap station network to power the motorcycle taxi drivers of East Africa. A driver can purchase or lease a motorcycle from Ampersand at a competitive cost with petrol incumbents.
Batteries are owned by Ampersand and provided to drivers as a service. Drivers pay for electricity the same way as petrol – they only pay for what they use. When a new battery is needed, a driver can quickly swap it out for a new one at one of Ampersand's many conveniently located swap stations, without having to wait for it to charge. 35 motorbikes and batteries have now covered well over 1.3 million km on the streets of Kigali since May 2019. Ampersand has 7200 drivers signed up on our waiting list.
Ampersand plans to sell 500 more electric motorbikes by the end of the year. Companies say the savings of switching to electric and using a battery-swap system, rather than charging for several hours, are the key selling point for customers.
Chaji Energy wants to play a key role in the boba boda industry through the provision of charging infrastructure. It is setting up a facility capable of charging 1000 batteries at a time. Its facility will have the capacity to charge at least 3000 motorcycle batteries per day. The 1000-battery charging station will be charged from solar PV. This is because the cost of electricity in Kenya per unit is as high as of now hence solar proves to be the most affordable option. Kenya's energy mix is already above 90% renewable. All those batteries will be charged with very clean electricity.
STIMA- STIMA and India's leading electric motorcycle manufacturer OneElectric have partnered to deploy 3,000 rechargeable electric motorcycles in the first phase, for Kenya. The joint venture plans to expand to other African countries.  The partnership combines OneElectric's high-performing and premium electric motorcycles with STIMA's instant recharge infrastructure that can be deployed on a large scale. OneElectric has already supplied an initial 30 motorcycles in the Kenyan market.
Through the partnership, the companies can jointly deploy the most scalable model of electric 2-wheeler mobility tailored to African markets, which are defined by a high price sensitivity, intensive usage of up to 300 km per day and in challenging conditions (rough roads), and a high demand for high performance and durability.
Kiri EV- The company provides swap batteries for E-bikes. Here is a snippet of how to access the services. Locate swap stations around you. Reserve batteries. Bike and battery information and your fingertips. Bikes equipped with Kiri's smart vehicle control unit provides location tracking, anti-theft and remote bike controls. Smart Batteries are constantly monitored and remotely controlled for optimum performance and safety. Smart swap cabinets provide 24-hour automated battery swapping to keep you riding without waiting for batteries to charge.
Battery swapping system has built-in IoT that facilitates constant tracking and monitoring of battery performance through data analytics. Operators can use this data to estimate real-time demand and optimize the distribution of battery inventory across their swapping stations. Battery swapping for E2Ws and E3Ws can be operationalized via manned services or automated unmanned kiosks. The battery-swapping kiosk has a small real estate footprint and can be located in the parking lots of shopping malls, restaurants, grocery stores, and other heavily trafficked locations. Generally, the capital investment required for setting up a new swapping kiosk is significantly lower than that of setting up a new Level 2 charger.
The environmental benefits
i) The motorbikes are also fully automatic, easy to ride, have regenerative braking, and even go in reverse
ii) The packs are designed specifically to be cost-competitive compared with fuel, with a simple robust design and far higher lifespan than the batteries typically used in other EV
iii) The battery fleet and station network is managed across a software platform
iv) 75-95% reduction of CO2 emission
v) It brings zero tailpipe emissions to half of the vehicles on the road helping to clear the air in Africa's cities
The Financial Benefits
i) Saves East Africa's five million motorbike taxis up to $600 a year, making it possible to double their income
ii) Low capex - can make all of East Africa's motorbikes electric by 2030 for under $3Bn in the capital - a fraction of the $8Bn+ annual spending on fuel and motorbikes in the region
iii) Eliminates fuel imports of 9 billion litres a year by utilizing East Africa's costly grid electricity surpluses - a double-win for Governments and taxpayers
Source
ii) Reuters
Join the newsletter to receive the latest updates in your inbox.