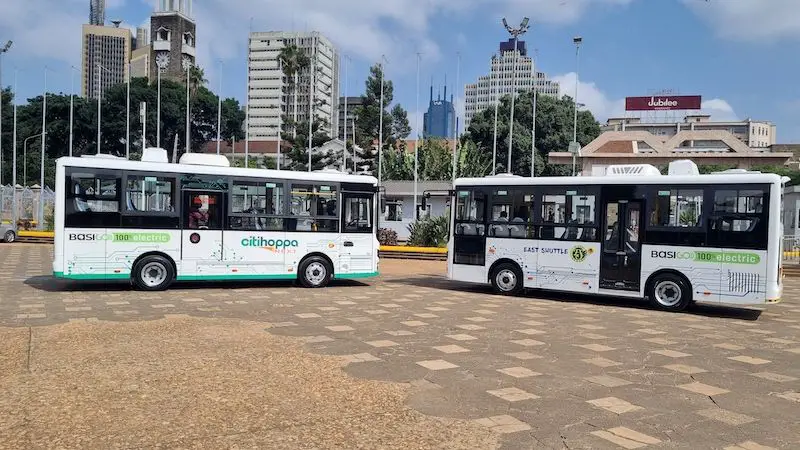 BasiGo has worked hard to revolutionize the public transportation sector by providing public transport bus owners with a cost-effective electric alternative has announced the delivery of 5️ new electric buses to MetroTrans Limited.
These buses will bring comfortable, clean, and safe public transport service to Nairobi's Kikuyu and Utawala routes passengers. MetroTrans Limited is a leader in revolutionizing public transport in Kenya. This delivery represents the largest fleet of electric buses to enter operation with a single Nairobi bus operator.
In addition to being 100% electric, MetroTrans and BasiGo are partnering to make these buses 100% cashless, bringing ease and convenience payments to passengers.
With Kenya's 90% renewable electricity, these five electric buses will mitigate approximately 2,000 tonnes of CO2 emissions over their life, while reducing Kenya's demand for imported diesel fuel by almost 100,000 Liters per year.
BasiGo aims to have over 1,000 electric buses deployed in the country by the end of 2025. Late last year, BasiGo received funds amounting to Sh804.5 million from venture capitalists in Silicon Valley to aid at the beginning of local manufacturing of electric buses and charging infrastructure. The funds brought the total investment received by the company to Sh1.3 billion.
Globally, almost half of all buses being produced are now electric and momentum has been growing for the adoption of electric vehicles in Kenya amid calls for clean energy solutions to reverse the negative effects of climate change.
Kenya produces over 70% of its electricity from renewable energy sources such as hydro, geothermal, solar, and wind. As the world races towards sustainability and the fight against climate change, replacing a diesel bus in East Africa with an electric bus would have a greater impact than almost anywhere else in the world.
The company has also announced a rundown of the current routes where you can find a BasiGo E-bus: The different routes include:
Citi Hoppa: CBD – Allsops-Airport
East Shuttle: City Stadium – Buruburu – Dandora
Super Metro: CBD – Kikuyu and CBD – Kitengela
OMA: CBD – Jogoo Road – Buruburu – Civil Servants (CIVO)
MetroTrans: Kikuyu – CBD – Utawala
Join the newsletter to receive the latest updates in your inbox.