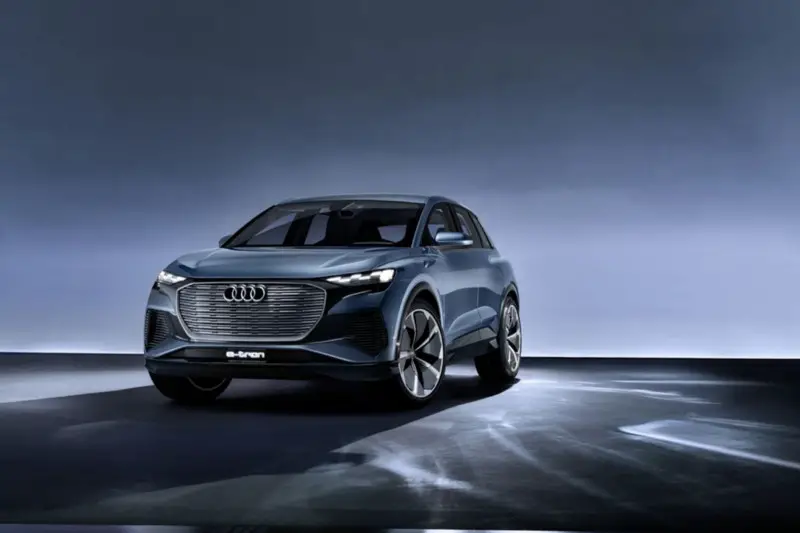 When the Audi E-Tron was unveiled in 2018, representatives from the company revealed that the company plans to launch more than 12 fully electric cars by 2025. Q4 E-Tron, the concept car previews an electric model scheduled to make its debut at the end of 2020.
The Q4's front end adopts the design language that will characterize all of Audi's upcoming electric models. An octagonal grille dominates the front fascia, and the frame that surrounds it underlines a pair of thin, swept-back LED headlights. The Q4 SUV's flanks breaks away from the angular shapes that characterize Audi styling and go in a softer, more rounded direction. Its back end features an elegant light bar, a styling cue shared with other recent additions to the company's lineup of models.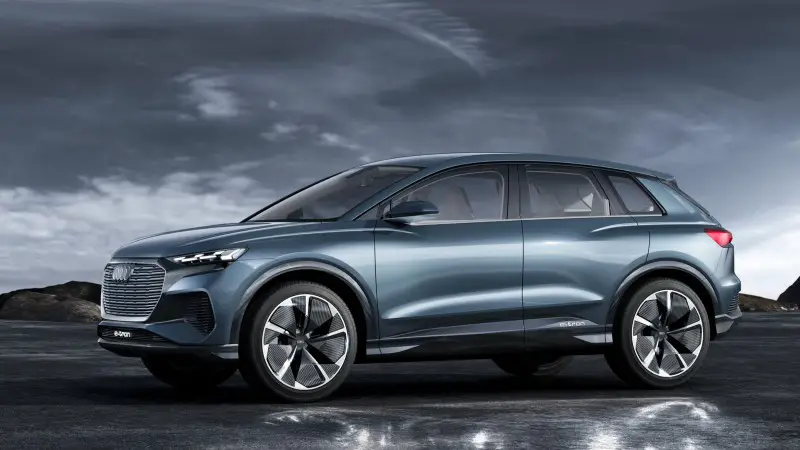 Power comes from a pair of electric motors that draw electricity from a 82-kWh lithium-ion battery pack,one per axle,that have a combined output of 225 kW and channels 301 horsepower to the four wheels. The Q4 E-Tron takes 6.3 seconds to reach 62 mph from a stop and top speed of 111 miles an hour, and it offers nearly 280 miles of driving range on one charge. Quick-charging technology delivers an 80-percent charge in 30 minutes, a rate which should make range anxiety a problem of the past. Audi notes the electric drivetrain lowers the concept's center of gravity, while giving it a 50/50 weight distribution. We expect it will handle like a sport sedan, not like an SUV.
If you're thinking the SUV has a bit of a crossover feel ,you're not wrong, but remember that Audi design specifies that any vehicle consist of two-thirds body and one-third window. Those proportions help give the vehicles a sportier feel.
As with most other small and mid-sized VW Group electric cars, the Q4 will be based on the ubiquitous MEB EV platform, which packages the lithium-ion batteries along the spine of the car within the wheelbase. The 82 kWh cells are remarkably capacious for a vehicle this size, resulting in decent electric range to quash any "will we get there" anxieties.
In line with most MEB products, Audi is claiming an 80% recharge in just 30 minutes .Those chunky batteries add quite a bit of extra weight, at 510kg.
Interior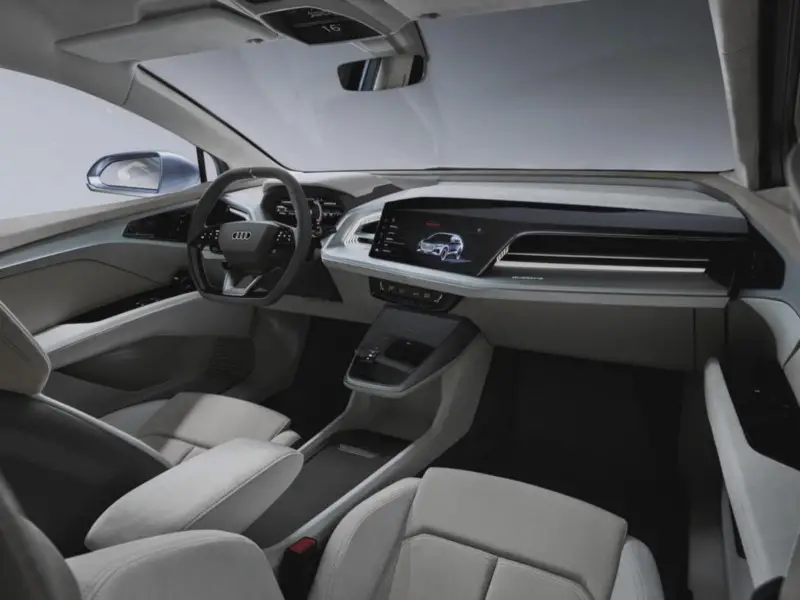 Designers gave the Q4 a driver-oriented interior brimming with tech. The driver faces a digital instrument cluster that can be configured using buttons on the steering wheel. It shows key information about the car, like how much range is left in the battery pack. If recent Audi models are any indication, it can also display navigation directions, among other features. The second screen, located on the center console, lets the front passengers access the infotainment system, which looks like an evolution of the MMI Touch Response software.
This smaller SUV will still be more than up to the job of family transport duties. With no prop-shaft to steal interior space, the cabin of the Q4 is roomy and with the battery packs pushing passengers higher, this is quite a tip-toe tall car at 1610 mm high. That height is countered by huge 22-inch alloy wheels.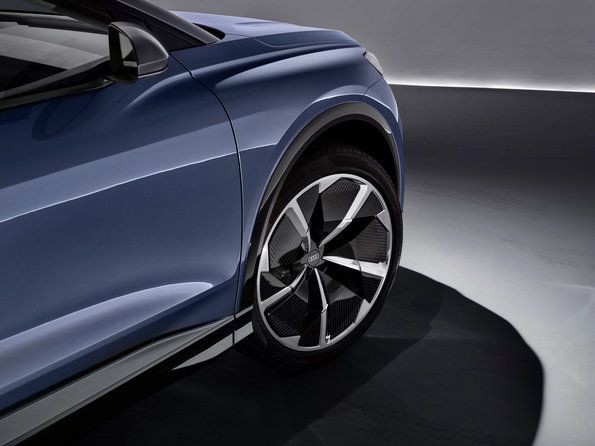 The Q4 e-Tron's interior is festooned with the latest Audi touchscreens and the carpets are made from recycled plastics, while the head-up display mixes and matches Mercedes' MBUX dynamic navigation, but here beaming directional turn arrows onto the actual road ahead.
While the interior is still a concept, you can be sure the finished variant will have plenty of screens, nice tech touches, and quality materials. The lack of a traditional drivetrain means more space between the seats for cargo and personal items, too.
Audi has now publicly confirmed that this is one concept car that will take the leap from catwalk to showroom. 'Audi is showcasing its compact SUV study with electric drive at the 2019 Geneva motor show. The Audi Q4 e-tron concept provides a glimpse of the next stage of Audi electric mobility and is due to be presented as a series-production vehicle in late 2020/early 2021.
Audi confirmed the Q4 E-Tron concept will reach production in late 2020 or early 2021. It will ride on an Audi-specific version of the MEB platform that will underpin dozens of Volkswagen models, including a hatchback, an SUV, and a sedan. When it goes on sale, it will join the E-Tron and the E-Tron Sportback . Pricing information and availability will be released closer to its on-sale date.
Summary specs
Battery size :82 kWh
Electric motors: 225 kW total (front and rear)
Range : 'Over 280 miles' (450km)
0–62 mph: 6.3 seconds
Top speed: 112 mph
Join the newsletter to receive the latest updates in your inbox.