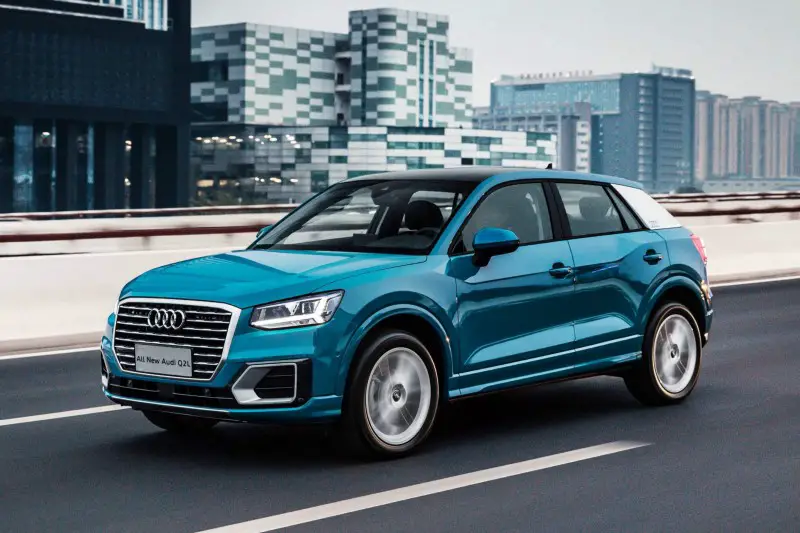 This is the all-electric and extended (in length) Audi Q2, which is dedicated for the Chinese market. The style of the Q2 30 L e-tron without a doubt reminds us of the Audi e-tron, but of course, this one is a smaller crossover/SUV, envisioned for the city. Also, the 38 kWh is significantly smaller than the 95 kWh battery in e-tron. With the electric motor of 100 kW, the specs seem comparable to Hyundai Kona Electric — Standard (39.2 kWh battery, 100 kW motor).Since it is a high-riding crossover, it could be all-wheel drive, but given the fact it's a small vehicle destined to be driven in the city, it may very well be front-wheel drive-only.
With the possible roof-mounted solar panels (the reason why Audi may have decided to throw a white cover over this prototype's roof), it would ensure that some current always flows into the battery. It would not be enough to add any significant range, but in the long run, it could bring about savings and ultimately make the Q2 e-Tron ever so slightly more efficient than it would have been without them.
From the back, the rear bumper is also clearly different, although not dramatically so, but otherwise it looks like any other Q2. From the side, the only way you'll be able to tell it apart will be the unique wheels it'll surely get the charging port door and e-Tron badging as well.
The Q2's interior is really the least posh of any high-riding Audi .It's still by no means bad, just not as fancy looking as, say, the Q5. The Q2 feels about as fancy inside as an A3, but it's far more practical.
In fact, just driving any Q2 around you get the impression that you're at the helm of a regular hatchback (like the A3) and not SUV. But that just means you have more confidence to throw the car around, as you would an actual hatchback. Some, however, may not like it specifically because of this, preferring vehicles with a taller and more commanding driving position.
Audi Q2 30 L e-tron specs:
38 kWh battery
up to 265 km (164.7 mi), "determined according to the local homologation procedure"
front-wheel drive
electric motor output: 100 kW and 290 Nm
33 millimeters (1.3 in) longer than that of the basic model
Join the newsletter to receive the latest updates in your inbox.