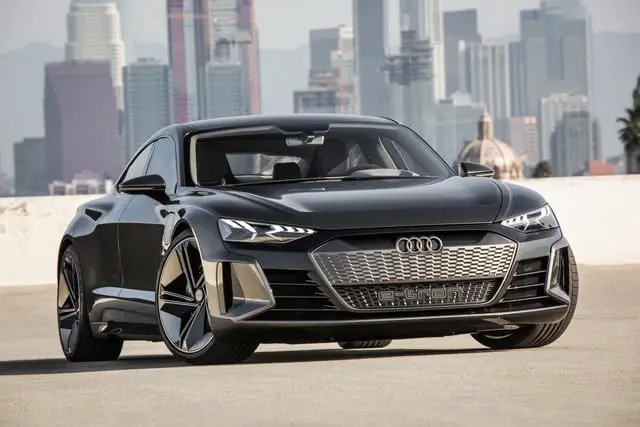 Audi is as committed as anybody to an EV future.Its rivals are the Tesla Model S and Porsche Taycan.It has 582 horsepower electric powertrainand can sprint from 0–60 in 3.5 seconds, as well as an electronically limited top speed of 149 mph or 240 km/h.
Audi says it has a range of 248 miles or 400 km a value which would make it competitive against a Tesla Model S today. However, the plan is for this model to reach production in late 2020 with first owners taking delivery in early-to-mid 2019.
Electric motor and battery
Around 60% of the e-tron GT's parts under the metal are shared with the Porsche Taycan, with both cars using the same 'J1' platform. This includes the dual electric-motor setup, producing 582 bhp, which is more than the standard Audi R8 V10 petrol super car makes.
As can be expected for an electric car, though, it'll have significantly more torque than its two-door, conventionally powered stablemate.
The GT will do 0–62 mph in 3.5 seconds and hit a top speed of 149 mph, while the car's 96 kWh battery will charge from flat to 80% in only 15–20 minutes — provided a high-speed 350 kW charging station is used. And with the regenerative braking system turned up to a high level, one-pedal driving should be possible.
Accomplished handling is promised due to a low centre of gravity — thanks both to lightweight carbon-fibre panels being used for the doors and roof, as well as the weight of the battery pack being carried low down in the chassis.
Brake energy recuperation will be a big deal. Up to 0.3g you won't be using the ceramic disc brakes at all, just reversing the polarity of the electric motors. That should take care of 90 per cent of all your braking needs and you'll be able to pull paddles to vary the deceleration — just like engine braking on downshifting. That's not new: Hyundai has it on the Kona EV.
Styling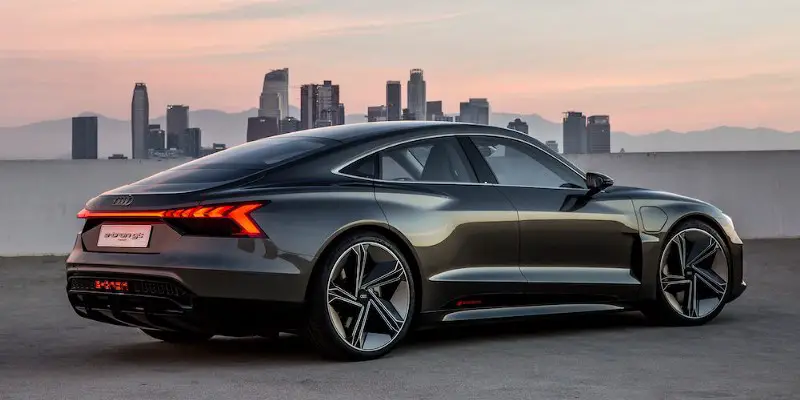 There are expected to be only minor variations between the car seen pictures and what eventually goes on sale to the public in 2020. The production model will be a five-seater.
The car features racing-style centre-locking wheels, but the road-going version will revert to the traditional five bolts. The wheels' design and 22-inch diameter won't change, though.The absence of an engine up front and exhaust pipes at the rear has allowed for a very low bonnet and an advanced aerodynamic diffuser, respectively.
Entry through the front doors is a squeeze, considerably more than in an A7, which is close in size (the e-tron GT has a 114.0-inch wheelbase and is 195.6 inches long and 54.0 inches high).
Interior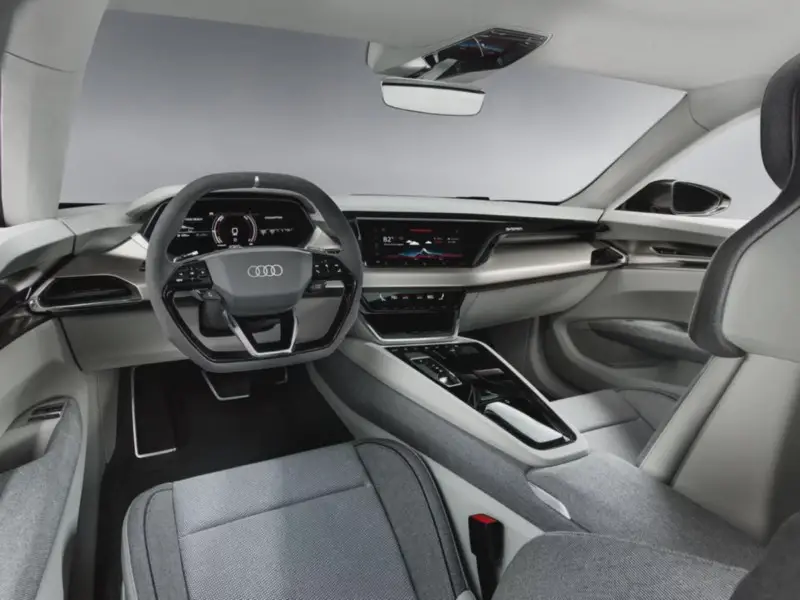 Inside, Audi claims a vegan interior. The leather is synthetic, there's a microfibre headlining and the carpets are made from recycled fishing nets. Presumably they remove the dolphins from them first.
Headroom is adequate for six-footers, and the view forward is similar to that in the A7. Back-seat room is tight, and Audi makes no attempt to pass off the rear compartment as accommodations for any more than two people. You can get comfortable back there, provided the front-seat occupants scoot their seats forward a bit.
The skateboard electric platform endows the e-tron GT with a similarly low centre of gravity to the R8. Safe to say it's not being pitched in quite as sporting a direction. Don't worry though, doubtless Audi will have an electric R8 along before 2025.
Audi promises four adults will be able to travel in comfort in the GT, with special 'foot garages' built into the floor to give more foot room. For luggage, there's a 450-litre boot at the back and an additional 100 litres of storage under the bonnet.
Driving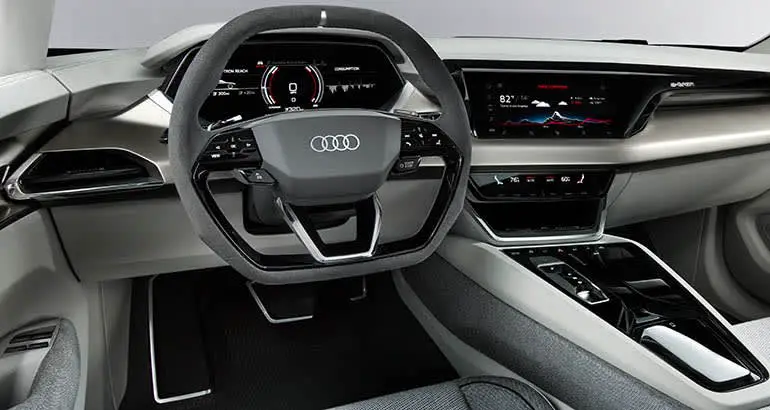 Once settled in, you just need to push the start button, select drive, and moved out of a staging area in a parking garage and into the flow of traffic. The pair of non-adjustable rear view mirrors conspire with a large rear blind spot to make every lane-change maneuver .
The e-tron's regenerative brakes slow the vehicle and recapture energy during mild braking up to 0.3 g, while the carbon-ceramic braking system comes into play when rapid deceleration is required. In practice, the braking feels reasonably natural and free of any obvious changes in the pedal travel or braking force as the friction brakes step in to assist stopping. There are three levels of regenerative coasting that can be controlled manually using steering-wheel paddles, or you can let the car control it automatically via a predictive efficiency-assist system, which attempts to guess your next move and plan for maximum regenerative effect.
Join the newsletter to receive the latest updates in your inbox.