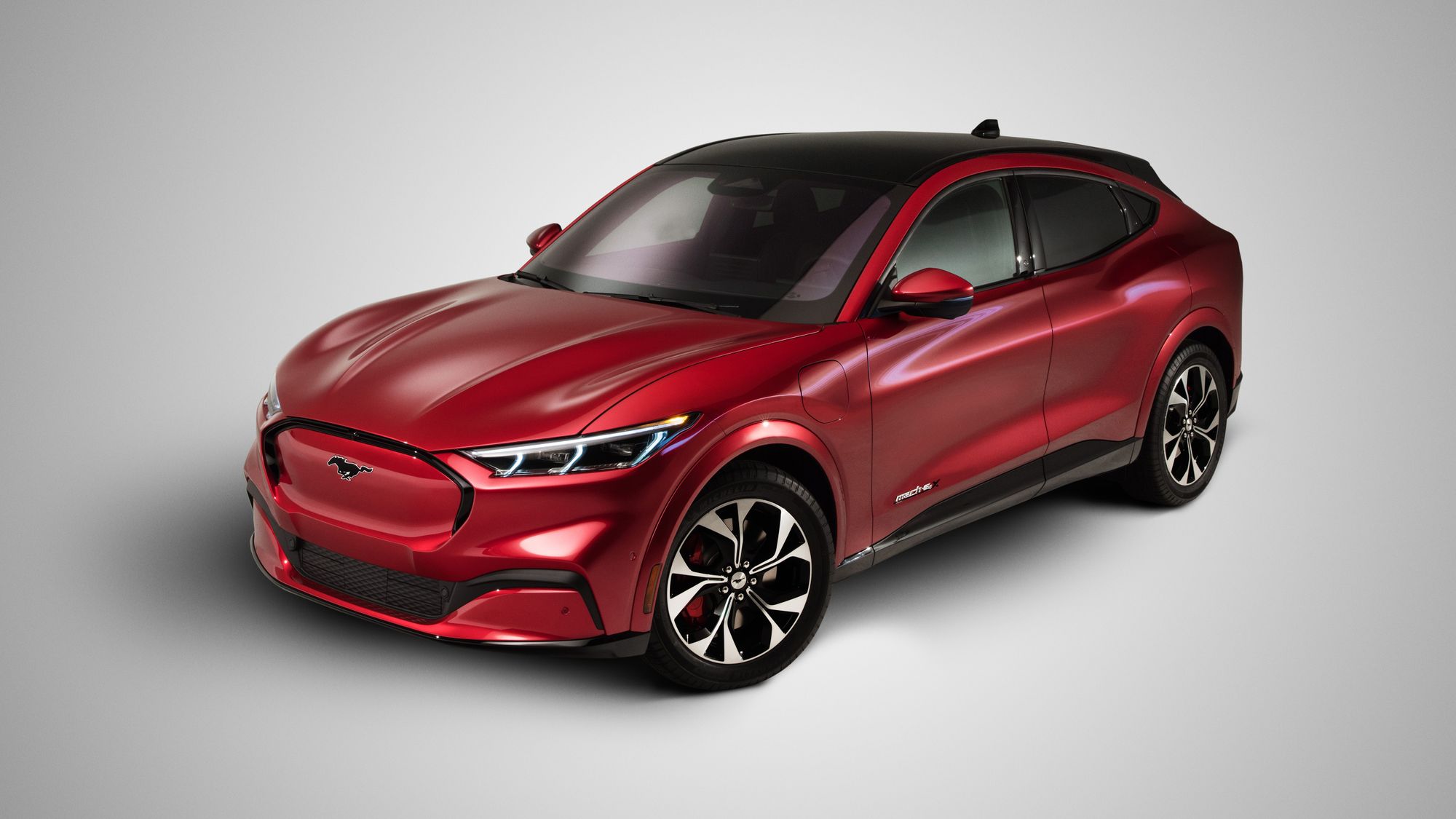 EV charging will take a shorter time as we have new technology that helps to recharge your car quicker. This fast charging ability isn't restricted to EVs from luxury brands only, any EV is entitled to this. The 2021 Ford Mustang Mach-E can add 61 miles of range in just 10 minutes. That's at a charging rate of 150 kilowatts, available at a high-speed charging station.
The 61-mile figure is applicable to the Mustang Mach-E with rear-wheel drive and the larger 98.7-kilowatt-hour extended-range battery. For all-wheel-drive models with the same battery, 10 minutes of high-speed charging will add 52 miles of range, which should still be enough to get you home in most cases.
Should you need more range, an 80-percent charge using a high-speed charger should take 45 minutes, regardless of whether we're talking a rear- or all-wheel-drive Mustang Mach-E? With the 75.7- kWh standard-range battery, a 10-minute high-speed charge delivers 46 miles with rear-wheel drive or 42 miles with all-wheel drive. In both cases, a charge to 80 percent will take 38 minutes for the smaller battery.
"The Mustang Mach-E wholeheartedly rejects the notion that electric vehicles are only good at reducing gas consumption," said Hau Thai-Tang, Ford's chief product development and purchasing officer. "People want a car that's thrilling to drive, that looks gorgeous, and that can easily adapt to their lifestyle – and the Mustang Mach-E delivers all of these in unmatched style."
Interior/Space:- An  impressively spacious interior with plenty of legroom, means everyone will love the ride. Designed with SUV-size proportions to seat five adults comfortably, the Mach-E leaves plenty of space for friends, kids and cargo.
Infotainment:-  Phone as a Key technology , which makes its debut in the Ford lineup in Mustang Mach-E. Using Bluetooth, the vehicle can detect customers' smartphone as they approach, unlocking the Mach-E and allowing customers to start driving without getting their cell phones out of their pockets or using a key fob. A backup code also can be entered on the center touch screen to start and drive the vehicle in the event the phone battery dies. Mach-E represents a fusion of sleek, modern design and smart functionality. Premium available Bang & Olufsen speakers are seamlessly integrated across the front, floating above the air vents like a sound bar. The floating, flip-up arm rest doubles as a place to store purses or bags. Traditional Mustang design cues like the double-cowl instrument panel also round out the interior.
Capability:- Available electric all-wheel drive delivers exceptional handling and capability. Front and rear motors distribute power to individual wheels, so it can help you take on snowy roads.
Performance:- Mustang Mach-E delivers three unique drive experiences – Whisper, Engage and Unbridled – each offering finely tuned driving dynamics packaged with a unique sensory experience. Features include custom-designed vehicle responsiveness such as sportier steering controls, ambient lighting, sounds tuned for an authentic all-electric experience, and dynamic cluster animations that are tied to driving behavior. When the vehicle launches, a new all-wheel drive system (eAWD) will be available that can apply torque independently to the front and rear axles to deliver impressive acceleration and improved handling over the rear-wheel drive model. Ford tuned this eAWD system to provide excellent traction on the road, rigorously testing the vehicle in wet and snowy terrain to help control for slippery conditions.
Battery and changing:- Mustang Mach-E will be available in both Standard Range (75.7 kWh lithium-ion battery) and Extended Range (98.8 kWh battery) that has a targeted EPA-estimated range of at least 300 miles range with its rear-wheel drive configuration. Ford offers a Ford Connected Charging station that can add an estimated average range of 32 miles per charging hour on a 240V outlet, based on an extended range and rear-wheel drive configuration. The Ford mobile charger, included with the vehicle, can add an estimated average range of 22 miles per charging hour on a 240V outlet,7 the same used for a conventional oven.
Pricing:-  Mach-E starts from $44,995
Join the newsletter to receive the latest updates in your inbox.