The new UX 300e features a cabin inspired by the Japanese architectural concept of 'engawa' where the inside and outside are seamlessly connected. This unique approach gives you a better sense of the extremities of this new EV, making it much easier to maneuver in tight urban spaces. The cockpit is relaxing and uncluttered, with everything of importance located around you, and all the controls falling naturally to hand (there's even a clever palm rest on the center console that has the audio controls built in).
The 54.3 kWh lithium-ion battery lets you drive 400 km (NEDC)* between charges. The electric motor delivers 150 kW (204 DIN hp) of power and 300 Nm of instantaneous torque, and acceleration is 0–100 km/h in 7.5 seconds, to a top speed of 160 km/h, producing CO2 emissions of 0g/km as you drive.
It retains the design of the conventionally powered model, right down to the placement of the fuel cap, although its round shape has been changed to an angular and slightly larger cap to make room for the charging port. There are some subtle changes compared to the standard UX, such as the new aerodynamic wheels, 20 millimeters (0.8 inches) lowered ride height, and redesigned under-body cover to make the vehicle as sleek as possible in a bid to enhance efficiency. Inside, the look of the instrument cluster is the only thing that has changed.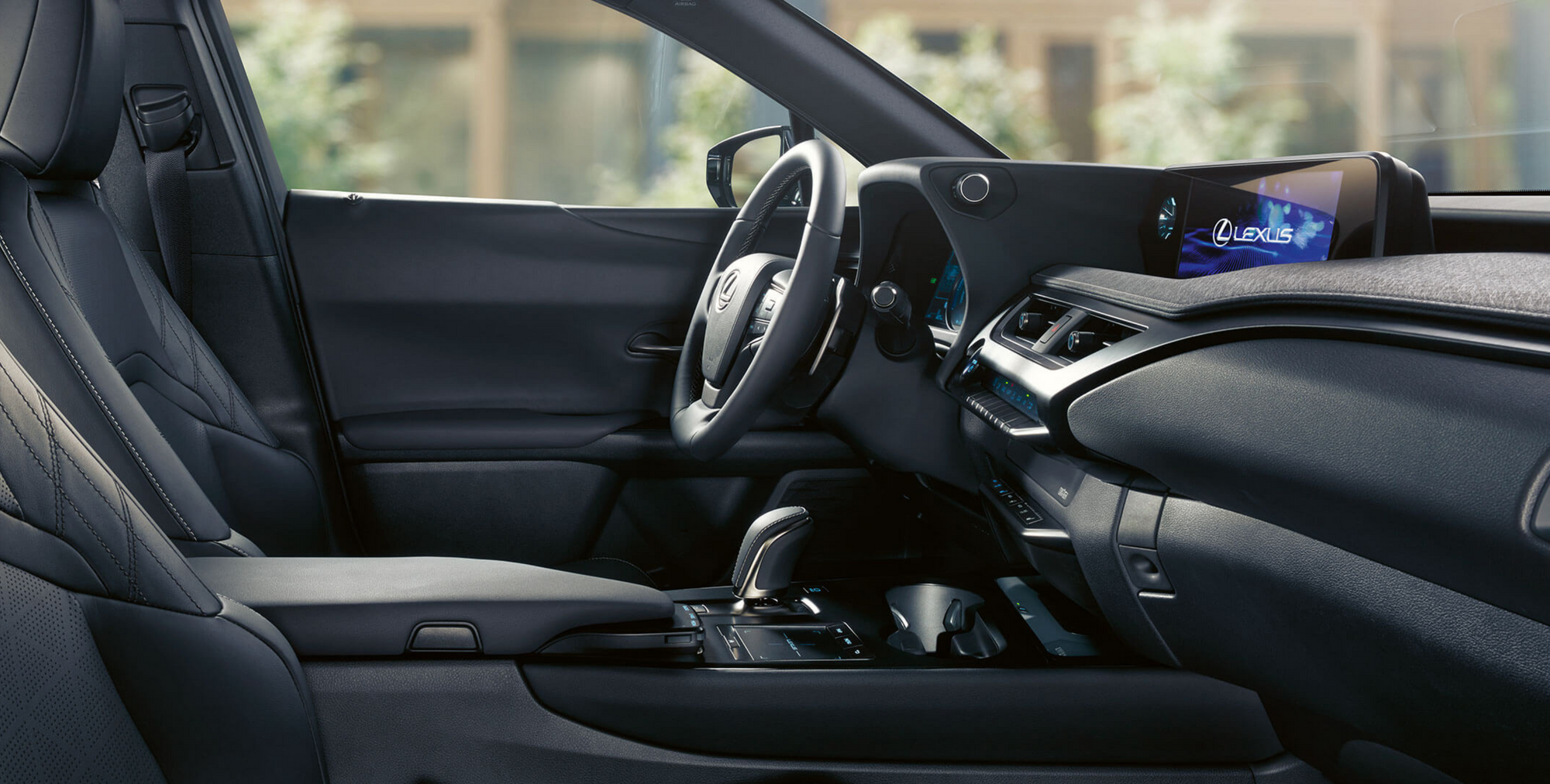 Replacing the internal combustion engine at the front is an electric motor developing 201 horsepower (150 kilowatts) and 300 Newton-meters (221 pound-feet) of torque. Underneath the body sits the lithium-ion battery pack with a 54.3-kWh capacity and enough energy to last for 400 kilometers (almost 250 miles) based on the NEDC cycle, with the more realistic WLTP rating to follow. Once depleted, it'll take approximately 50 minutes to completely charge the battery using a 50-kW fast-charger or about seven hours from a standard 6.6-kW household socket.
While the 13-speaker Mark Levinson audio system creates a peerless concert-like soundtrack, the UX 300e Touch Pad lets you control the 10.3-inch Lexus Premium Navigation and Lexus Link connected services app. Intuitive to use, Lexus Link offers practical electric car features like remote charging, remote air conditioning and a charging station finder for when you need to plug in your UX 300e.
It weighs about 1,900 kilograms (4,188 pounds) and features a returned suspension with revised dampers to handle the extra weight. To make sure the vehicle is heard by those around it despite the lack of a traditional engine, it has also installed what it refers to as an Active Sound Control (ASC) system that "transmits natural, ambient sounds."
Join the newsletter to receive the latest updates in your inbox.