The 2019 Volkswagen e-Golf is the electric version of the regular Golf hatchback. It comes with a 35.8-kWh battery pack and a 115-horsepower, 214 pound-feet electric motor. Its driving range is 125 miles.
VW offers two trim levels: SE and SEL Premium.Standard equipment on the SE includes a 7.2-kW on board charger, DC fast-charging capability, 16-inch alloy wheels, automatic headlights, LED running lights and taillights, cruise control, key less ignition and entry, dual-zone automatic climate control, heated power-reclining front seats and a leather-wrapped steering wheel.
Tech features include Volkswagen Car-Net Security & Service remote services, an 8-inch touchscreen, a rear view camera, Apple CarPlay, Android Auto, a USB port, Bluetooth, and an eight-speaker sound system. There's also an optional Driver Assistance package, which includes adaptive cruise control, blind-spot monitoring with rear cross-traffic alert, and forward collision warning with automatic emergency braking.
The SEL Premium has the features from the Driver Assistance package as standard. It also gets LED headlights with automatic high beams, parking sensors, lane keeping assist, an automated parking system, an auto-dimming mirror, simulated leather upholstery, a more energy-efficient heating system, a digital gauge cluster display, and a bigger 9.2-inch center touchscreen with gesture control and navigation.
A suite of driver aids that includes park distance control, adaptive cruise control, forward collision warning with pedestrian detection and automatic braking, lane keeping assist, blind-spot warning and rear cross-traffic alert is standard. There's also a 12.3-inch all-digital Volkswagen Digital Cockpit gauge cluster.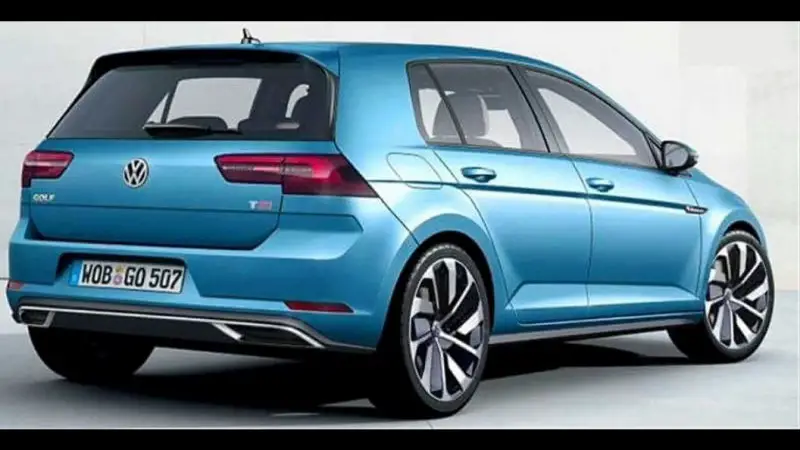 Also see: 2014 e-golf
Driving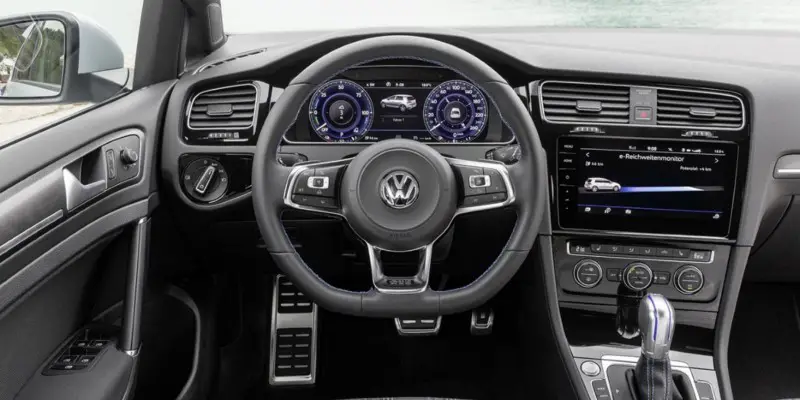 Handling, steering and braking are solid compared to others in the EV segment. But we wish the steering wasn't so light and that the regenerative braking power was stronger when you fully lift off the accelerator pedal.
Acceleration: The first e-Golf wasn't terribly quick, but this one has more going on under the hood. While it's still not as quick as some of the newest competition, it feels sufficiently peppy unless you're a lead foot who throws caution (and range) to the wind. At our test track, an e-Golf covered 0–60 mph in 8.4 seconds.
Braking: The brake pedal is firm and sure in routine use, with good feel and feedback. At our track, the e-Golf's fuel-saving tires contributed to a ho-hum 60-mph panic stop of 128 feet. There are four levels of regenerative braking, but the most aggressive setting falls short of enabling true one-pedal driving.
Steering: Turn the wheel and the e-Golf delivers a smooth and predictable response, exhibiting an eagerness in turns without feeling darty on straights. But the effort is a bit too light. It starts that way to ease parking. But even though the steering heft builds as the pace picks up, it never quite feels engaging.
Handling: Handling is eager and well-balanced through corners, reminiscent of a GTI. It was also able to orbit the skid pad at our test track at a respectable 0.88g, which is good considering the economy-minded all-season tires. Because of the low-mounted mass of the battery pack, the e-Golf leans a bit less in turns than a standard one.
Driving: It feels utterly smooth and effortless because the torque direct-drive electric powertrain never shifts. The lift-throttle brake regeneration has four levels that can be selected with the shift lever, too. We only wish the maximum B level was a bit more forceful for better one-pedal driving.
Comfort

The e-Golf offers comfortable seats and a ride that is neither too hard nor too soft. The electric powertrain is undeniably smooth and silent, of course. This peaceful ride is something that all EVs do well, but it's worth pointing out to those cross-shopping a regular Golf.
Seat comfort: The front seats have a very accommodating shape and offer great all-day support with just the right amount of padding. But some drivers might find the seat bottoms too flat. The effective side bolsters aren't confining. The rear seat offers similar levels of comfort and support.
Ride comfort: The highway ride is nicely controlled and settled. Bumps and holes are smoothed over with a minimum of harsh side effects. The result is a steady ride that nicely straddles the line between sloppy and tense.
Noise & vibration: The utter silence of the electric drivetrain makes the e-Golf less noisy overall than a standard Golf. Wind noise is minimal, and the tires don't call attention to themselves. A subtle whir has been artificially added to alert pedestrians, but it's almost inaudible inside the car and disappears above 15 mph.
Climate control: Dual-zone automatic climate control and heated front seats are standard. The main heating system is electric, and it warms quickly because there's no engine that needs warming up. It can be preheated while charging, too. The capable air-conditioning system has an Eco mode to use the system sparingly if you want to preserve range.
Interior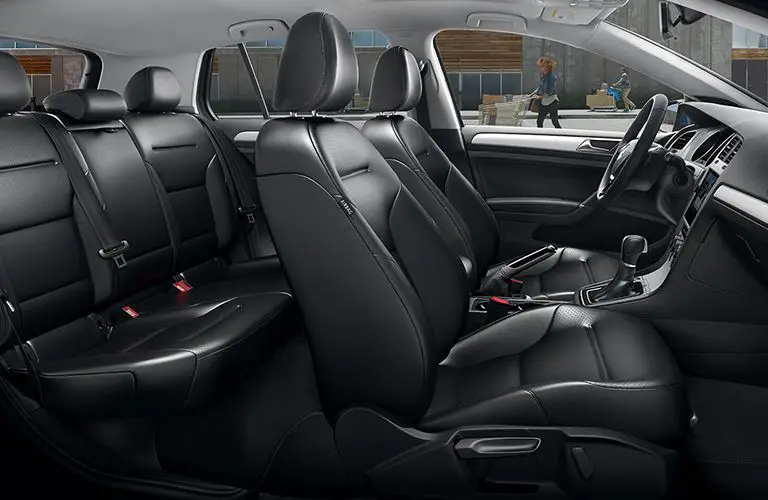 The e-Golf's interior is ideally suited for people. There's plenty of room, it's easy to get in and out of, and the controls are obvious and easy to reach. Credit goes to the Golf's signature boxy shape, which seems like it was drawn after the occupants were taken care of, not before.
Ease of use: The e-Golf is refreshingly simple and straightforward. The controls are within easy reach, and their function and usage are clear. There's little that will lead you to consult the owner's manual. It might take some time to master the steering wheel buttons, but they come easy once you do.
Getting in/getting out: The squared-off door openings make entry and exit a breeze, even for tall folks. The same is true for those in the back seat. The seats aren't so low that you have to stoop either. The doors aren't overly long, so they work well in tight spaces.
Driving position: The relationship between the e-Golf's seat, steering wheel and pedals (also its dash and gauges) is perfect. Folks of all sizes will agree on this point because the generous adjustment range of the seat (fore-aft, up-down) and the tilt-and-telescoping steering wheel allow nearly anyone to fit.
Roominess: Boxy on the outside equals roomy on the inside, with abundant legroom and headroom and an airy and broad cockpit. The back seat is similarly spacious with useful leg-, headroom and even toe room. It's exactly like a regular Golf.
Visibility: It's very easy to see out, and the blind spot is small thanks to abundant glass area and slender roof and windshield pillars. The standard rear view camera and proximity sensors are a nice bonus. The SEL's standard heated windscreen, however, has myriad fine embedded wires that can refract oncoming headlights.
Quality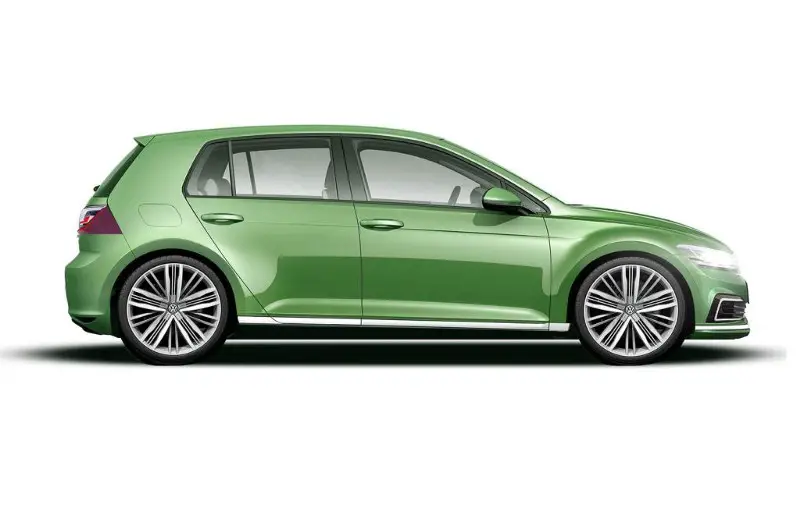 The e-Golf looks and feels well put-together inside and out. The seats and door trim are especially handsome. The dash design is pretty simple and uncomplicated, but that's the look VW goes for. It all fits together nicely.
Technology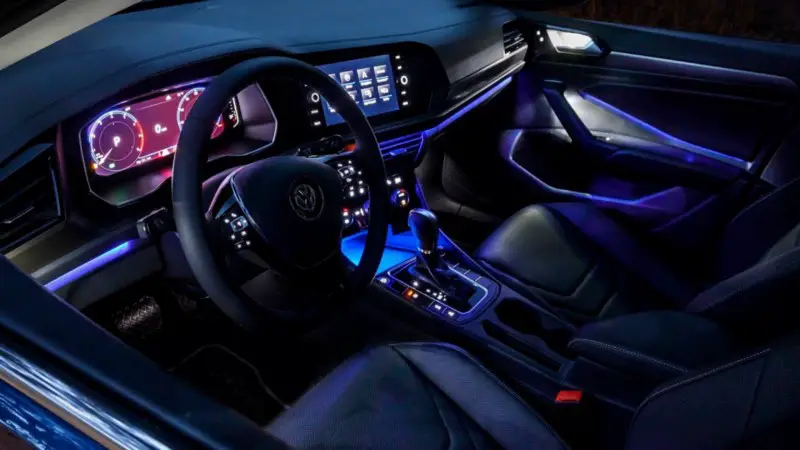 The e-Golf's simple and effective touchscreen audio and navigation system is easy to live with and offers a variety of ways to integrate your smartphone. But we really wish it had more than one USB port. There's a nice suite of active safety gear, but it's all optional and mighty expensive.
Audio & navigation: The e-Golf's 8-inch touchscreen delivers high-definition graphics, and the SEL's Fender audio system delivers crisp sound. The easy-to-operate user interface consists of volume and tuning knobs, dedicated off-screen buttons and virtual on-screen touch points.
Smartphone integration: Android Auto and Apple CarPlay come standard. You can also input sound from your smartphone (or a memory stick) via the USB port directly, or you can stream your tunes via Bluetooth audio. If you'd rather go old-school, there's an auxiliary jack and even an SD card slot. But there's only one USB port.
Driver aids: A rear view camera and rear parking sensors are standard. The SEL Premium also comes standard with automatic emergency braking, adaptive cruise control, lane keeping assist, blind-spot monitoring, rear cross-traffic alert and parking steering assistance.
Voice control: The system is good at identifying names in your contact list and switching stations within a radio band. But it stumbles if you try anything more complicated because it prefers set phrases over natural speech. Holding the button longer gets you Siri if you want to control your smartphone.
Price range :$31,895 — $38,895
Summary Specs
Engine: Electric
Car type: Compact
Style Name: 4-Door SE
Drive train: (4WD) Front Wheel Drive
Passenger Capacity: 5
Passenger Doors: 4
Body Style: 4 door Car
Transmission: Single-Speed Automatic
Join the newsletter to receive the latest updates in your inbox.