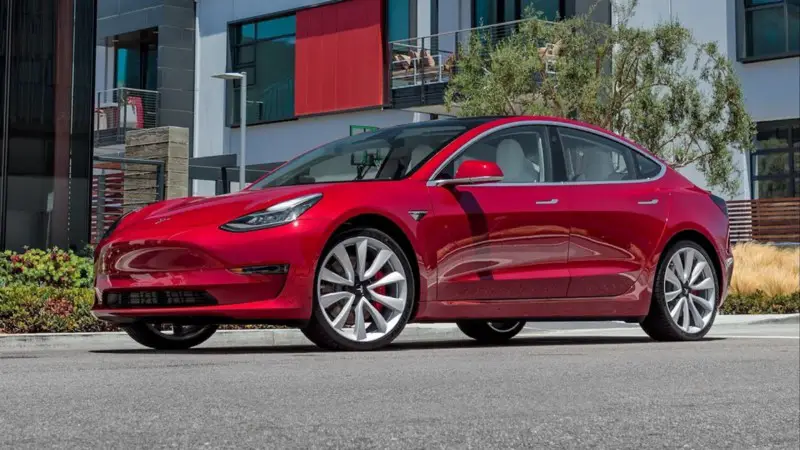 Tesla's Model 3 compact sports sedan is the company's first attempt at a mass-market electric car. It is aimed at competitors like the Audi A4 and BMW 3 Series.
The Model 3 has a single electric motor at the rear — making around 271 bhp and 307 lb ft (from rest) driving the rear wheels, allowing the big-battery version to do 0–60 mph in 5.1 seconds and reach 140 mph.
Mid-Range 264 mile range, or Long Range 310 mile range are available. However, the Model 3's distracting controls, overly stiff ride, and uncomfortable rear seat count heavily against it.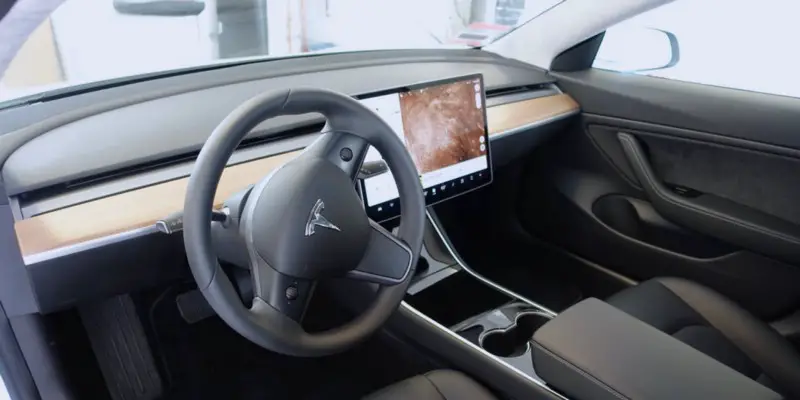 Inside the cabin it is pretty simple to operate. Once on the open road, you tap the gear lever, which will already be in 'D', to 'D' again to activate the radar-controlled cruise. Via the right nipple on the wheel, you can adjust the distance it'll leave to the car in front. A double pull to 'D' also activates the steering assist.There's a graphical display on the monitor of where other traffic is, and it's one of the most aware systems.
The car has eight cameras, 12 ultrasonic monitors and the forward-facing radar, and a new software program could enable it to operate autonomously.
The door handles are conventional, rather than the automatic pop-out versions on the larger Teslas, and they open conventional doors onto one of the airiest interiors this side of a car with no roof.
An uncovered sunroof at the front and a rear window that stretches up into the roof give good head room, while across the dashboard sweeps a big wooden panel, above which is one big, heavily diffused air vent. Fit and finish are fine.
The downsides are that if you don't want things to happen automatically or you want to change something — headlights, air conditioning, door mirrors — it's rarely the work of a moment. And given that there's inevitably some body movement, you have to brace your hand against the screen's edge. But if you're a touchscreen convert, it's as good as it can be.
Since the Model 3's interior doesn't strike us as luxurious, we'd go with the Mid Range Battery model to save some cash. The Mid Range Battery's driving range is 265 miles and that should be enough for the majority of drivers. All Model 3s come standard with desirable features such as heated front seats with 12-way adjustability, a tinted glass roof, navigation with real-time traffic updates, four USB ports, and docking stations for two smartphones. We would splurge and add the Enhanced Autopilot package, which includes Tesla's cool semi-autonomous driving mode.
Power train, Charging, and Performance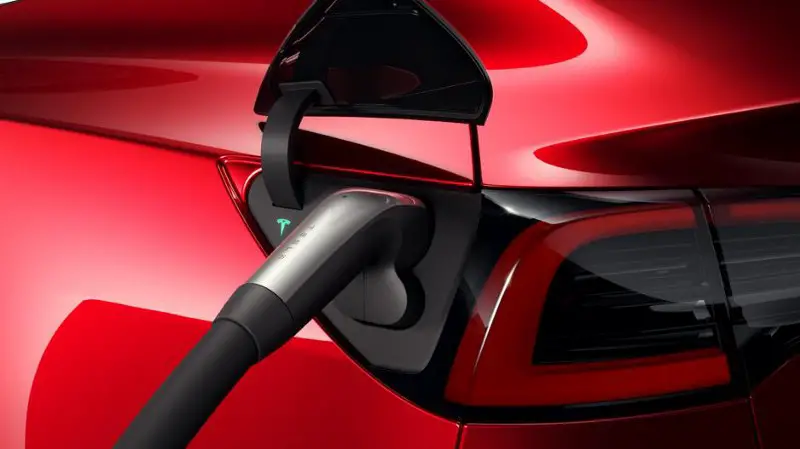 As with most other EVs, the Model 3 gains speed smoothly and almost silently, with the electric motor providing a strong swell of power right from a dead stop to make the car feel very responsive at lower speeds. The rear-wheel-drive sprints from 0-60 mph in 5.1 seconds.
The Model 3 carries its heavy battery under the floor, resulting in a low center of gravity, and it has the front-to-rear weight distribution of a sports car. These two attributes help it change direction crisply and feel planted and stable in the corners. The steering is accurate and well weighted, with three different settings that adjust the level of steering effort: Comfort, Standard, and Sport. The ride is firm without being harsh; without the noise of a gas-powered engine to cover it up, however, you do hear plenty of noise inside the cabin as the tires thwack and thrum when driving over pavement imperfections.
The Model 3 offers several different options for charging, including Tesla's network of fast-charging stations called Superchargers; adapters for DC public-charging stations and 240-volt and 120-volt outlets; and a home-charging station.
Interior, Infotainment, and Cargo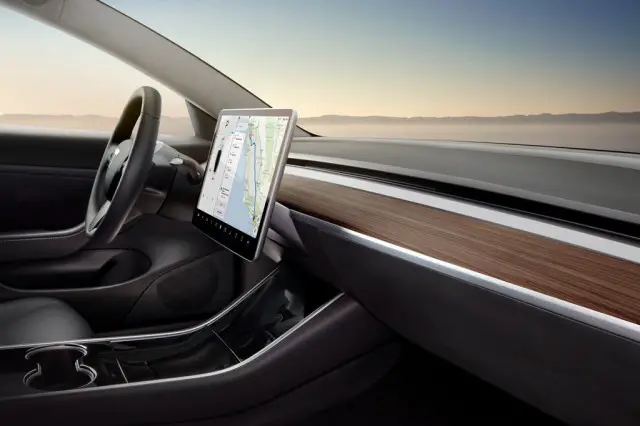 The interior is simple inside, with nearly everything controlled by the monolithic touchscreen in the center of the dashboard. The overall effect is futuristic and surprisingly functional, although there are plenty of quirks. The Tesla's low, flat floor makes for a spacious and airy feel inside. The front seats are supportive and comfortable. Sadly, the same can't be said of the rear seats.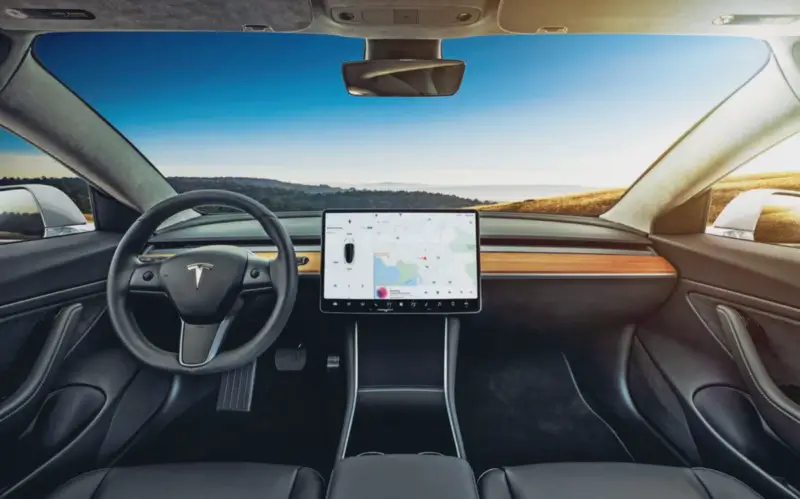 Center stage is a 15.0 inch monitor that could have been swiped off your work desk. There are column stalks, two multi-function buttons on the steering wheel and a hazard-warning switch on the roof. And no other buttons. Everything is controlled via the touchscreen.
The touchscreen is quick to respond, software downloads occur every few weeks once you've approved it via the app, sat-nav mapping is by Google Maps so traffic monitoring is brilliant and the whole menu system is intuitive.
A massive 15.0-inch touchscreen controls nearly all of the car's functions; it's well organized, responsive to user inputs, and easy to use. Navigation, Bluetooth, and USB connectivity are standard, but the Model 3 is oddly not available with AM radio or SiriusXM satellite radio. Several internet streaming radio options, however, are standard. It also can't be equipped with Android Auto or Apple CarPlay, surprising omissions for a company as tech forward as Tesla.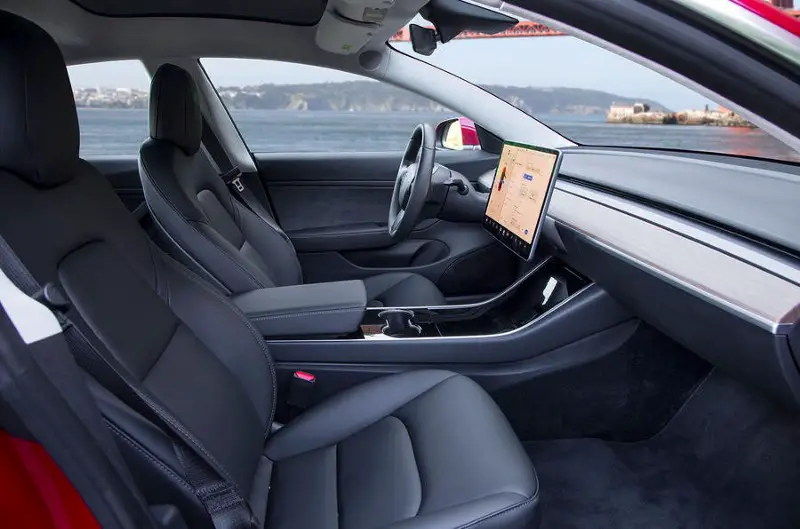 The seats are flat and a touch unsupportive, although the driving position's generally sound. The wheel stretches out electrically that is you can go to a sub-menu, use one of the steering wheel nipples to adjust it .At two turns between locks are easily responsive. You can change the weight if you want — light, medium or heavy — but medium is best.
Folding the 60/40 split-folding rear seats is simple and expands the trunk considerably. Unlike many other sedans, the Model 3's seat backs fold flat, too, providing an uninterrupted cargo floor for hauling larger items. With the rear seats folded, the Model 3 provides enough room for 15 of our carry-on suitcases. The Tesla's storage spaces are particularly impressive, too, with generously sized bins and cubbies throughout the cabin.
Safety and Driver-Assistance Features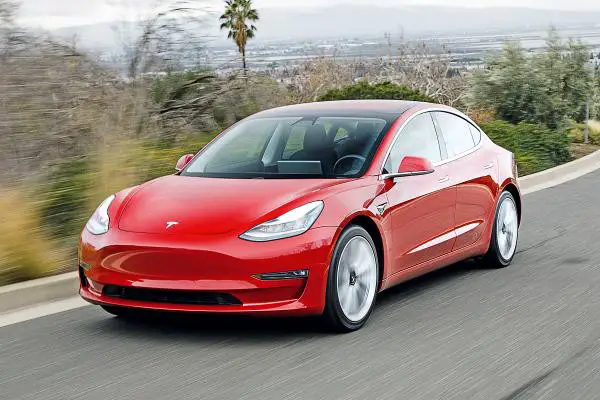 Tesla offers a fair number of driver-assistance features as standard, but more advanced systems such as lane-keeping assist and adaptive cruise control are only included in the costly Enhanced Autopilot package. With smooth operation and impressive capabilities such as automatic lane changes. Disappointingly, blind-spot monitoring and rear cross-traffic alert are unavailable. Key safety features include:
Standard automated emergency braking
Standard lane-departure warning
Available adaptive cruise control
Warranty and Maintenance Coverage
Tesla's overall warranty coverage is among the longest lasting in the EV segment, but it's disappointing that the coverage doesn't include corrosion protection. The Long Range model includes an additional 20,000 miles on the coverage period of its battery and drive components.
Limited warranty covers 4 years or 50,000 miles
Powertrain warranty covers 8 years or 100,000 miles
No complimentary scheduled maintenance
Starting price is $45,200
Join the newsletter to receive the latest updates in your inbox.