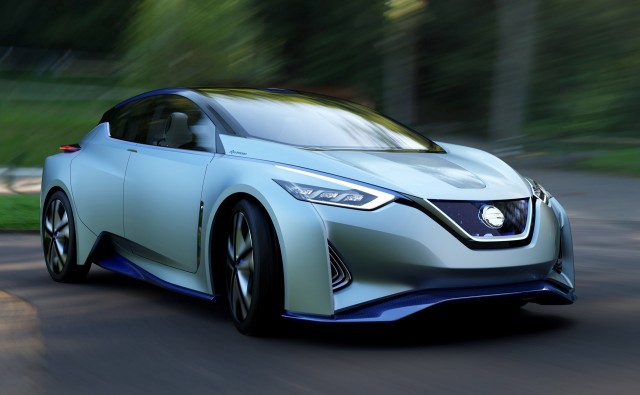 As electric vehicles continue to improve, consumers move further and further away from the dreaded state of range anxiety. Upgrades to battery technology have pushed the majority of affordable EVs past the 100-mile-per-charge mark, and some considerably further like the 238-mile Chevrolet Bolt EV.
The IDS is powered by an all-electric drivetrain that gets electricity from a relatively large 60-kWh battery pack. A purpose-designed smartphone application lets the owner tell the car to pull in and out of a parking spot by simply pressing a button, and allows the owner to turn wireless charging on and off from a distance.
However, there are still a few cars on sale with limited ranges and therefore limited appeal — especially for people who can only afford one vehicle. Such as the Fiat 500e (87 miles), Mercedes-Benz B-Class Electric (87 miles), Kia Soul EV (90 miles), the Nissan Leaf (107 miles), and Ford Focus Electric (115 miles).
While upgrading a battery is a high-cost initiative, automakers have begun to realize that they will never sell EVs in desirable numbers until major improvements have been made. Hyundai, VW, and Chevrolet have gotten serious about their electric car game, and it appears Nissan is ready to buckle down, too.
Design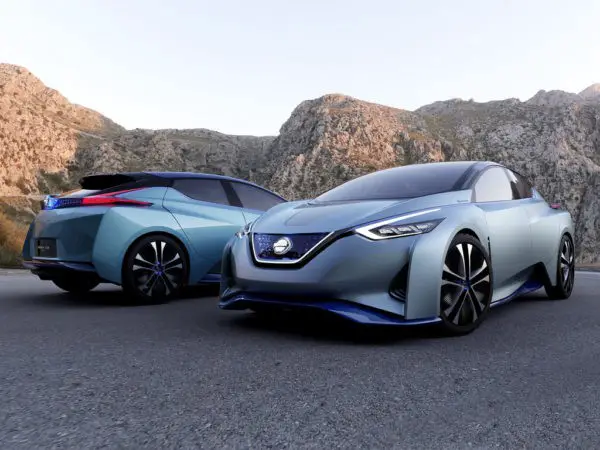 The IDS is just 1,380 mm tall (a Ford Fiesta is 1,495 mm tall by comparison), so the low roofline helps aerodynamic efficiency and boosts design.With a V-shaped grille, an evolution of Nissan's trademark boomerang headlights and taillights, and a rising waistline.
The silver body line on the car's exterior is actually an LED that changes colour to show the car is aware of a pedestrian or cyclist, for example. There's also an electronic display, which can show other road users messages, such as after you to pedestrians.
Nissan has introduced a brand-new concept car dubbed IDS. The IDS is a highly futuristic show car that hints at what we can expect from the next all-electric Leaf in terms of design and technology.Crafted entirely out of carbon fiber, the IDS wears an evolution of Nissan's current design language that stands out thanks to angular headlights surrounded by C-shaped LED daytime running lights, a U-shaped grille with a back-lit Nissan emblem, a carbon fiber splitter and a sculpted hood. The back end gets a roof-mounted spoiler, a blacked-out C-pillar, and boomerang-shaped tail lamps that are almost Juke-like.
Technology and driving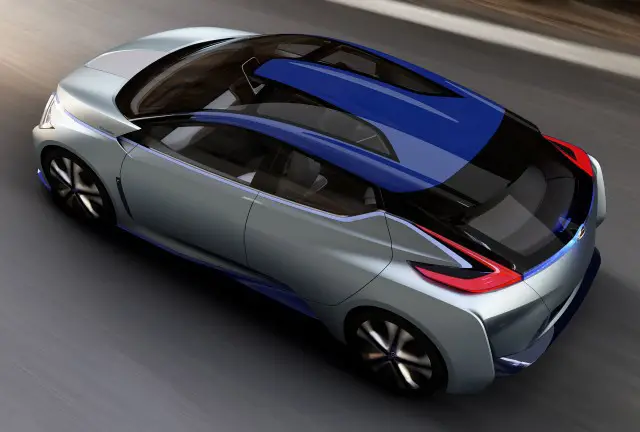 The IDS puts an equal emphasis on form and function. Its belt line is accented by thin strips of blue LEDs installed to interact with the car's surroundings in real time. For example, the LEDs shine white when the IDS gets close to a pedestrian or a cyclist in order to let them know that the car's sensors, radars and cameras are aware of them. Similarly, an outward-facing screen on the dashboard displays friendly messages such as "after you" directed at pedestrians and other motorists.
The IDS previews the autonomous technology that Nissan hopes to bring to the market by 2020. It takes self-driving cars to the next level by letting the owner dial in his or her preferred driving style. The IDS can be programmed to accelerate, corner, and brake like a sports car, or it can be programmed to offer a more relaxed, slow-paced ride.
When the IDS is being driven, the cabin features a steering wheel with two handle-like pods, a simple-looking digital instrument cluster, and a heads-up display. When the driver wants to rest, the steering wheel and the instrument cluster retract into the dash, and a huge screen that stretches the entire width of the dashboard pops out to let the passengers access social media networks, applications such as Skype, emails, and more. The entertainment and navigation functions are also displayed on the screen.
With the cameras, lasers and radar sensors always running, technology in the IDS will offer a constant safety net, intervening in a dangerous situation to help take evasive action. With more than 90 per cent of accidents on the road caused by human error, Nissan claims technology in the IDS concept will help reduce injuries from crashes.
This car can travel for 342 miles on a charge and it will be priced below $40,000 when it goes on sale in 2020, it would be the longest-range EV at that price point. Only Tesla's Model S and Fisker's Emotion EV will have more juice, but both cars are well out of the realm of affordability for most consumers.
Interior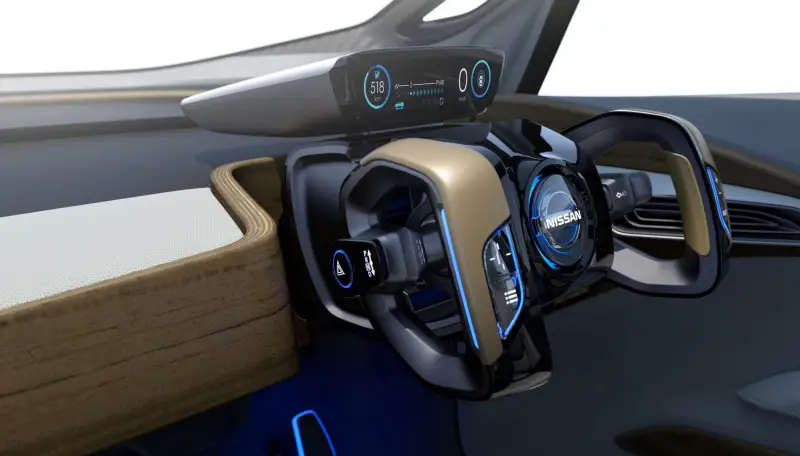 The IDS' interior is just as interesting, with the concept boasting two different layouts depending on the driving mode selected, reinforcing the difference between Manual and Piloted driving.
The four-seat cabin is more spacious in autonomous mode, as the steering wheel retracts into the dash, with a flat screen display emerging. Occupants can control various functions using different gestures, while the seats all slightly rotate inwards to create what Nissan calls a living room atmosphere.
In Manual mode the cabin layout is more conventional, with the lighting switching to blue and a more driver-focused readout on showy. A switch in between the front seats called the PD Commander, flicks between the two modes.
Join the newsletter to receive the latest updates in your inbox.