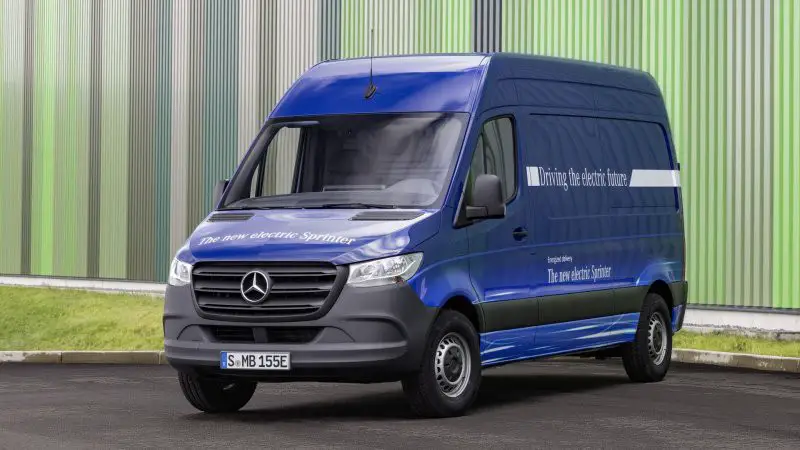 Unless you spend a lot of time browsing camper van sites, you might be surprised to learn that Mercedes-Benz sells vans.
While mainstream EVs like the Tesla Model 3, Nissan Leaf and Chevy Bolt EV may get most of the attention, electric vehicles have just as much potential to impact the commercial vehicle segment. That's why companies like Tesla and Workhorse are developing products tailored for hauling cargo. Now the Mercedes-Benz eSprinter makes its debut this year (2019)this being the latest cargo van.
The 2019 Mercedes-Benz Sprinter represents a total reboot, both inside and out, with particular attention paid to adding safety features and tech upgrades not normally associated with the world of square-edged, work-duty vans. And while it's highly unlikely that a Sprinter customer cares much about design, one added bonus is that the latest model happens to be relatively good-looking, too. A narrower grille, slimmer headlights and available LED exterior lighting add a touch of class to the Sprinter.
INTERIOR AND TECH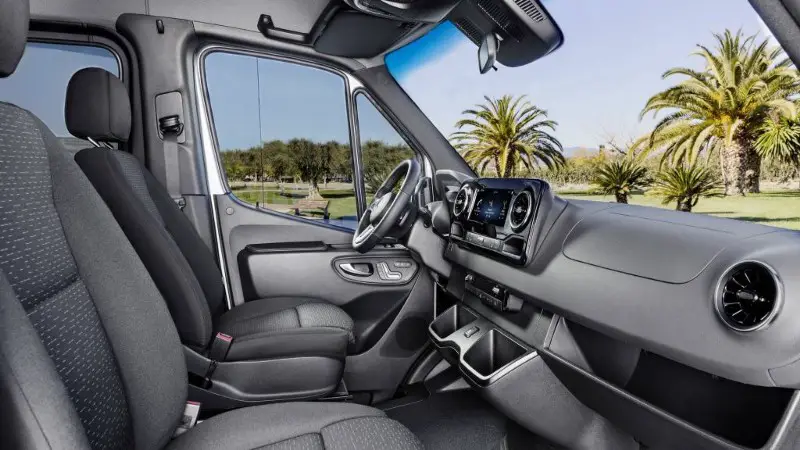 The interior is a weird mix of typical van and a smattering of items from Mercedes' passenger cars. Despite the three-pointed star on the nose, interior materials leave no doubt that you're in a work vehicle, not a luxury vehicle. But the Sprinter has some car-like touches like push-button start, and steering-wheel controls that will be instantly recognizable to anyone who has driven an E-Class.
The Sprinter also gets the new MBUX (Mercedes-Benz User Experience) infotainment system, which is only just now being rolled out on the automaker's passenger cars. What sets MBUX apart from other systems, according to Mercedes, is its natural-language voice recognition. It's designed to recognize casual phrasing like "how's the weather?" or "I need gas," and is activated by the voice prompt "Hey Mercedes."
MBUX, which is an optional extra on the Sprinter, is offered with 7.0-inch or 10.25-inch touchscreens. Both versions get the natural-language voice control system, as well as Apple CarPlay and Android Autocompatibility. What MBUX doesn't get is a touchpad controller, like the one Mercedes uses in its higher-end passenger cars. Instead, the system relies on steering wheel controls and the touchscreen itself. Screens have pinch-and-zoom capability and good graphics, but manipulating them requires reaching awkwardly across from the driver's seat, which is much further away from the dashboard than it would be in a normal car.
Steering wheel-mounted controls proved adequate for most functions, however.Even economy cars are available with long lists of driver-assist features these days, but this tech is rare in vans. The Sprinter can be loaded with an array of features including adaptive cruise control, blind-spot monitoring with rear cross-traffic alert, lane-keeping assist, a park-assist system with 12 radar sensors and 360-degree camera coverage, traffic sign recognition, crosswind assist, a driver-attention monitor, and autonomous emergency braking.
There are multiple USB outlets, available on board Wi-Fi, 12-volt and 115-volt outlets and compatibility with Apple CarPlay and Android Auto. And don't worry, despite all the added tech and handy plug-in points, there are still plenty of cupholders for XL-sized caffeinated beverages.
The rear-view camera enables easy to pack the car because of the 360-degree surround view. Other useful safety items include crosswind assist, to help the Sprinter maintain a steady course when being buffeted by wind, along with lane keeping assist, a driver-inattention monitor, blind-spot warning and even adaptive cruise control. The heated front seats and wireless phone charging make the options list, too.
Driving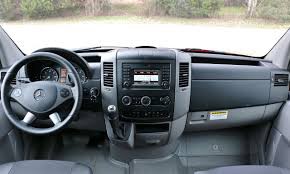 Mercedes will offer two batteries: a 41 kWh battery that delivers 71.5 miles of range and a 55 kWh battery that offers 93.2 miles of range. While those may fall far short of the current crop of EVs, the eSprinter is focused on short-range driving for all-day deliveries for companies . The 41 kWh battery can be fully charged in six hours, while the larger battery takes a full eight hours to charge. Using a DC fast charger, however, both batteries can be charged to 80 percent capacity in just 45 minutes.
As with any commercial vehicle, payload is hugely important. The overall gross-vehicle weight is 7,716 pounds. The 55 kWh model can haul 1,984 pounds. The smaller 41 kWh model can actually haul 2,293 pounds of cargo. The 309-pound difference is due to the 41 kWh battery's lighter weight.
eSprinter drivers aren't too concerned about 0–60 mph runs. The van is limited to just 50 mph in city driving in order to conserve range. Outside of the city, the eSprinter can hit 75 mph before topping out.
The eSprinter will be the second model released, following the eVito passenger van. The third model will be the smaller eCitan.
Join the newsletter to receive the latest updates in your inbox.