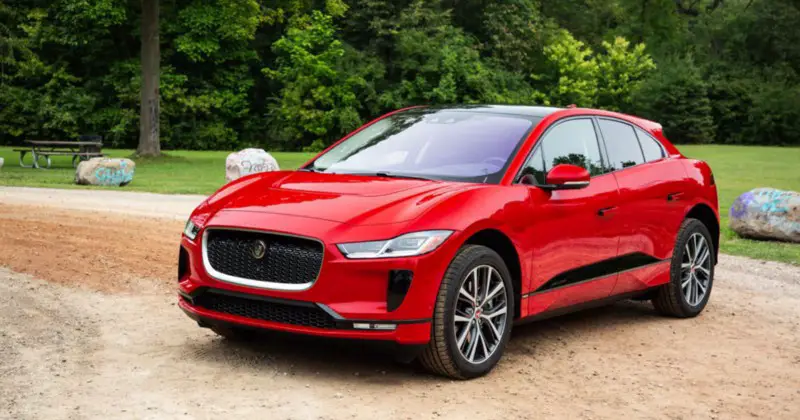 The I-Pace is not only Jaguar's first pure-electric model, it also sets a new standard for luxury electric vehicles. With two electric motors and all-wheel drive, it provides punchy acceleration and thrilling handling, augmented by spaceship-style whirs emanating from the speakers; thankfully, you can switch off the fake sound effects. Jaguar claims a 240-mile driving range. The interior is good , but the infotainment system is painfully slow to respond to user inputs.
See Also : Jaguar I-Pace
A 90 kWh lithium-ion battery pack affords an estimated range of around 240 miles; its twin electric motors produce the equivalent of 395 horsepower, which allows the I-Pace to reach 60 mph in 4.5 seconds.
Like the rest of Jaguar's stable, the I-Pace uses flowing and organic lines outside but the I-Pace uses those to mask its techno-wizardry underneath. The face may be broadly familiar, but the grille and front haunches of the I-Pace are draped with dramatic curves expected from the folks that brought us the D-Type.
The body sides are wave-shaped, rising and falling around the compact dimensions, before reaching up toward the practical, but almost truncated, hatchback.
Interior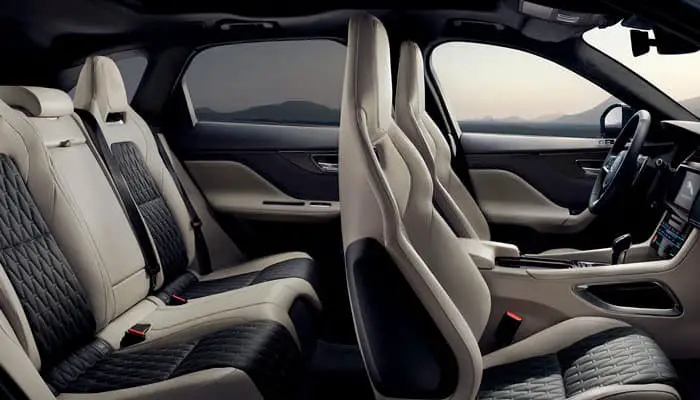 Inside, the I-Pace bucks a minimalist, future-forward approach for structures that will be more familiar to Jaguar drivers — perhaps maybe not EV drivers. A conventional gauge display is accompanied by a 12.3-inch touchscreen for infotainment and lower touchscreen for climate controls and vehicle functions. No floating dashes, pared bamboo, or sustainable sourced and edible plastics to be found.
Unlike any car or SUV from the automaker, the I-Pace replaces Jaguar's rotary drive selector with three silver buttons — for reverse, neutral, and drive — and a black button for park. They flank a lower touchscreen for climate controls, which sounds more complicated than it is.
From behind the wheel, the I-Pace carefully keeps away from anything to abstract. Aside from a few indicators and minus the murmur of an idling engine, the I-Pace is all but indistinguishable from the rest of the Jaguar lineup.
Ride and handling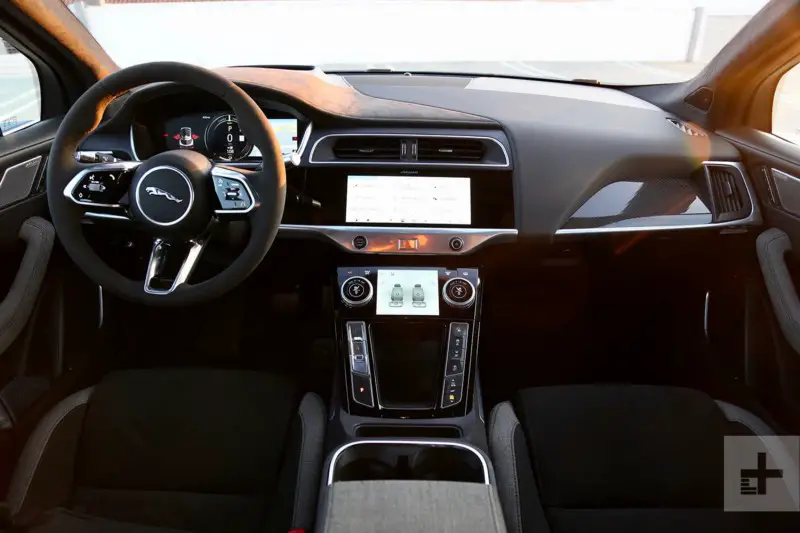 Its solid battery floor grants the I-Pace perfect weight distribution, and does what it can to help the all-electric crossover SUV carve up back roads. Mass and height still are its biggest enemies, but the I-Pace does remarkably versatile work between paved tracks and dirt tracks.
Electric power steering, a dual-wishbone front suspension, an integral-link rear suspension, and air springs give the I-Pace the luxury swagger it needs. The I-Pace's steering tacks on its own hefty feel, but the actual curb weight is less an issue in everyday driving than its width: it's no worse than any conventional crossover SUV, with the benefit of low-mounted batteries giving it better roll stability.
The I-Pace leans into corners and lets its air springs soak up some of the impacts that might drill into the cabin from its massive wheels and tires. R
Comfort & Quality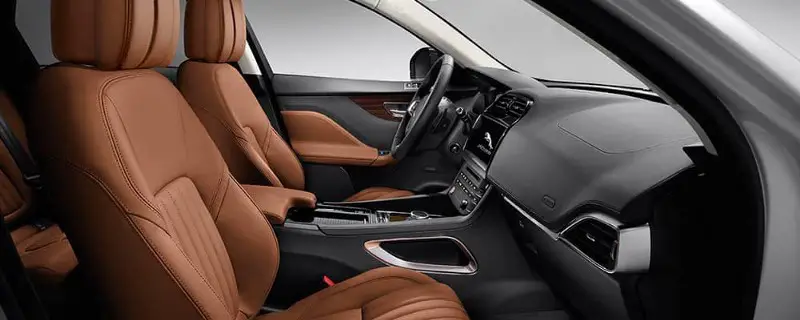 Despite a length just fractions of an inch greater than a compact XE sedan, the Jaguar I-Pace interior feels as large as a full-size XJ sedan and its 4,800-pound curb weight feels closer to a Range Rover.
The I-Pace measures in at 184.3 inches overall, and rides on a 117.7-inch wheelbase. Jaguar fits sport or performance seats in the front of the I-Pace, in a wide passenger space with 39.9 inches of head room and 40.9 inches of leg room. The standard seats have good bolstering and at least 8-way adjustment, and the flat expanse of foot room welcomes size-12 shoes. The base synthetic leather becomes real leather on upper trims, and the fronts seats get more adjustment, heating, and cooling. Still, we much preferred the performance seats bundled into an expensive option package: they offer superior upper back and shoulder support.
They also have a clever horizontal slot that doubles as a grab handle for rear-seat passengers to slip in back. They won't need much help: the I-Pace has wide door openings to make the best use of its 38.1 inches of head and 35.0 inches of leg room. The only direction in which it snugs around passengers is at the roof, where the panoramic glass comes close to six-foot-tall passengers.
Smartphones can rest behind and under the shift buttons, or between the console's grab handles that rise ahead of a deep console. Big pockets in the doors hold large water bottles, and laptops can be stored out of sight under the rear seats.
The I-Pace boxes in 25.3 cubic feet of cargo space behind the rear fold-down seats, or 51 cubic feet behind the front seats. A shallow tray under the cargo floor contains the battery charge cable.
Safety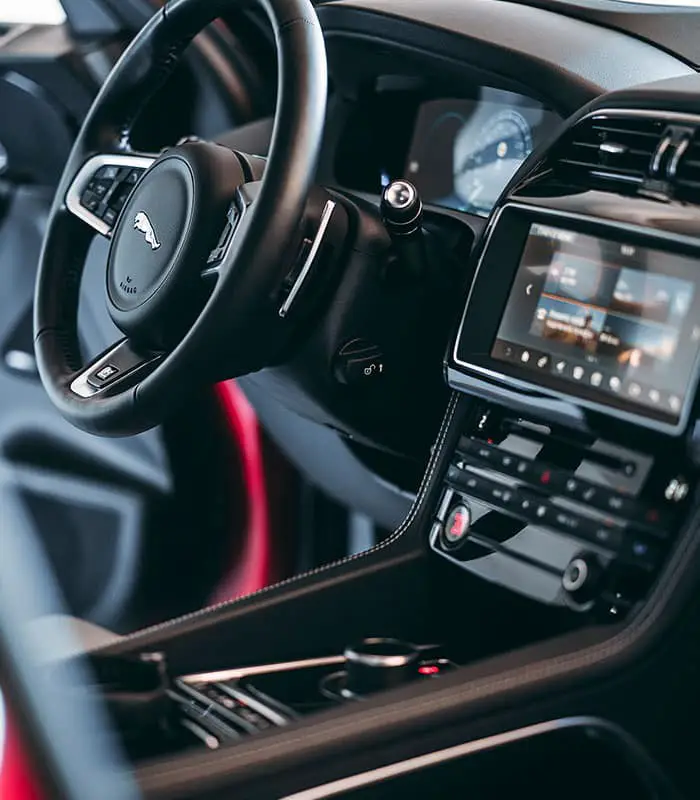 Electric vehicles have some inherent safety advantages due to their construction. Like the very highly rated Tesla Model X, the Jaguar I-Pace has a deck of well-reinforced batteries under its floor. .
The I-Pace comes with a rear view camera and parking sensors. All-wheel drive and torque vectoring lend a strong sense of handling stability. All models have low-speed automatic emergency braking and LED headlights, as well as active lane control.
Charging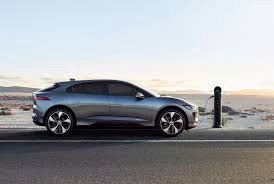 The I-Pace comes with a charging cable that links its 7-kilowatt on board charger to household 110-volt or 230-volt outlets.
On a Level 2 home charger, the I-Pace will need 10 hours to reach 80-percent battery charge, and nearly 13 hours to reach 100 percent.
As for high-speed charging, the I-Pace can replenish its battery to the 80-percent mark in under 90 minutes on a 50-kw fast charger. That time drops to about 40 minutes on a 100-kw fast charger, although those stations may be hard to find at first. Jaguar may upgrade the I-Pace's charging capacity to handle 150-kilowatt input in the future, on par with the Audi Q6 e-tron.
The I-Pace's navigation system can plot efficient routes and can predict battery charge states at way points.
Join the newsletter to receive the latest updates in your inbox.