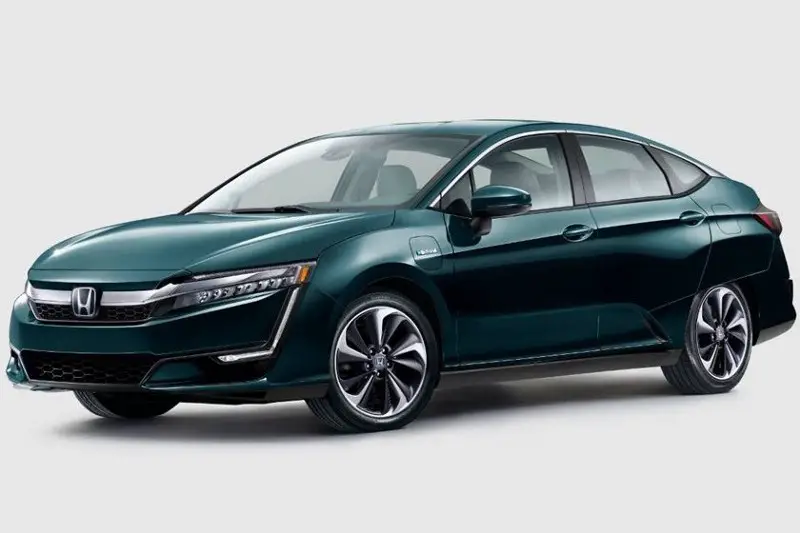 Honda is committed to a greener future and shows that it'll be ready for whichever form of technology ultimately replaces the traditional gasoline/diesel combustion engine.
The Clarity Electric is battery-powered only. Unfortunately, its driving range is a disappointing 89 miles, which is much less than the range of other EVs such as the Chevrolet Bolt and Nissan Leaf. It has an electric motor (161 hp, 221 lb-ft) and a relatively small (25.5-kWh) lithium-ion battery pack. As such, its EPA-estimated range of 89 miles puts it near the bottom of the EV pack. Otherwise, it's well-equipped with all of the above features.
Available for lease from $199 per month, both states offer $2,500 incentives, while a federal tax rebate of up to $7,500 also applies. A 25.5-kWh battery pack supplies electricity to a 161 horsepower, 221 lb-ft electric Motor driving the front wheels through a single-speed transmission. In a world of ever-improving EVs, the Clarity Electric offers just 89 miles of range on a charge, which is a far cry from chief rivals like the Chevy Bolt and Hyundai Kona Electric who offer 238- and 258-miles respectively.
Exterior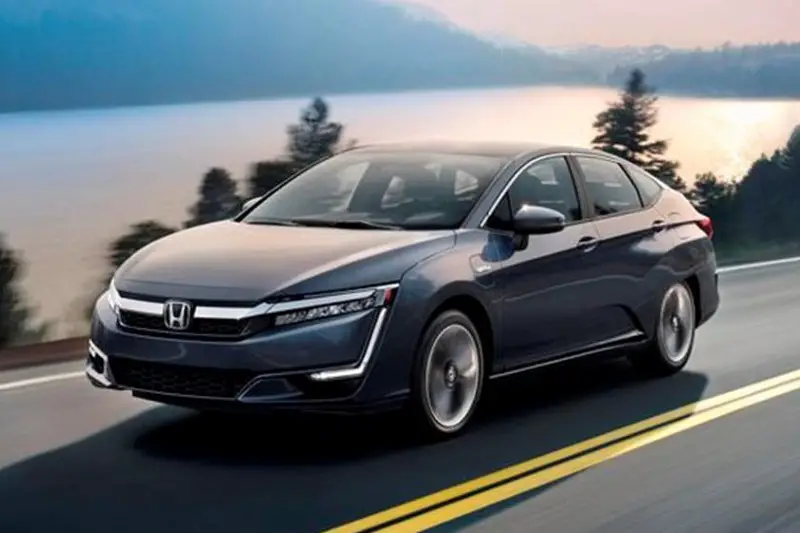 Honda has endowed the Clarity with standard car-like dimensions and design features like LED headlight clusters. The front end features unique J-shaped LED DRL clusters on the outboard edges of the front bumper while the wheels are low-drag 18-inch alloys. The B- and C-pillars are blacked out for a floating roof effect, the lower bumper and side-sills are blacked out, while a rear lower brake-duct also boasts blacked-out surrounds. Over the rear wheel, the arch covers the top of the rear wheels for aerodynamic purposes. Around back, the LED taillights feature clear lenses.
The Clarity Electric is available in three exterior colors: Modern Steel Metallic, Platinum White Pearl, and Vortex Blue Pearl. It retains the same color palette as previous years, with none of the color options carrying any additional cost.
With an overall length of 192.7 inches, the Clarity Electric measures longer than the Honda Accord in size, despite riding on a wheelbase of 108.3 inches which is far closer to that of the Honda Civic. The Clarity Electric measures 58.2 inches tall and 73.9 inches wide, wider and taller than an Accord sedan, while at 4,024 lbs it carries a curb weight of 600 lbs more than even the Accord Hybrid, with the batteries accounting for the additional mass.
Performance
The Clarity Electric pairs a 25.5kWh lithium-ion battery pack with a 161-horsepower electric motor and a single-speed transmission to drive the front wheels of this battery-electric vehicle — the front-wheel drive is the standard for this class of EV. In-town performance is swift, however, the system suffers a little at highway speeds or when needing to effect swift overtaking maneuvers. 0–60 mph is glacial, taking more than 12 seconds to achieve the mark. In this regard, it lags behind more accomplished competition like the Hyundai Kona Electric with a hot-hatch-like sub-seven second sprint. Other rivals like the Chevrolet Bolt and Hyundai Kona Electric are far sportier, more comfortable, and crucially, offer a better powertrain and greater range than the mere 89 miles from the Clarity Electric.
Engine and transmission
The 25.5-kWh lithium-ion battery pack in the Clarity Electric is paired to an electric motor rated at 161 horsepower and 221 lb-ft of torque and a single-speed transmission. The system offers less power than the FCV version of the Clarity but delivers the same amount of torque. This makes swift work of around-town excursions, and the low-down torque delivery is perfect for getting up to midrange speeds to merge into traffic. It's not blazingly quick, but it does the job efficiently enough up to about 40 mph. From there, things slow a little, and getting up to highway speeds or accelerating to overtake takes a little more time. To use the combustion-related term, the Clarity Electric gets asthmatic and runs out of puff towards higher speeds.
Driving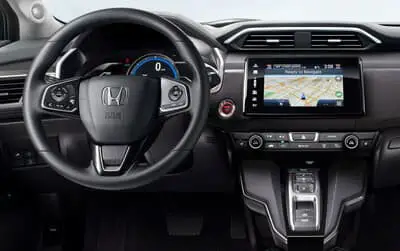 Those expecting something sporty from an EV are better off vying for a Hyundai Kona Electric because the Clarity Electric is anything but. Low-rolling-resistance tires don't have an abundance of grip when cornering with vigor, while the suspension isn't really set up for performance either. But, it is geared towards smoothness, and for the most part, the Clarity cruises plushly along the roadway. However, it can get floaty on anything but the smoothest of surfaces, and undulations make the Clarity feel boat-like the way it porpoises over bumps. There's an abundance of body-lean, even under mild cornering, and changes of direction yield an unsavory heaving sensation as the Clarity doesn't change direction effectively. The brakes on the plug-in and FCV models are a standout feature, but on the Clarity Electric, they feel sub-par. There's no feel and the pedal feels unnaturally soft under heavy braking.
It's not all bad, though, as the Clarity Electric's steering is pretty decent. It responds well to inputs and the front end is keen on initial turn-in. Feedback is nill, but at least the responses are reliable and consistent. On the whole, the Clarity Electric is best handled in a mild manner and within city limits where the roads are smoother and less curvaceous.
Interior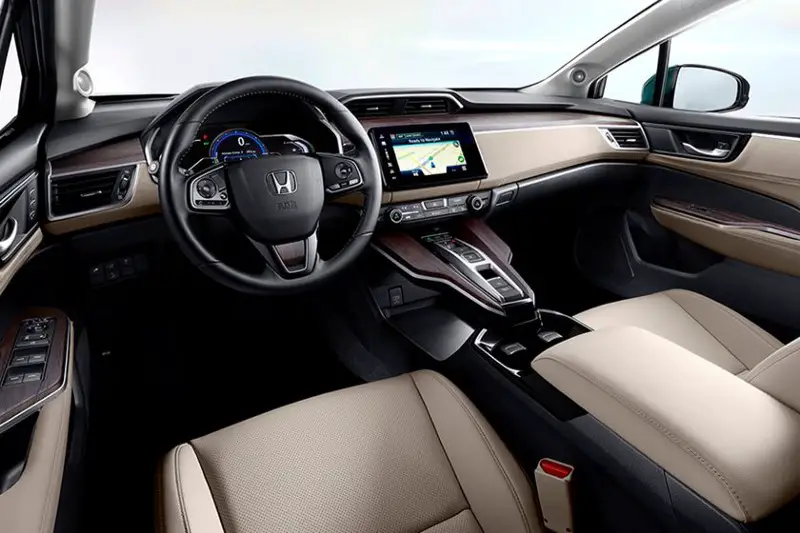 The Honda Clarity Electric shares a cabin design with the other two members of the Clarity family. That means a consistently high-quality interior with well-fitted panels, no rattles or squeaks, and a layout that makes sense ergonomically. The standard heated front seats are power-adjustable and are easy to maneuver into a comfortable seating position with exceptional visibility. The front seats are comfortable and the cabin spacious, and while the rear seating area is also capacious, the short seat base reduces comfort due to the lack of thigh support for taller occupants. Overall, the cabin is spacious and comfortable, and the rear bench houses two full sets of LATCH anchors.
The Honda Clarity Electric seats five, though occupants will be most comfortable with only four inside. The front seats are power-adjustable and offer standard heating, and provide high levels of comfort, even if the seating position is perhaps just a touch too high. Visibility is, however, impressive thanks to the low shoulder line and well-positioned roof pillars, while a standard rearview camera aids rear visibility. The rear seats offer a good amount of headroom and legroom, with only adults taller than six-feet tall risking a brush with the headlining. Shoulder room is spacious too, but the short seat bases don't provide enough thigh support for taller occupants.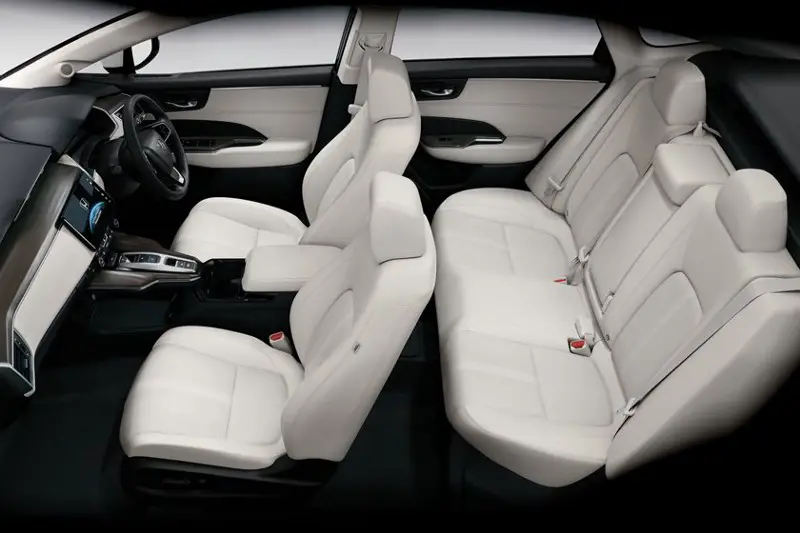 The Clarity Electric is offered with seating upholstered in perforated leather but does allow lessees the opportunity of choosing a color based on the exterior paint scheme. Vortex Blue and Modern Steel exterior hues are paired exclusively with gray leather, while the Platinum White exterior color adds the choice of black leather to the mix. Regardless of the leather choice, a dark open-pore wood-look dash is standard with chrome detailing throughout. A leather-clad steering wheel is also standard in black leather.
Features
Among the features equipped to the Clarity Electric as standard, buyers can expect a rearview camera, dual-zone automatic climate control, a tilt-and-telescopic steering wheel, HomeLink universal remote system, auto-dimming rearview mirror, auto-up/down power windows, adaptive cruise control, front and rear 12-volt sockets, sliding sun visors, dedicated smartphone pockets on the backs of the front seats, eight-way power adjustment for the driver's seat with dual-memory function, four-way power adjustment on the front passenger seat, heated front seats, and satellite navigation with voice recognition and charging station locator.
Infotainment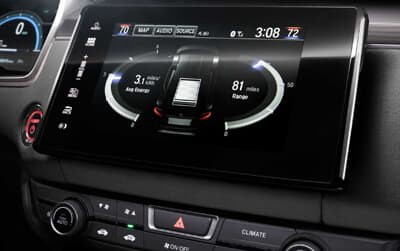 Standard infotainment is by means of an eight-inch touchscreen display with AM/FM/Bluetooth/SiriusXM/HD radio inputs and an eight-speaker, 180-watt premium audio system. The system also offers Pandora compatibility, along with full Android Auto and Apple CarPlay functionality, and comes with two USB ports on the front console. The system offers voice controls which work fluently and allows you to avoid using the touchscreen, which is just as well, as it's a frustrating system to use. The touch zones are too small, basic functions are hard to use while on the move, and the system is slow with dated graphics. Importantly, there's no volume knob — something Honda has rectified on other models but not the Clarity.
Safety
It comes with seven airbags (dual front, side, side curtain, driver's knee) is equipped. But it's the Honda Sensing suite of safety features that gives the Clarity credible safety — equipping forward collision warning with collision mitigating braking, road departure mitigation, adaptive cruise control, and lane-keep assist. A reverse camera is standard, while reverse parking sensors are optionally available.
Join the newsletter to receive the latest updates in your inbox.