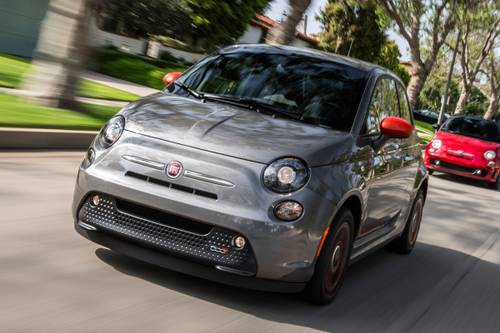 The two-door, four-seat Fiat 500 competes with subcompact cars like the Mini Cooper. A cabrio version, dubbed 500c, is available, and buyers can also opt for a high-performance Abarth model. In addition, the fully electric 500e, which has an estimated range of 84 miles.
The 500e's limiting factor is its battery. The 24-kWh pack is good for just 84 miles of range. Back when the 500e debuted in 2013, that distance was par for the course. Nowadays, newer rivals can go two or three times as far. The 500e is also out-of-date when it comes to having the latest infotainment and safety features.
The 500e's compact size makes it easy to park and maneuver in crowded urban centers. If all you want is basic, low-cost EV transportation, you'll find a willing companion in the 500e. But rivals such as the Chevrolet Bolt, Hyundai Kona Electric and Nissan Leaf offer more utility and range, making them far more practical choices.
A rechargeable 24-kWh lithium-ion battery pack powers the motor. The EPA estimates the 500e can travel up to 84 miles on a full charge. It takes a bit less than 4 hours to bring the 500e to a full state of charge, using the 6.6 kW on-board charging module and a 220-volt Level 2 charger. It does not support Level 3 public DC fast-charging. Performance is pretty lackluster for an EV, at 8.4 seconds to 60 miles per hour and a top speed of 88 miles per hour.
Standard features for the 500e include 15-inch alloy wheels, fog lights, heated mirrors, rear parking sensors, a rear view camera, remote locking and unlocking, automatic climate control, a driver information display, full power accessories, cruise control, manually adjustable heated front seats with driver-side height adjustment, premium vinyl upholstery, a leather-wrapped and tilt-adjustable steering wheel, an auto-dimming rear view mirror, 50/50-split folding rear seats, floor mats and a cargo cover. Standard technology features include Bluetooth, navigation, voice commands, a 5-inch touchscreen, and a six-speaker Alpine audio system with satellite radio, a USB port and an auxiliary audio jack.
The only options are a sunroof and the eSport appearance package, which includes darkened exterior lamp bezels, orange exterior trim pieces, and special 15-inch wheels for a more customized look.
See: fiat 500e
Driving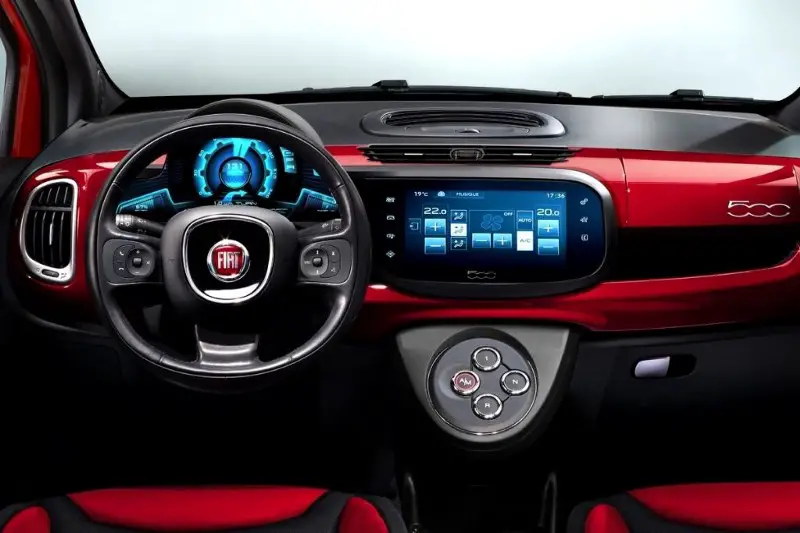 The 500e is an entertaining electric vehicle with good moves at every turn. It's actually quicker to 60 mph than the regular Fiat 500. Driving that enthusiastically will greatly reduce range, however, so it's best to keep a light foot.
Acceleration: 500e sprints from 0 -60 mph in 8.2 seconds, which is reasonably quick for an EV.
Braking: The brake pedal is firm and reassuring, and routine in-town stops feel, well, routine. Our panic stop from 60 mph took 129 feet — a little long, but not alarmingly so.
Steering:The steering wheel feels oddly heavy when driving straight, but it wakes up nicely and gives good feedback when turning through corners. Strangely, the 500e is more responsive than the standard Fiat 500.
Handling:The 500e stands apart from other electric vehicles with its great balance and an eagerness to turn. It's one of the more entertaining electric vehicles on the market.
Driving: Smooth is the order of the day, but we wish the Fiat 500e had a mode you could set to enable extra regenerative braking force.
Comfort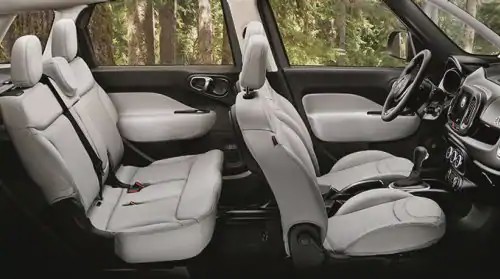 The Fiat 500e is quiet, but its suspension delivers a busier and more unsettled ride on uneven surfaces than we'd like.
Seat comfort: The adjustments for the front seats are fairly basic, but the cushion and backrest provide adequate support.
Ride comfort: The Fiat 500e pitches and bucks on its short wheelbase more than expected. A standard 500 rides better.
Noise & vibration: The 500e glides around in silence, at least when it comes to noise from the motor. Tire noise is noticeable, but mainly because there's no noise from anything else.
Interior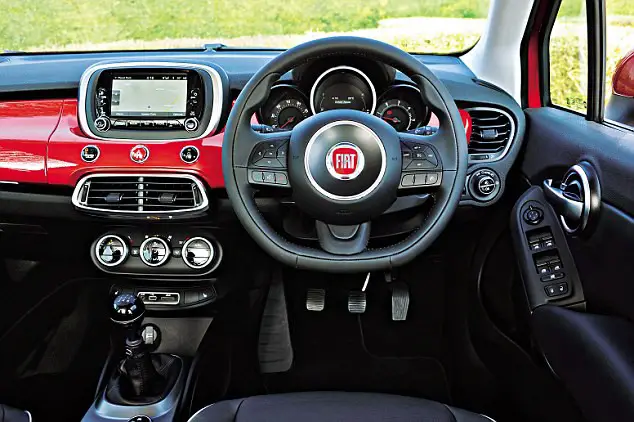 Like a regular Fiat 500, the 500e suffers from two things: form over function and, to a greater degree, a back seat that isn't terribly practical for family use. Think of it as a two-seater, and you'll get along with it much better.
Ease of use: We've never liked the 500's window switch controls, trip computer reset buttons or seat-height adjuster. Add a weird push-button shifter with no enhanced EV regen mode to our list of gripes.
Getting in/getting out: The wide doors offer easy entry to the front seats, but the rear seats are hard to wriggle into. This Fiat is not the right car if you plan to haul adults or even teens in the back seat.
Roominess: There is good head- and legroom up front, but the rear seat isn't something you'd want to depend on unless the driver is short.
Visibility:It's easy to see out the front, but the center door post seems to be in the way when checking your blind spot. Rear visibility is about average for this kind of car.
summary Specs
Engine: Electric
Car type: sMinicompact Cars
Style Name :Hatch
Drive train : (4WD) Front Wheel Drive
Passenger Capacity: 4
Passenger Doors: 2
Body Style: 2 door Car
Transmission: Single Speed
Starting price is $32,995
Join the newsletter to receive the latest updates in your inbox.