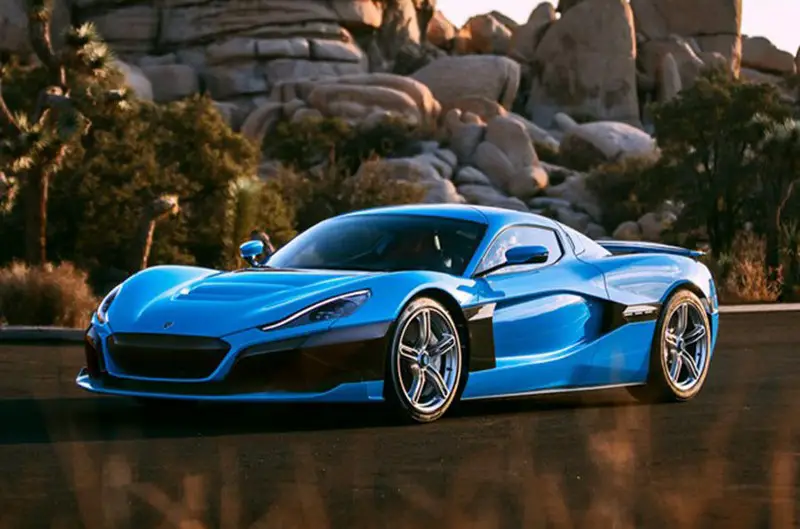 The battery capacity is an impressive 120 kWh; liquid cooling keeps the 6,960 cells at optimum temperatures even under full acceleration conditions.The battery pack can be recharged with a fast charger to 80% capacity in under 30 minutes and a 402-mile range is also claimed. The carbon-fiber monocoque features a bonded carbon roof and the crash structures are a combination of carbon fiber and aluminum.
Also see :Rimac concept one
The Rimac C Two promises to make 1,914 horsepower and 1,696 pound-feet of torque, which should propel the car to 60 miles per hour in 1.85 seconds. Rimac estimates that the C Two's top speed will be around 258 miles per hour.
The front wheels have single-speed gearboxes of their own and each wheel has its own electric motor which means huge acceleration in even slippery conditions and the ability to actively manage the amount of power each wheel receives. This setup can supply power in precisely metered amounts to each wheel and allows the car to behave like a sports car in one minute or offer 4WD traction the next.
The car also features active aerodynamics which adjust to provide the optimum cooling and down force when required. In low-drag mode the C_Two posts an impressive 0.28 Drag Coefficient. That is unless the rear wing activates to act as an air brake or when it is aiding in cornering. High-intensity LED light units both front and rear provide superb lighting ability and each have an integrated cooling system to keep the 58-LEDs cool. The bodywork is perhaps not quite so distinctive as the car that it clothes.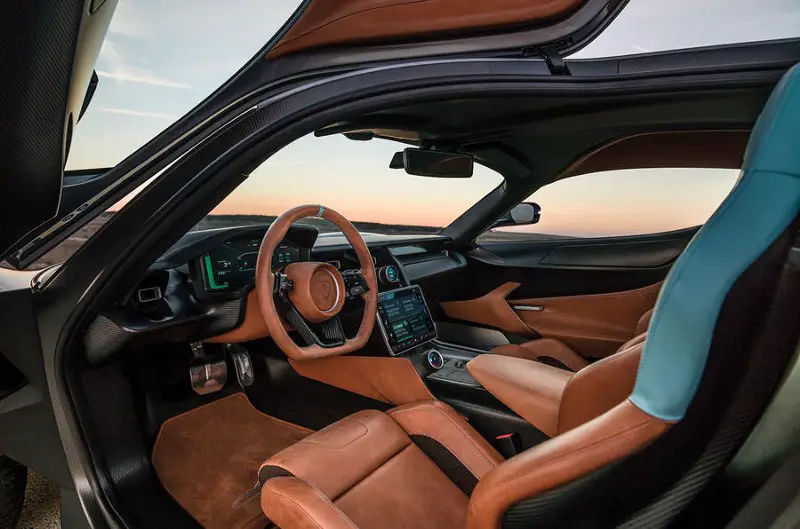 They are designed to smooth the airflow along the sides of the car and the tires themselves are a custom design made in conjunction with Pirelli. The driver can interact with the vehicle with voice control, facial recognition and a graphical interface. Driving aids have also taken a big leap forward. With rival EV companies such as Tesla incorporating many cutting-edge autonomous features into their cars, the C_Two also features an advanced AI-enabled driving system.
This system assesses the road conditions and can change its responses based on weather conditions. Some of the on board features include collision risk prediction allied to automatic braking and evasive control, blind-spot monitoring, lane-keep assist and fully adaptive cruise control including traffic pilot functionality. The system comprises of eight cameras, two sensors, six radar emitters and twelve ultrasonic sensors.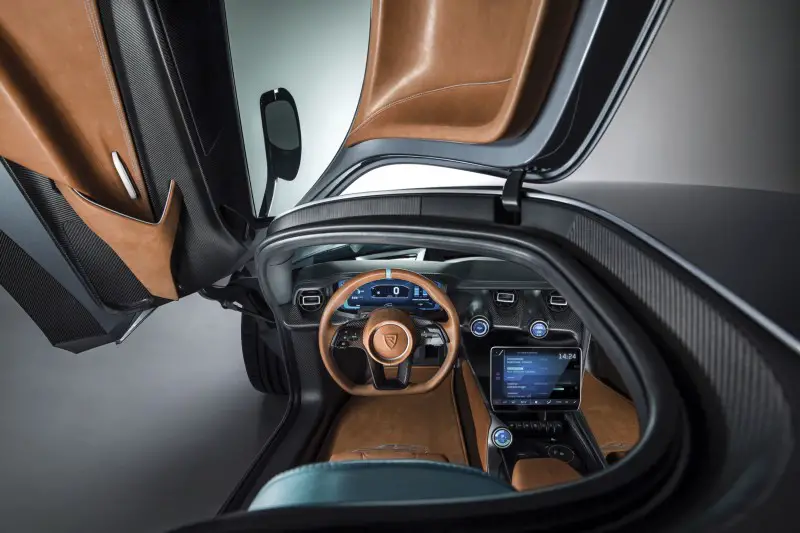 With so many sensors and computers assessing everything in and around the car, one interesting feature will be something Rimac calls the 'near gaming experience.' This refers to the function whereby certain racetracks can be loaded into the car and a 'driving coach' will then be able to offer advice on racing lines as well as braking and steering input. A co-driver display will combine graphics with on-board data logging to allow passengers to put real-time numbers to their terror. When not in a racing mode the C_Two is designed to offer comfortable accommodation for two occupants and their luggage.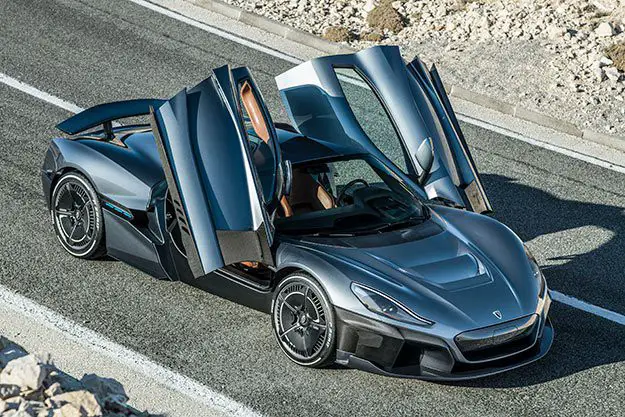 The gullwing doors incorporate the lower sills into their structure so entry and exit are made far less clumsy than in other super cars. The rear trunk is compact but can be custom configured and there are a number of storage solutions inside the cabin itself, including a wireless phone charging receptacle.
Join the newsletter to receive the latest updates in your inbox.