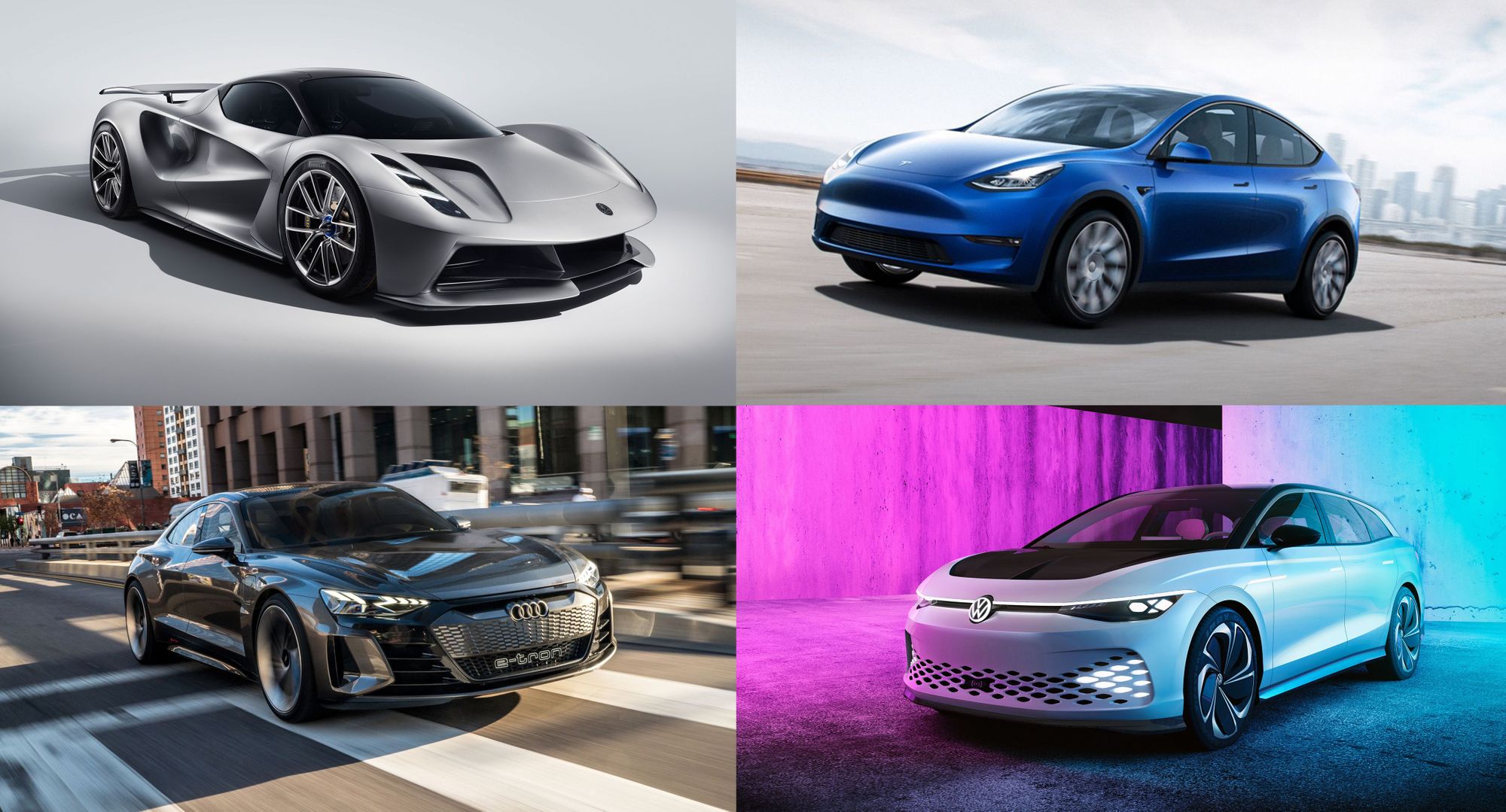 Several EVs are planning to unveil cars in the year 2021. The range has been advanced for some of the upcoming EVs. Here are some of them:-
Mercedes EQA- Mercedes'  began with the large EQC SUV, but now that technology is set to find its way into smaller and more affordable models, including this EQA. An electric equivalent to the GLA compact SUV, the EQA has so far only been seen in official and unofficial pictures wearing a heavy disguise, but the Concept EQA revealed at the 2017 Frankfurt Motor Show hints at what the production version will be like. The EQA will be a direct rival for the Tesla Model Y and Volvo XC40 Recharge P8; we'll probably see it unveiled in late 2020 before sales commence in early 2021.
Mercedes EQB-While the Mercedes EQA  aims to offer a sleek hatchback shape, the EQB will essentially be an electric version of the  Mercedes GLB, which brings the bluff and boxy styling of larger Mercedes SUVs like the G-Class and GLS to a smaller and less expensive format. As part of Mercedes' plan to have eight electric 'EQ' models on sale by 2023, the GLB is expected to arrive in showrooms at some point in 2021. A starting price of around £45,000 is likely.
Audi e-tron GT- Audi's first foray into electric cars was the large e-tron SUV, but it has a swoopy A7 sized four-door electric coupe to rival the Tesla Model S and Porsche Taycan   in the works, too. A prototype version appeared at the 2018 Los Angeles Motor Show.The prototype GT had a 96 kWh battery and two electric motors, producing 582 bhp for a 0-62 mph time of 3.5 seconds. The car will be revealed in 2020 and go on sale in 2021.
BMW i4-This car offers compellingly low running costs and high-tech appeal for the same price as a high-spec diesel 3 Series, or its key rivals the Audi A4 and Mercedes C-Class. BMW's answer to the Tesla will come in the form of this i4: an electric version of the new BMW 4 Series Gran Coupe.  Comes with a  523 bhp electric drivetrain fed by an 80 kWh battery pack will give a circa-375-mile driving range, with 0-62 mph done in around four seconds. Production is due to start in 2021.
BMW iNEXT- This large iNEXT SUV set to be the biggest of the lot. As a production car, it could wear an iX5 or iX7 badge, but that hasn't been officially confirmed yet. As with the Audi e-tron GT, it has already been previewed in concept form by BMW as the 'Vision iNEXT' . No technical details have been released by BMW, beyond the fact that it's targeting a driving range of more than 370 miles for the car.
BMW iX3- Exact technical and performance details have yet to be revealed, but BMW has hinted at a battery capacity of more than 70 kWh, a power output in excess of 500 bhp and a driving range in the region of 250 miles for the car. A retail price north of £60,000 is expected.
Dacia Spring- This will be the cheapest EV for 2021. The Dacia Spring Electric is  based on the Chinese-market Renault K-ZE crossover by a large amount. It could open up practical electric-car ownership to many more people, with an anticipated 124-mile driving range. And you may not even need to buy one – Dacia says it will be targeting car-sharing companies as well as retail buyers when the Spring launches in 2021.
Hyundai 45- The South Korean company has varoius EVs already such as the Kona however their quest has never stopped they are coming up with the Hyundai 45.  The Hyundai 45 is a  sportier and more stylish zero-emissions car in 2021 It is likely to be more expensive than the Ioniq and Kona, and aimed at a more premium market, it's based on a 2019 Frankfurt Motor Show concept that drew inspiration from the angular lines of Hyundai's first car, the 1974 Pony Coupe Concept.
Jaguar XJ-Jaguar is following a similar tack with an electric version of its next-generation XJ flagship  The XJ will join the I-Pace SUV in Jaguar's electric line-up and is set to be built at the firm's Castle Bromwich factory, which will become a hub for the production of electric drive-trains and models in the coming years
Lexus UX 300e- It is a  54 kWh battery will return a claimed driving range around 186 miles; drive will come from a single 201 bhp electric motor that'll give the small SUV a 0-62 mph time of 7.5 seconds. Charging will be capped at a maximum of 50 kW, which will deliver an 80% top-up in around an hour. Lexus is also promising to offer an unprecedented million-kilometre warranty on the car's battery.
Mazda MX-30-This is Mazda's first fully electric production car, first revealed at the Tokyo Motor Show in 2019. It boasts eye-catching styling and BMW i3-esque pillar-less doors. A 35.5 kWh battery supplies enough power for a range of just over 120 miles. A 141 bhp electric motor drives the front wheels and sprints at 0-60 mph in eight to 10 seconds and have a top speed in the region of 100 mph.
Skoda Enyaq iV- It is a  large coupe-SUV concept whose styling was previewed by the Vision iV concept.  It's roughly the same size as Skoda's Kodiaq SUV and is expected to start at around £35,000 on the road.
Volkswagen ID.4- It has a shape close to the Volkswagen ID. 3 hatchback. The Volkswagen ID.4 will be the first all-electric SUV from the brand. A similar size to the popular Volkswagen Tiguan SUV, the ID.4 will offer a range of more than 300 miles in top-spec form, while power will be the equivalent of around 302 bhp. The car also gets four-wheel drive and – in ID. Crozz concept form at least
Vauxhall Mokka-e- Vauxhall and its parent company Opel are these days part of the PSA Group – which also oversees French brands Peugeot, Citroen and DS . The first model to come out of this is the Vauxhall Corsa-e super-mini, a sister model to the Peugeot e-208. The larger Peugeot e-2008 SUV will also have a Vauxhall equivalent in the shape of this Mokka-e. Expect to see it before 2020 is out, and for it to appear in showrooms in early 2021.
Join the newsletter to receive the latest updates in your inbox.