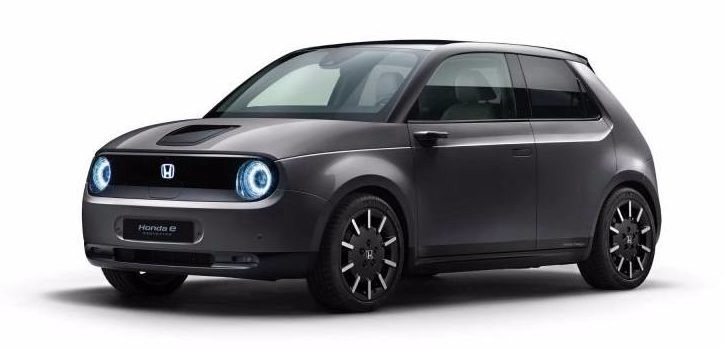 The wing mirrors aren't mirrors
It comes, as standard, with cameras instead of traditional wing mirrors. Which is a first if you don't count the VW XL1. Not the cameras, the standard bit. It helps reduction in drag, less wind noise, better visibility in bad weather, a wider field of vision and a more width-restricted-friendly girth.
They're mounted low and angled too far down, so you get a wonderful view of the rear wheel arch, but not necessarily of the traffic following behind. You can switch between normal and wide views, the latter distorting the outer-third of the screen to give you a wider field of vision, but it doesn't improve things much. Not a deal-breaker, but room for improvement.
2. The rearview mirror isn't a mirror either
Order the higher-spec Advance model, or add it as an option on the standard one, and you get a rear-facing camera feeding a screen in the front. You can flip a switch and use it as a normal reflective surface, but it's not a proper mirror. Keep it as a screen, and it takes your eyes precious seconds to adjust from looking twenty meters down the road to a digital display 12-inches from your face. Plus every car looks like it's aggressively tailgating you. Beware, buying a Honda e may increase your road rage.
3. It comes with a factory-fit aquarium
If you park up, and you can turn both screens into an aquarium, poke them and pellets of food appear and drift down for the fish to gobble up. Entertainment guaranteed. You can even choose between three backgrounds and the number of each different type of fish you prefer.
4. You'll never drive alone
Say "OK Honda" and a poorly-sketched face, your own personal assistant, bounce onto the screen to answer your commands — fun for the first five minutes until you realize those commands have to be so specific that you might as well prod the screen to get what you want. Whether it learns your voice and improves over time, as Honda claims, remains to be seen.
5. There are screens, you might have noticed
Honda calls it a lounge-style interior. This is true if your lounge has retro furniture and six TVs. The screens then — two six-inch angled displays for the wing mirrors, an 8.8-inch instrument cluster behind the wheel, the rearview display and then two, side-by-side 12.3-inch screens as the centerpiece — one for the driver, one for the passenger. Each features six shortcuts on the outer edge, can run separate apps at the same time, and those apps can be swapped over at the touch of a button.
For example, enable wireless CarPlay on your iPhone and that can be running on one screen, while Honda's navigation, or the radio, or information on the range and regen is running on the other. It sounds complicated, but after a brief acclimatization period, it really isn't.
6. You can play Xbox Live while you're waiting for it to charge
Other online gaming experiences are available, of course, but the point is this: thanks to a 230V AC power outlet and an HDMI input (there's also USB sockets everywhere — two in the front, two in the rear — and a 12V socket) you could, in theory, power up and plug in your console and play it on the central screen. Connect it to the onboard Wi-Fi hotspot (free for the first year, subscription required after that) and online gaming is yours. Who knows, running out of charge could become the highlight of your day.
7. Bigger boot
You have 171-liters with the rear seats up (about the same as a Fiat 500) — but 861-litres with them down, which is enough for an adult male to lie down in a slightly awkward position. Basically, it's a second car that you can use to cart the kids around in the back or modestly-sized adults at a push.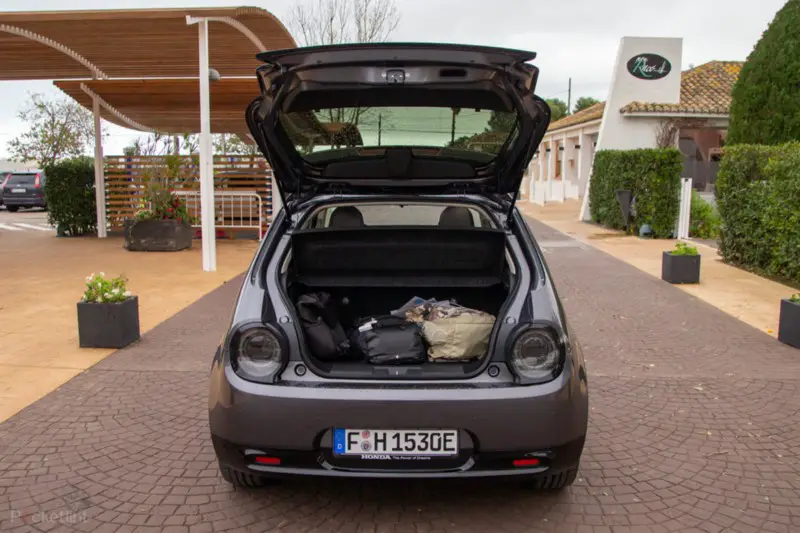 8. The charging port is front and center
The charging port sits front and center on the Honda e. Push a button on the fob, and it glides open, revealing a softly-lit socket. Push down and click to close it.
Plug into a normal three-pin domestic socket and the Honda e will take around 19 hours to charge up. Not great. Better to get a 7.4kW charging box installed at your house, in which case a full charge-up takes around four hours.
However, find a 50kW or 100kW DC public rapid charger and it can charge up to 80 percent in just 30 minutes.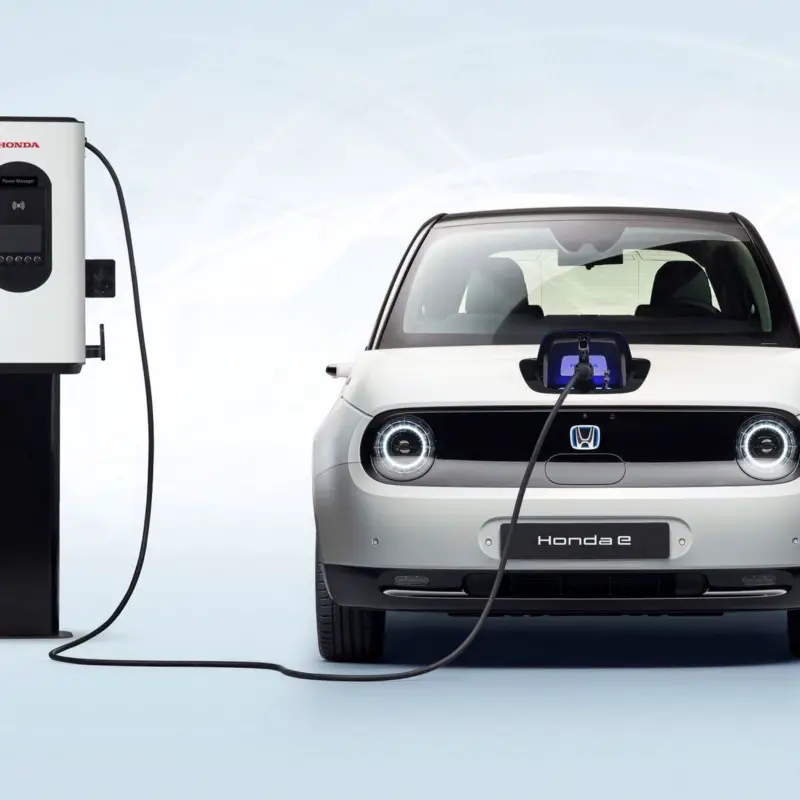 9. You get satisfying door handles as standard
It's a small detail but as you approach, the car senses the key and pops out the flush, aero-friendly door handles. Alternatively, you can fire the handles in and out with the key fob. The action is glorious, as snappy and precise as you'd hope from a fastidiously engineered Japanese car.
10. Fake wood is back
As modern automotive materials go, it exists just below velour seats and doilies on the headrests, and yet Honda has only gone and pulled it off, slathering it across the dashboard and center console and achieving a retro-infused, architect-designed atmosphere with a hint of Scandi-minimalism.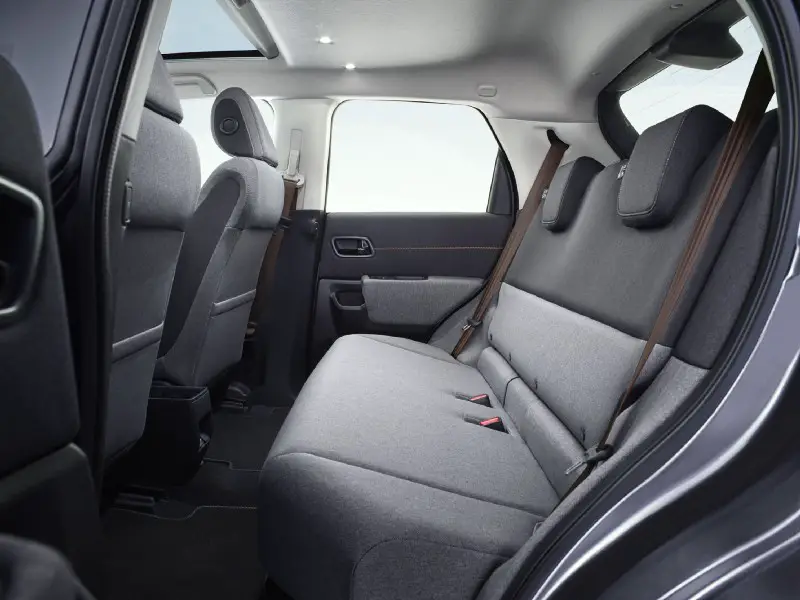 11. It's a paddle shift EV
Pushing the 'one pedal mode' button down on the console dials up the regen when you lift off, making it possible to stop without touching the brake. You can pick from three levels of increasingly aggressive regen using the plus and minus paddles behind the wheel. Nothing to do with the gearbox, that's a single speed. Other buttons to fiddle with include a choice between Normal or Sport driving modes — the latter simply sharpens the throttle and is largely redundant.
12. Good wheels come in small packages
You get black 16-inch multispoke alloys as standard on the rising to marginally-fancier 17-inch jobs with a large center disc and 'floating' spokes on the Advance model. Thing is, the 16 does not only look cooler, but gives you the full 137-mile range. Go for 17s and that drops to 125-miles. If you really want to ruin your range, join us in looking for a set of white, deep-dish Alpina Softline style rims to pay homage to the original Urban EV Concept's magnificence.
Join the newsletter to receive the latest updates in your inbox.